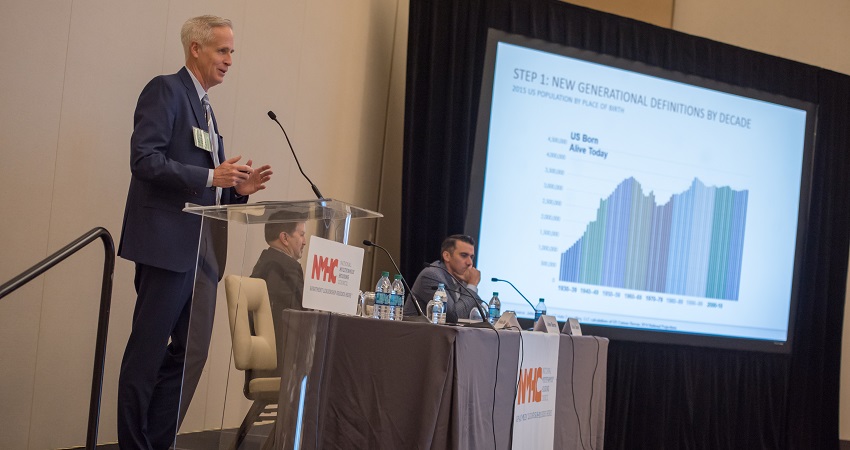 If demographics are destiny then the future looks very bright for the single-family rental market. That was the takeaway from a presentation and panel discussion with John Burns, CEO of John Burns Real Estate Consulting, and Dallas Tanner, chief investment officer and founding member of Invitation Homes, at the 2017 NMHC Research Forum.
Burns kicked off the discussion with a deep dive into his new approach to defining generations by decade. Rather than just defining a generation by age cohort, Burns also looked at where they were born and other defining characteristics and then filtered that analysis through what he called the 4-5-6 rule. This involves looking at key government policies like immigration, economic conditions, tech advancements and societal shifts like changing attitudes towards having children out of wedlock and same-sex marriage and provides the backdrop to begin to answer key questions about housing demand.
Burns said this methodology has led to a number of critical housing insights. By his estimates, 12.5 million net new households should form over the next decade, with 58 percent of them renting their homes. Today, there are 45.7 million rental units; 27.7 million are apartments, 15.9 million are either single-family detached or attached (i.e., duplexes and townhomes) and the balance are mobile homes.
Single-family rentals have been on the rise, now accounting for 11.6 percent of all housing. But in some markets like Las Vegas, Miami and Riverside-San Bernardino, they account for more than a quarter of the single-family stock.
Despite the growth, less than 1 percent of the single-family rental stock is owned by investors with scale (>1,000 houses in portfolio). This fractionalization suggests that not only is there strong demand but there's also opportunity for institutional investment and professionalization to accelerate the sector's growth.
"There is definitely a demographic shift in how people are thinking about household living," agreed Invitation Homes' Tanner.
Roughly a quarter of the single-family home rental company's residents are what Tanner called "preferential," meaning they earn enough to own or rent higher end apartments but choose to rent a house instead. This compares with about 30 percent who rent by necessity (it's an affordability issue and they need more space) and 40 percent are in some sort of transition period in their lives.
Also interesting is that single-family renters typically rent longer. In fact, Tanner said 70 percent of their residents are retained year to year.
Tanner also said that the company averages 3,700 homes in a typical metro area, choosing growing markets that are a little constrained so that they can capture some price appreciation as well as rent and NOI growth.
---