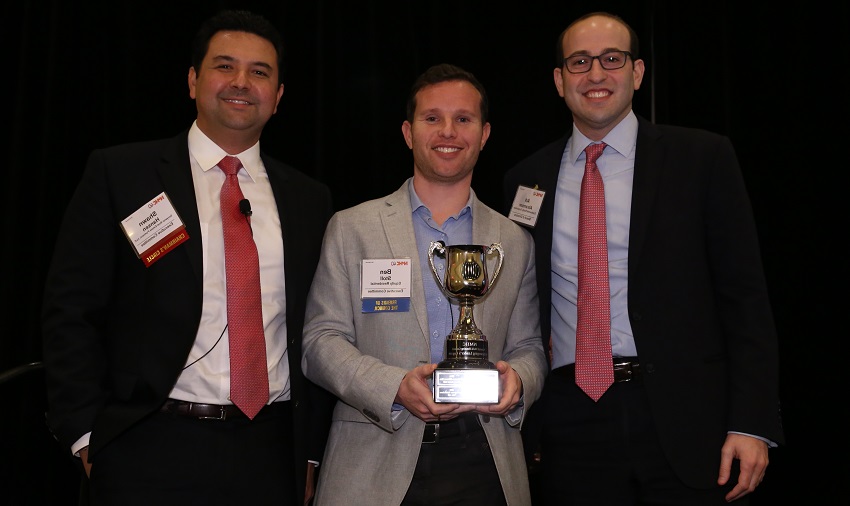 More than 250 young, rising professionals attended the 2018 NMHC Annual Meeting, bringing fresh talent and energy to the halls and enriching the program.
These young professionals were able to attend thanks to NMHC's special Emerging Leaders registration program.
The program allows member firms to send one under-40 rising talent with at least five years industry experience to the sold-out event to network, attend sessions and gain exposure to the industry's senior leaders-all without member companies having to use an allotted registration.
But the registration program was hardly the only perk for this group of young professionals. On opening night, the Emerging Leaders Committee, led by UDR's Chris Spendley, PGIM's Chris Lackett and LivCor's Brett Richards hosted a meet and greet so this group of attendees could have an opportunity to meet each other before the full slate of activities began.
The networking continued with a complimentary Emerging Leaders lunch, which also featured a brief roundtable discussion of key industry trends, including the tax reform bill, the future of the GSEs, the debt markets, changing development patterns and the outlook for the public markets in 2018.
Top Emerging Leader talent was further on display during the sixth annual "Young Guns Pitch to Senior Leaders" session, where three, under-40 Emerging Leaders presented their best investment deals to a mock investment committee of senior executives.
This year's competitors included Ari Abramson of Continental Realty Corporation, Shawn Hansen with Greystar
and Ben Stoll with Equity Residential. The investment committee judges were John Akin with Gables Residential, Katie Bloom with Goldman Sachs and Chris Lackett from PGIM Real Estate and last year's Young Gun winner.
Abramson presented a 2016 vintage, six-story mid-rise Class A core investment opportunity in the heart of Raleigh, N.C. Continental purchased the 223-unit Edison Lofts at 72 percent occupancy on an off-market transaction for a $61 million purchase price, or $273,543 per unit. In fact, the unsolicited letter of intent was signed at last year's NMHC Annual Meeting.
The property featured high quality design, construction and amenities in a city that has averaged 96 percent occupancy and 21 percent rent growth in the past six years. New lease absorption has been steady and the average resident household income at the property is $190,000. Five residents earn more than $1 million annually. The deal is expected to deliver an average 10-year cash-on-cash yield of 6.1 percent.
Hansenpitched a value-add opportunity on Wilshire Boulevard in the Koreatown neighborhood of Los Angeles.
Avana is a 2008-vintage, high-quality podium construction property with 196 units that feature large floorplans and spacious layouts, giving it a competitive advance to the newer and smaller high-density construction.
The firm bought it for $72.5 million at a 9 percent discount to replacement cost and invested $10,500 per unit on renovations and $1.3 million on amenities. They also have the opportunity to convert some open spaces on the perimeter to add eight more units and a net $2 million in value.
They were attracted not only to the property, but also to the submarket which has lured meaningful amounts of institutional capital in this cycle. Based on a five-year hold period, they expect a 7 percent cash-on-cash return.
Meanwhile Stoll sought the win with a new construction deal in Washington, D.C.'s Mount Vernon neighborhood. The property - 445 Eye St - includes 174 units, 2,000 square feet of ground floor retail and four below-grade levels of parking.
The property includes four historic buildings-some dating back to 1886-that were incorporated in the new
building that also includes a new 11-story tower. The firm felt that D.C.'s highly-educated, high-income workers and high housing costs made a compelling case for the market. The ability to create a smaller property with a boutique feel closed the deal. They anticipate an unlevered IRR of 10 percent for a 10-year term.
The judges praised all the deals, but ultimately decided that, if they had a limited allocation allotment, they would go with Stoll's ground-up development. They cited the combination of a strong macro location, a highly amenitized neighborhood, differentiating architecture, strong risk adjusted returns and a development yield spread over acquisitions.
NMHC encourages member firms to get their young talent stars involved in the Emerging Leaders program. Qualifying employees can join the database to connect with other Emerging Leaders. Also check out our list of networking events offering exclusive access to some of the industry's titans.
---