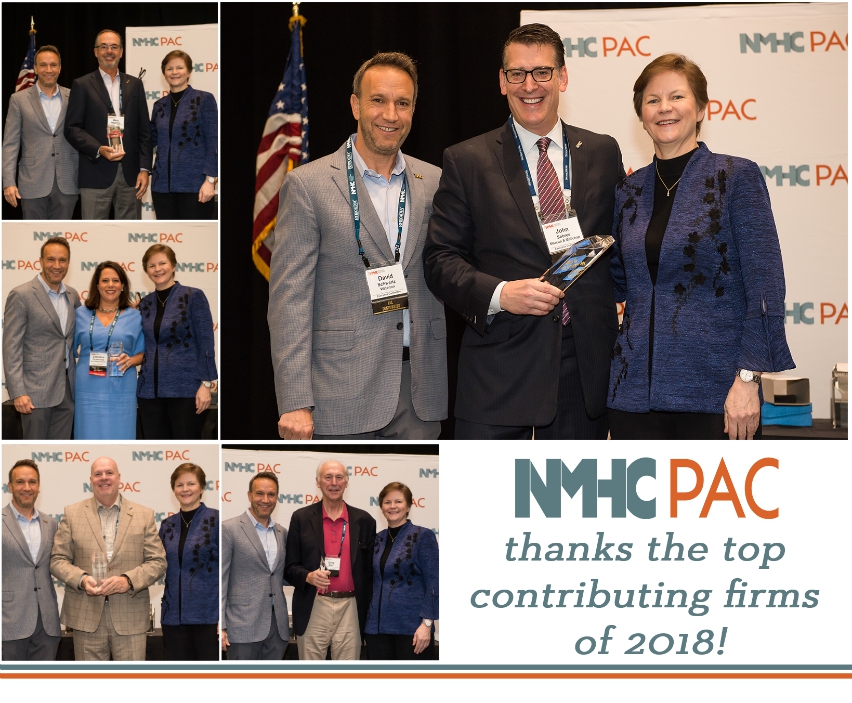 The top five firms for employee contributions to the NMHC PAC in 2018 were honored at the 2019 Annual Meeting Recognition Breakfast. Pictured Above: Marc deBaptiste of Newmark Night Frank; Christine Espenshade of JLL; Russ Minnick of Bridge Investment Group; Greg Mutz of AMLI Residential; and John Sebree of, top donor, Marcus & Millichap (IPA).
NMHC 2019 PAC Contributors
Join your colleagues nationwide who have decided that NMHC PAC is the best investment they can make to protect their bottom line and ensure their continued success in the industry.
Importantly, individuals who contribute to NMHC PAC at the highest level receive recognition and benefits ranging from photo opportunities, early registration for NMHC meetings and special receptions with top political leaders.
Find out who our current contributors are (as of December 31, 2019).
NMHC 2019 PAC Disbursements

NMHC PAC is bipartisan. Candidates who receive financial support are evaluated on their merits and understanding of issues important to the apartment industry.
Because all of NMHC PAC's administrative expenses are paid by NMHC, every dollar you give goes directly to candidates who support our industry.
Find out who we are currently supporting (as of December 31, 2019).
---