Your contributions allow NMHC PAC to support champions of the multifamily industry in Congress, create and strengthen our invaluable relationships and ensure our industry is well-positioned when critical legislative issues are being debated.
That's why your support of NMHC PAC is more important than ever before! This will be a critical election cycle and we must support members of Congress that believe in a vibrant multifamily industry.

This page is updated based on contributions as of September 1, 2022
---
2022 Member Firms Contributing over $20,000
Thank you to our dedicated NMHC Member firms whose employees have contributed $20,000 or more in 2022 to NMHC PAC!
2022 Member Firms Contributing over $10,000
Thank you to our dedicated NMHC Member firms whose employees have contributed $10,000 or more in 2022 to NMHC PAC!
2022 NMHC PAC Champions
Thank you to our 2022 NMHC PAC Champions who have contributed $5,000 this year (maximum allowable from an individual). Your leadership in supporting NMHC PAC at the highest level is a testament to the important role NMHC PAC plays in ensuring the prosperity of the multifamily industry.
Brian Austin, Alliance Residential
Cyrus Bahrami, Alliance Residential
Nicholas Chapman, Alliance Residential
David Dierkes, Alliance Residential
Jay Hiemenz, Alliance Residential
John Rippel, Alliance Residential
Bruce Ward, Alliance Residential
Bob Weston, Alliance Residential
Alejandro Dabdoub, Allied Orion Group
Tim Myers, Allied Orion Group
Ricardo Rivas, Allied Orion Group
William Bayless, American Campus Communities
Jennifer Beese, American Campus Communities
William Talbot, American Campus Communities
Gregory Mutz, AMLI Residential
Daryl Carter, Avanath Capital Management
Walt Smith, Avenue5 Residential
Richard Schechter, The Bainbridge Companies
Keith Misner, Berkadia
Joanna Zabriskie, BH
Julie Smith, The Bozzuto Group
Tom Bozzuto, The Bozzuto Group
Colin Apple, Bridge Investment Group
Robert Morse, Bridge Investment Group
Jonathan Slager, Bridge Investment Group
Laurie Baker, Camden Property Trust
Ric Campo, Camden Property Trust
Keith Oden, Camden Property Trust
Nathan Collier, The Collier Companies
Anna Gueorguieva, The Collier Companies
Antonio Marquez, Comunidad Partners
Carlos Vaz, CONTI Capital
Daniel Minahan, Continental Properties Company
James Schloemer, Continental Properties Company
Lauren Brockman, Convergence Rental Housing
Real Estate Group
Mary Alicia DeFrancis, Cortland
Steven DeFrancis, Cortland
Charles Demmon, Demmon Partners
John Caltagirone, The Dinerstein Companies
Brian Dinerstein, The Dinerstein Companies
Mark Moorhouse, Dominium
Paul Sween, Dominium
Seth Greenberg, ECI Group
Jay Massirman, Eden Multifamily & Living
Warren Rose, Edward Rose & Sons
David Neithercut, Equity Residential
Mark Parrell, Equity Residential
Sam Zell, Equity Residential
Susan Ansel, Gables Residential
Gregory Bates, GID
W Gardner Wallace, GID
Michael Ortlip, Grandbridge Real Estate Capital
Murry Bowden, Hanover Company
Edward Harrington, Hawthorne Residential Partners
Phil Payonk, Hawthorne Residential Partners
Laura Beuerlein, Heritage Title Company of Austin
Steve Beuerlein, Heritage Title Company of Austin
Douglas Dwyer, Heritage Title Company of Austin
Jan Dwyer, Heritage Title Company of Austin
Gary Farmer, Heritage Title Company of Austin
Susan Farmer, Heritage Title Company of Austin
Clyde Holland, Holland Partner Group
Greg Faulkner, Humphreys & Partners Architects
James Krohn, The Irvine Company Apartment Communities
Sam Kasparek, Kairoi Residential
Michael Lynd, Kairoi Residential
Timothy Byrne, Lincoln Property Company
Mack Pogue, Lincoln Property Company
Christopher Bergmann, Lument
Eric Bolton, MAA
John Sebree, Marcus & Millichap / IPA
Hassem Nadji, Marcus & Millichap / IPA
Scott Melnick, Melnick Real Estate Advisors
Mark Gleiberman, MG Properties
Jeffrey Goldberg, The Milestone Group
Thomas Moran, Moran & Company
Henry Nevins, NALS Apartment Homes
Douglas Bibby, National Multifamily Housing Council
Cindy Chetti, National Multifamily Housing Council
Kenny Emson, National Multifamily Housing Council
Hampton Beebe, Newmark
Patrick Dufour, Newmark
Tarek El Gammal, Newmark
Christine Espenshade, Newmark
Patton Jones, Newmark
Russell Jones, Newmark
Avery Klann, Newmark
David Mitchell, Newmark
Matthew Newcomer, Newmark
Blake Pera, Newmark
Matt Saunders, Newmark
George Skaff, Newmark
Zach Springer, Newmark
Anthony Tarter, Newmark
Sean Wood, Newmark
David Brickman, NewPoint Real Estate Capital
Niles Bolton, Niles Bolton Associates
LeRoy Carlson, NNC Apartment Ventures
Ariana Cervantes, NNC Apartment Ventures
Nghia Duong, NNC Apartment Ventures
Michael Finch, NNC Apartment Ventures
John Flanagan, NNC Apartment Ventures
John Nunn, NNC Apartment Ventures
Kari Wilfong, NNC Apartment Ventures
Andrea Howard, Northmarq
Trevor Koskovich, Northmarq
David Martin, Northmarq
Jason Nettles, Northmarq
Alfred Pace, Pacific Urban Residential
Gary Goodman, Passco Companies
Donna Preiss, The Preiss Company
Kirk Preiss, The Preiss Company
Kevin Finkel, Providence Real Estate
Alan Pollack, Providence Real Estate
Jeff Stack, SARES REGIS Group
Bruce Eldredge, Simpson Housing
Demetrios Barnes, SmartRent
Steven Astrove, Taymil Partners
Peter Pappas, Terwilliger Pappas Multifamily
Paul Thrift, Thompson Thrift Residential
Harlan Crow, Trammell Crow Residential
Michael Levy, Trammell Crow Residential
Kenneth Valach, Trammell Crow Residential
Loren King, Trinitas Ventures
Matt Ferrari, TruAmerica Multifamily
Robert Hart, TruAmerica Multifamily
Noah Hochman, TruAmerica Multifamily
Tammi Warner, TruAmerica Multifamily
Thomas Toomey, UDR
Diane Batayeh, Village Green
Scott Lawlor, Wapoint Residential
David Schwartz, Waterton
Peter Vilim, Waterton
Greg West, ZOM Living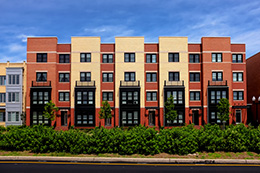 Join Us and Invest in the Multifamily Industry
Learn more about NMHC PAC and how you can support our industry on Capitol Hill.