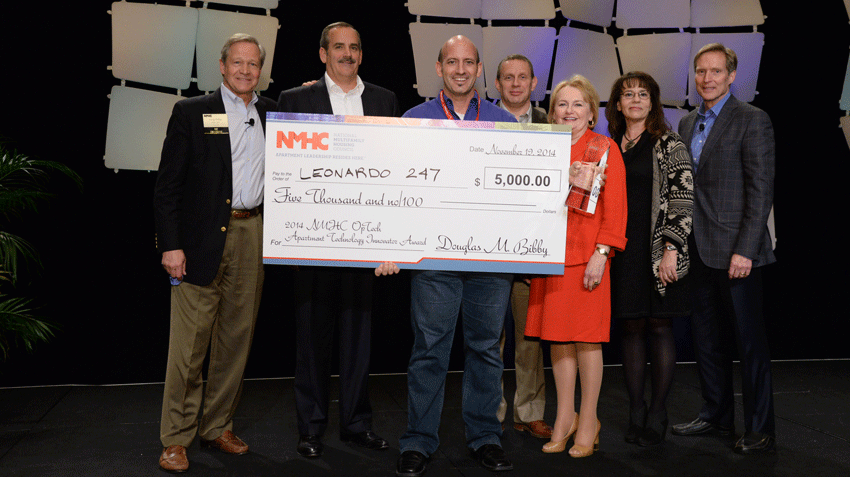 The Application Deadline was Friday, September 11th. Good Luck to all Applicants!
Four finalists will be chosen to pitch their product or service live to a panel of esteemed industry experts and more than 1,000 attendees at the 2015 NMHC OPTECH Conference, to be held November 17-19 in San Diego.
What's at Stake?
In addition to invaluable industry exposure through the live pitch and direct feedback from industry and technology experts that all finalists will receive, the winner of the 2015 NMHC Launch Pad Competition will receive:
$5,000 cash prize
One year NMHC Advisory Committee membership
The NMHC OpTech Technology Innovation Award
The opportunity to give an update at the 2016 NMHC OpTech Conference & Exposition
Recognition as the Launch Pad Winner through NMHC communications channels
The three runner-ups will receive:
One year NMHC Advisory Committee membership
Recognition as a Launch Pad finalist through NMHC communications channels
Eligibility Requirements
To enter the NMHC Launch Pad competition, companies were required to meet the following eligibility requirements:
Provide a technology-based solution to the multifamily industry
Have been in business for less than five years
Have not previously been named an NMHC Launch Pad Finalist; previous applicants may reapply
Evaluation and Judging
Entries will be reviewed by a panel of industry leaders selected by NMHC staff. The panel will score the entries to select the top ten semi-finalists. From there, the panel will select four finalists. The four finalists will be invited to compete during the NMHC Launch Pad session at the NMHC OPTECH Conference & Exposition. Other than ensuring companies are eligible, NMHC staff does not play any role in selecting the semi-finalists, finalists, or winners.
The NMHC Launch Pad judging will be held at the NMHC OPTECH Conference & Exposition and will consist of presentations by the four finalists followed by questions from a five member panel of industry and technology experts who were not involved in selecting the semi-finalists or the finalists. The expert panel will be assembled by NMHC staff annually, but none may serve for more than two consecutive years. After the panel questioning and review, the OPTECH audience will vote live and will select the winner of the NMHC OPTECH Technology Innovation Award.
Still have questions? Email launchpad@nmhc.org now for answers. 
---