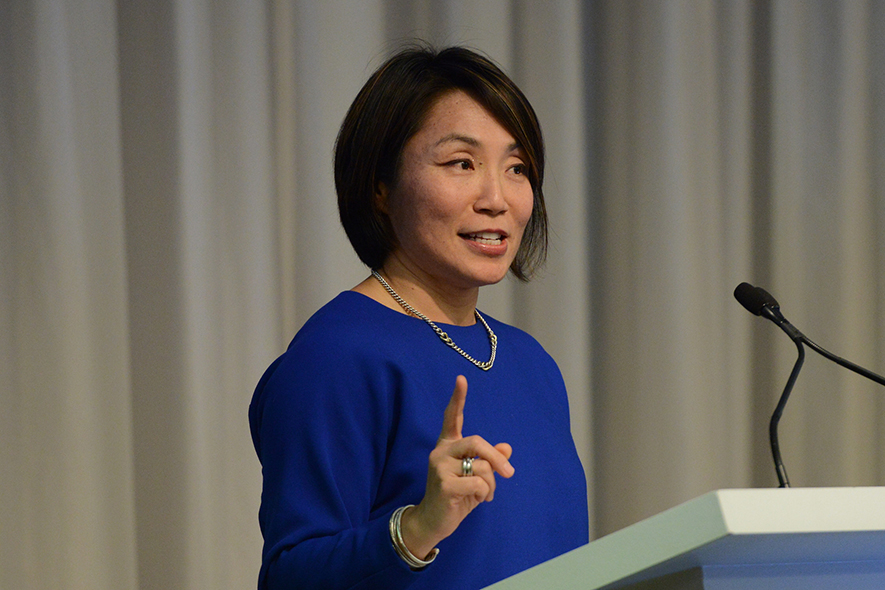 NYC Event Recap
[read]
Three-in-One Event in Houston on May 28
[read]
Call for Volunteers
[read]
2015 Calendar
[read]
Get Involved
[read]
---

NYC Event Recap: We specialize in complex, difficult projects with complex, difficult architects
"We specialize in complex, difficult projects with complex, difficult architects," deadpanned Susi Yu, EVP of Development for Forest City Ratner during the New York NMHC Emerging Leaders Speakers Series event on April 21.
Yu's talk covered some of the most prominent recent developments in New York City: the tallest residential skyscraper in the western hemisphere in 8 Spruce Street, the New York Times Building and Atlantic Yards -- which includes the Barclays Center. As one of the most prolific developers in the city, Forest City Ratner appears in three of the four 2015 NMHC 50 lists.
Yu offered behind the scenes looks at how these deals got done, including the fact that noted architect Frank Ghery, who designed their 8 Spruce Street deal, at one point offered to babysit for potential residents.
A recap of the event, Yu's presentation and pictures from the evening are here. Special thanks to our sponsors for the evening: Apartments.com and Fidelity National Title.
Three-in-One Event in Houston on May 28

Join us for a unique three-in-one Emerging Leaders event on May 28 in Houston, TX.
We'll begin with a tour of the brand new Hanover Post Oak, a luxury 30-story high-rise nestled in the heart of Uptown.
Then Hanover CEO Murry Bowden will moderate a panel featuring Bob Harvey, CEO of the Greater Houston Partnership, and Al J. Hirshberg, Executive Vice President, ConocoPhillips, on the state of the energy market and how it will impact the Houston apartment industry.
Finally, we'll walk a few blocks for a networking reception at RDG + Bar Annie. The event is for any under-40 employee of an NMHC member firm. Space is limited so reserve your spot today. Our thanks to our sponsor: Charter Title Company.
Call for Volunteers
The Emerging Leaders Program is opening up our subcommittees to interested volunteers.
We currently have two subcommittees: Programming and Speaker Series. The programming subcommittee helps produce Emerging Leaders content at NMHC's three membership meetings each year.
The Speaker Series subcommittee helps organize the regional events we hold, including identifying venues and securing speakers and sponsors.
If you would like to get involved, send an email to Kim Duty at kduty@nmhc.org. Please be sure to indicate which subcommittee you would like to be involved in, and if you choose the Speaker Series subcommittee, which event you would like to help plan (see 2015 schedule below).
Mark Your Calendar: 2015 Speaker Series


The Emerging Leaders Program will once again host a series of regional speaker series events around the country. These events feature industry leaders in a fireside chat format followed by a reception. This year's lineup includes:
May 28 in Houston, TX
June 25 in Denver, CO
September 15 in Washington, DC
November 5 in Atlanta, GA
Get the details here.
How Your Emerging Leaders Can Get Involved
NMHC's Emerging Leader program is open to anyone under 40, with five years of industry experience and employed by a member firm. Designed to both create new networking opportunities and engage the next generation of multifamily leaders within NMHC, there is no limit to the number of employees a member firm can sign up for the program.
We encourage you to have the promising leaders from your company:
---