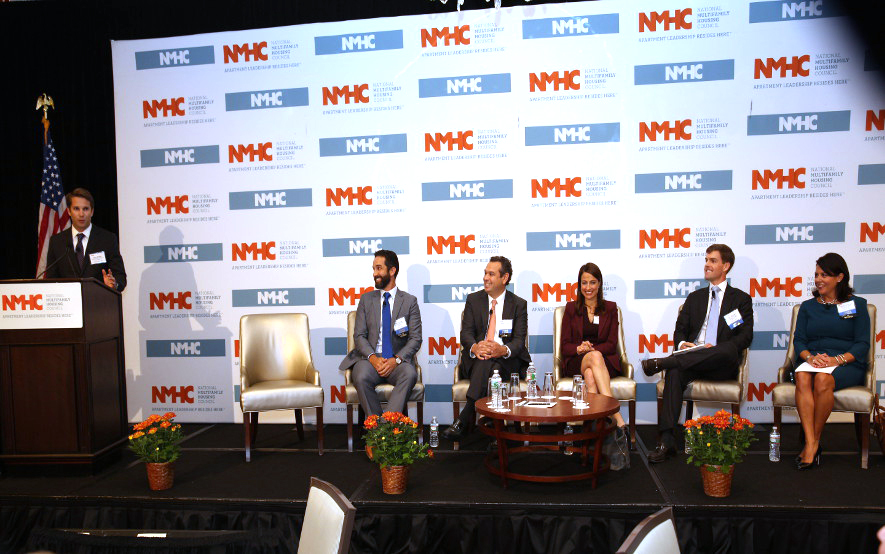 Spring Board Event Recap
[read]
NMHC's Emerging Leaders Get Insiders Look at Crowdfunding
[read]
November Event Targets Atlanta
[read]
NMHC Annual Meeting: Special Emerging Leader Registration
[read]

Get Involved
[read]

---
Emerging Leaders Offer Fresh Perspectives on Multifamily Investment Trends
As part of the program for the 2015 NMHC Board of Directors and Advisory Committee meeting, six young multifamily investment sales professionals discussed the best opportunities in their respective geographic markets, which buyers and sources of capital are succeeding in allocating capital and what innovation their industry may bring to the market.
Participating in the panel discussion were Southern California-based Dave Bragg with Green Street Advisors; Texas-based Roberto Casas with HFF; Boston-based Travis D'Amato with Jones Lang LaSalle; Washington, D.C.-based Christine Espenshade with Jones Lang LaSalle; Atlanta-based Kris Mikkelsen with Walker & Dunlop; and San Francisco-based Kara Wiard with Eastdil Secured. All participants are active in NMHC's Emerging Leaders program.
When it came to individual markets, each of the panelists said there were few signs of investment activity slowing down in his or her respective market thanks to positive population trends and job growth.
"If you're not busy now [in Atlanta], you might want to think about getting into a different asset class," said Mikkelsen.
NMHC's Emerging Leaders Get Insiders Look at Crowdfunding
When you're an innovator shaking up Wall Street's traditions when it comes to real estate financing, your business philosophy changes almost as fast as the technology. That was the upshot from Ben Miller, cofounder and CEO of Fundrise, during a recent NMHC Emerging Leaders Speakers Series program in Washington, D.C.
"I've moved a long way from focusing on urban authenticity to focusing on where are the best returns," said Miller, whose online platform allows everyday people to directly invest in properties across the country for as little as $100, effectively cutting out many of financing's middlemen. "Because that's what our investor wants."
But what the online investor wants hasn't been exactly what Miller originally anticipated.
"We definitely are surprised by what the crowd wants," he said. "We started with [conservative] deals where investors weren't going to lose money. But the investors often want high risk-and I'm more middle of the road."
ReadMore. Thanks to Greystar for sponsoring the evening.
November Event Targets Atlanta
Join us on Nov. 5 at Whiskey Blue at the W Atlanta Buckhead for our final Emerging Leaders Speaker Series event of 2015.
Held several times a year in various locations around the country, the NMHC Emerging Leaders Speaker Series features a senior industry executive sharing his or her insights, observations and advice in a small-scale setting that allows for high quality networking.
Registration is limited to the first 75 registrants. More information and online registration are available here.
Special thanks to Colliers International for sponsoring the event.
NMHC Annual Meeting: Special Emerging Leader Registration
NMHC will once again offer a special Emerging Leader registration option for our 2016 Annual Meeting, January 19-21 in Orlando, FL.
This special registration, which is limited to the first 200 registrations received, allows member firms to send one young leader who might not otherwise be able to attend given the existing meeting registration caps.
Emerging Leader registrants are eligible to attend all the events at the Annual Meeting, including a special Emerging Leaders networking reception the first night and an Emerging Leaders lunch during the Conference.
For more information or to reserve your spot, click here.
How Your Emerging Leaders Can Get Involved
NMHC's Emerging Leader program is open to anyone under 40, with five years of industry experience and employed by a member firm. Designed to both create new networking opportunities and engage the next generation of multifamily leaders within NMHC, there is no limit to the number of employees a member firm can sign up for the program.
We encourage you to have the promising leaders from your company:
---