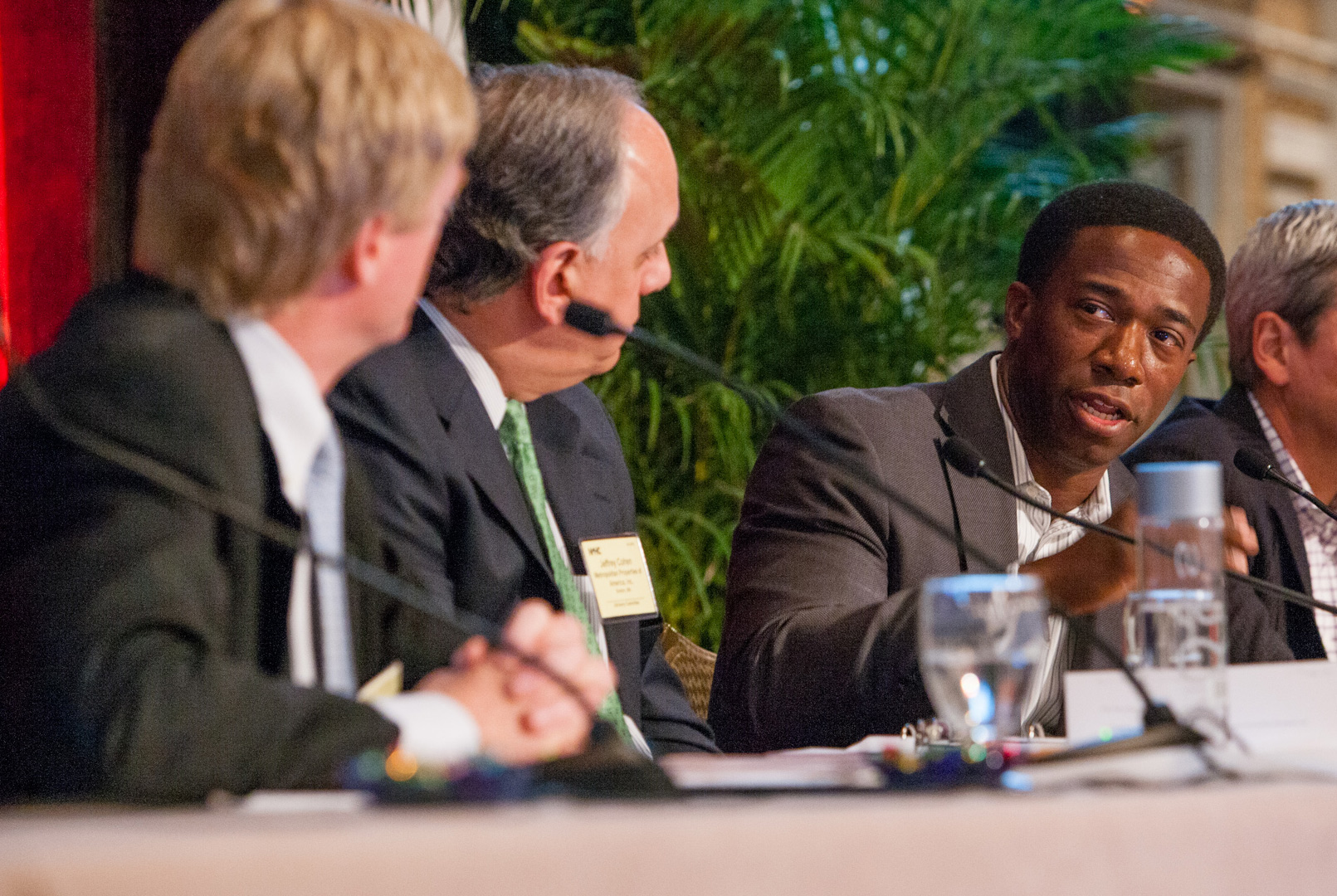 The multifamily market's solid fundamentals continue to attract investment capital to the sector. While this interest has driven transaction volumes and pricing trends north every year since 2009, several important capital trends have emerged more recently, according to industry executives at the 2014 NMHC Apartment Strategies/Finance Conference.
First, there is a diversity of capital sources actively looking to acquire property in the multifamily market. Many of the traditional capital sources-life insurance companies, large financial institutions and regional and local banks, for example-that had retreated from the market during the recession have re-established a solid presence. The commercial mortgage backed securities (CMBS) market, which essentially evaporated from the capital pool for a handful of years, has returned to some degree.
In addition, high net worth individual investors are entering the space and foreign investment dollars have been flowing in at high volumes over the past year. Several executives noted that the government's EB-5 immigrant investor program is nearly subscribed, largely by Chinese investors.
Lili Dunn, chief investment officer for Bell Partners, said, "There's still a lot of dry powder out there. For foreign investors, the U.S.-for all its issues-is still a very safe market. They want core markets. They want city living and longer term holds."
This high level of interest is contributing to rising asset prices. Dan Fasulo, managing director for Real Capital Analytics (RCA), said, "Pricing is significantly past peak levels. The only levelling off has been for high-rise product. What we're hearing from our investors and brokerage partners is the problem is supply. Condo converters are also starting to show up in the market."
This search for investment opportunities is leading to more capital flowing into secondary markets. According to RCA data, year-over-year apartment sales dollar volumes have dramatically increased in markets such as Orlando (+142 percent), Las Vegas (+96 percent) and Charlotte (+64 percent).
Similarly, RCA data showed some activity variations among capital sources. For example, regional and local banks control a larger share (21 percent) of the capital market in major metro areas than secondary (8 percent) or tertiary (8 percent) markets. Another example: CMBS accounts for 18 percent of the capital flowing to tertiary markets but just 9 percent going to secondary markets.
Similar regional variations are emerging. "If you go around the country, CMBS is having a more dramatic impact on markets in the Southeast, Midwest and Southwest," said Fasulo. "Regional banks are competitive in the Northeast."
He added, "A lot of foreign money is not only going to traditional, coastal, gateway markets, but it's going all over the country."
With more capital players in the mix, there's some discussion about how government-sponsored enterprises (GSEs) Fannie Mae and Freddie Mac fit into the picture. The recent influx in capital is leading to some significant redistribution of market share. Whereas Fannie and Freddie accounted for 87 percent in 2009, by 2013, that share had shrunk to 47 percent.
However, Mike May, managing director and national head of multifamily for CCRE, said he didn't expect these shifts in the capital flows to marginalize GSEs' role in the market over the long haul.
"Insurance companies have come back and are very aggressive. They had a huge gain last year, and this first quarter alone, they are up 21 percent year over year," he said. But the huge story is the banks. ... They have a huge amount of deposits that they need to put to work. ... I think banks will come in in a big way until someone says, 'Hey, wait a minute, this looks a lot like 1996 when the thrifts were lending long, borrowing short.' And when that happens, the GSEs will step back in."
---