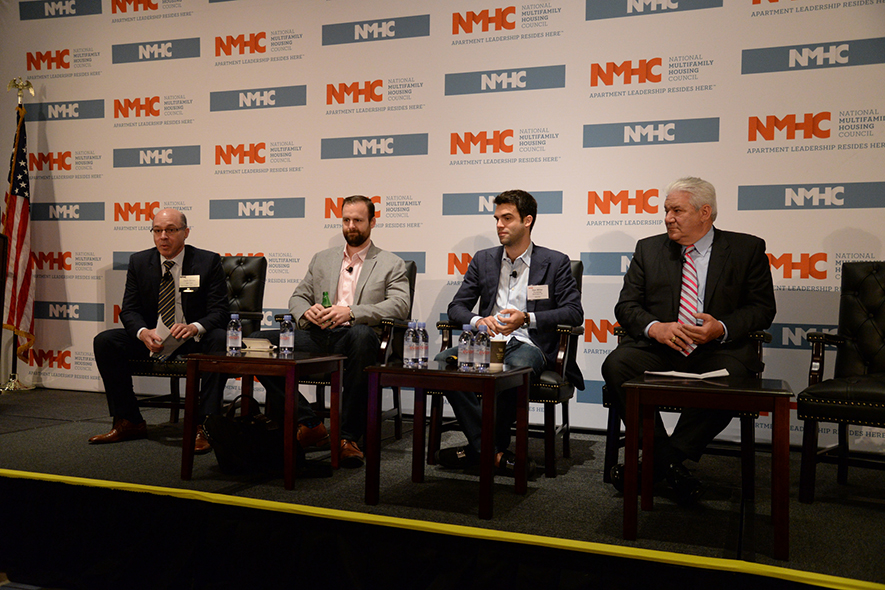 The multifamily market's strong fundamentals continue to attract capital from a variety of sources. Banks and life companies are active, the commercial mortgage-backed securities market is rallying and the government-sponsored enterprises (GSE) remain a competitive source of capital for apartment financing.
However, with the GSE rapidly closing in on their caps for the year and interest rates set to rise, apartment executives are keeping a close watch on alternative capital sources. A special session at the 2015 NMHC Spring Board of Directors Meeting examined three innovative and emerging capital sources - crowdfunding, the EB-5 visa program and bitcoin - that are changing the capital landscape.
Dan Miller, co-founder and president of Fundrise, said crowdfunding or crowdsourcing platforms like his offer several unique advantages to traditional capital sources.
First, they are currently filling a massive hole in the market in providing capital for small and midsized projects that are simultaneously too small for institutional investment and yet collectively make up a giant part of the market. Second, crowdfunding broadens the investor base, allowing for a greater diversity of investors. And third, it offers a more direct line of investment by taking out intermediaries such as investment brokers, advisors, private funds, real estate brokers - all of which can add between 10 percent and 15 percent in fees between the dollar and the deal.  
While the platform currently serves smaller projects, its capabilities are growing quickly. The company is now able to pre-fund deals and is about to open up the platform to foreign investors. "It looks like it's midsize and small, but it can grow very quickly," Miller said.
In fact, crowdfunding, also called marketplace lending in some circles, is projected to experience exponential growth over the next five years, with some estimates showing a 9,000 percent increase in investments.
Just as crowdfunding platforms are using technology to streamline real estate investment, the digital currency bitcoin is also shaking up traditional transactions. Bitcoin allows for the direct transfer of what Ryan Selkis, director of investments for Digital Currency Group, called "scarce value" in a safe, secure way without the help of middlemen like banks, which often charge fees for the service.
"But it's more than just a currency," said Selkis. "It's a communications technology just like Internet or email." Selkis said that the technology could also be applied to pieces of information, allowing for easy and secure digitized transfer of items such as property and title records, for example.
While it remains to be seen whether significant real estate investing via bitcoin will materialize in the years to come, apartment firms are finding other ways to tap into a broader investor base. The government's EB-5 program, which gives foreigners visas in exchange for job-producing investment in US businesses.
Roughly 10,000 EB-5 visas are authorized a year and immigrant investors must ante up a minimum of $1 million for investment in projects that will create 10 permanent, full-time jobs within two years. Given the economic impact generated by development and construction, the program has overwhelmingly benefitted the real estate industry.
Thomas Demery, president of Capital Solutions, warned that the program takes about a year, requires a lot of vetting with the government and typically costs about $150,000 to fulfill all the government's program requirements. However, there's no carried interest, which Demery said, "At the end of the day, carries the day."
For more information, check out the presentations here.
---