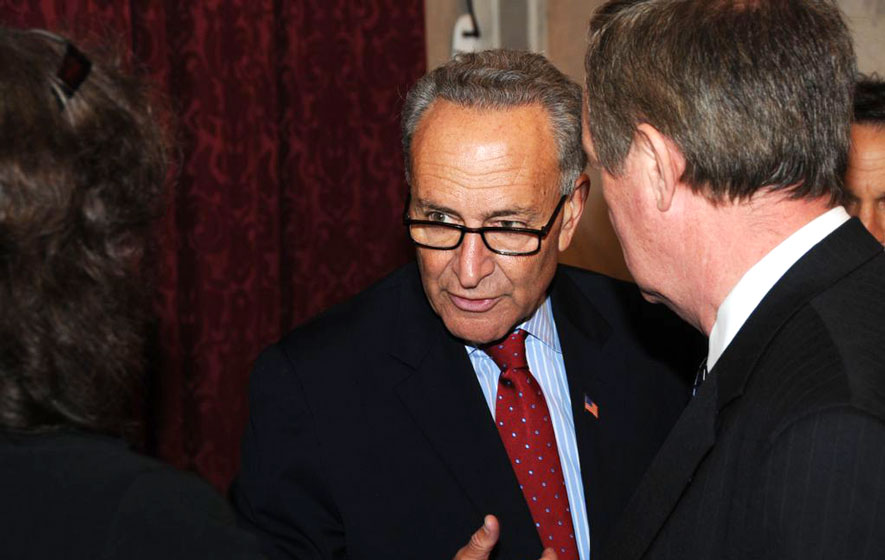 Political Leaders and NMHC Executives Take on Key Business Topics at Fall Meeting


 
NMHC's Board of Directors and Advisory Committee members gathered in Washington, D.C., last week for the annual fall meeting. The meeting focused on in-depth discussions of the politics and policies influencing today's multifamily business environment and offered an opportunity for NMHC members to actively participate in constructive conversation with key legislators and administration officials on many pressing topic areas.
On Tuesday, a small group of members participated in a special pre-meeting discussion with Jeffrey Zients, director of the National Economic Council and assistant to the president for economic policy. The hot topic of conversation was how the regulatory environment was hindering the industry's ability to meeting growing rental needs.
(For more information, read Administration Requests Action Items from Multifamily Industry.)
Best-selling author and biographer Walter Isaacson keynotes opening session
Later that evening, the meeting officially kicked off with an opening session with Walter Isaacson, acclaimed journalist, president and CEO of the Aspen Institute and best-selling author of biographies on Steve Jobs, Albert Einstein and Benjamin Franklin. After studying such a diverse group of innovators, Isaacson said he came to one conclusion:

"I have met not only a lot of people who are smart but also a lot of people who thought they were smart, and I realized that there were a lot of smart people in the world but the thing that separated the innovators was imagination."

Following Isaacson's talk, the NMHC Emerging Leaders group hosted one of its Speakers Series events, featuring Congressman Patrick Murphy (D-Fla.), the youngest member of Congress at 31 years old. Murphy shared his perspective on what's driving partisanship and gridlock on Capitol Hill, pointing to the increasingly political media, big dollar donations and the gerrymandering of the voting districts.

Several of these points were revisited on Wednesday evening during an entertaining keynote by Mike Murphy, political analyst for NBC News and contributing editor to Time. Murphy also stressed that the redrawing of voting districts by state legislators is significantly reshaping political strategy-and not for the better.
Senator Rob Portman (R-Ohio) talks with NMHC President Doug Bibby
"We have precincts now that all vote one way or another," he said, adding that he expects to see a lot of this play out in this fall's midterm election.

Murphy noted that there are some good reform ideas in place that could help correct the situation in the future. In Iowa, for example, partisan politics are taken out of the districting system and done by computer. California also has a so-called jungle primary system where there's only one ballot and the top two candidates, regardless of party affiliation, move on to the general election.

However, the major highlight of meeting was early on Wednesday, when NMHC members joined a number of congressional leaders for a special session in the Russell Senate Office Building. Visiting lawmakers included Congressman Kevin McCarthy (R-Calif.), Senator Rob Portman (R-Ohio), Senator Mark Begich (D-Alaska), Congressman Aaron Schock (R-Ill.), Senator Charles Schumer (D-N.Y.) and Senator Mike Crapo (R-Idaho).
(Read Influential Lawmakers Address NMHC Board Members, Extension of Terrorism Insurance Bill Remains a Priority for Key Legislators and Rise in Corporate Inversions Adds Pressure for Comprehensive Tax Reform.)
In addition, recently appointed Secretary of the U.S. Department of Housing and Urban Development Julián Castro joined the lineup, using the opportunity to make a formal introduction to attending NMHC members.
(Learn more about the HUD Secretary's speech by reading New HUD Secretary Pledges to Improve Support for Multifamily.)
Bell Partners' Lili Dunn escorts Senator Kirsten Gillibrand (D-N.Y)
The fall meeting closed on Thursday morning with in-depth discussions on women in leadership, featuring a special interview with Senator Kirsten Gillibrand (D-N.Y.) and an all-female multifamily executive roundtable, and the increasingly complicated answer to addressing the nation's affordable housing shortage.
(More takeaways available in Multifamily Leadership Ranks Are Diversifying, But Industry Still Struggles to Attract and Grow Female Talent and Financing Remains Major Hurdle for Producing More Affordable Apartments.)

NMHC thanks all attendees and sponsors for contributing to another successful event and looks forward to seeing everyone in November in Orlando for the 2014 NMHC OpTech Conference & Exposition and again in January at the La Quinta Resort & Club in Palm Springs, Calif., for the Apartment Strategies Outlook and Annual Meeting.
---