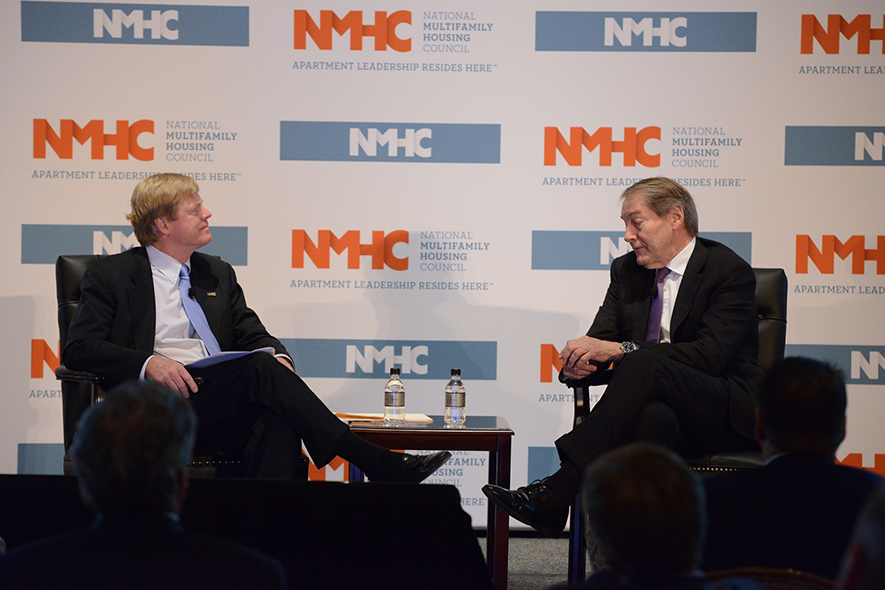 NMHC welcomed members of the Executive Committee and Board of Directors to its most exclusive meeting of the year last week. Held at the Waldorf Astoria in New York City, the spring meeting brought NMHC's most elite members together to discuss some of the industry's emerging challenges, financing trends and changing business environment.
Gary D. Rodney, president of the New York City Housing Development Corporation
Day 1 kicked off with a presentation by Gary D. Rodney, president of the New York City Housing Development Corporation, who outlined how the city was tackling the industry's white elephant: affordability. Rodney outlined the city's strategic plan to create 200,000 affordable rental housing units over a 10-year period and offered a progress report on the city's success to date. How is the city going to do it? (Hint: Preservation is critical to the plan.)
NMHC Vice Chairman Bob DeWitt (GID) capped off the day with an interview with television journalist Charlie Rose of the Charlie Rose Show, CBS This Morning and 60 Minutes. Rose gave attendees a fascinating, behind-the-scenes look at many of his notable interviews, including Charles Manson and Syrian President Bashar al-Assad, who he's interviewed four times now.
Like many very successful people, Rose is passionate about what he does, explaining that he gets up at 4:00 am each day and reads approximately 10 papers.  "I spread them across the table and that gives me an idea of what stories I want to cover and it gives me a sense of being part of the conversation of our time," he noted.
Rose's natural curiosity led him to a career in journalism, and he says these days he's most curious about politics, which he called his first love, and technology. "We need culture to remind us to what it is to be human, but the future will be unlocked by science and technology, "he said.
NMHC's Emerging Leaders hosted one of its Speaker Series networking events later in the evening. The event featured Susi Yu, EVP of development at Forest City Ratner. "We specialize in complex, difficult projects with complex, difficult architects," she said, as she offered attendees a look at developing high-profile projects in New York City. Click here for more takeaways from the event.
The agenda on Day 2 was packed with thought-provoking discussions on topics that spanned the growing sophistication of the single-family rental market and the increasing likelihood of more data breaches in the industry to alternative investment and financing trends, the development of eco-districts and the challenges to creating an industry-wide performance benchmarking system.
Shipping consultant John Vickerman, president of Vickerman Associates, also offered an intriguing look at the effects of the Panama Canal expansion on the global economy. The expansion is set to create systematic shifts in global shipping that will have huge economic impact in the United States, affecting jobs and housing demand in port cities such as Baltimore, Charleston, Houston, New York, Norfolk and Savannah. There will be winners and losers.
The final day of the spring meeting included more discussion of financing trends, as well as updates on the threats to 1031 Like-Kind Exchanges as Congress continues to push for tax reform and the effect of the government's new net neutrality rules on broadband communications in apartment communities.
The meeting closed out with an interview with Stephen M. Ross, chairman and founder of Related Companies, by Carter. The two Detroit natives and Michigan alumni covered a range of topics, from leadership to affordable housing to the Miami Dolphins.
Of his success in the industry, Ross said, "One of the reasons we succeeded is that, while we all want to be successful, it's not all about the bottom line. It's about what you give back. It's about creating better cities, not making the most money."
NMHC members tour Peter Cooper Village-Stuyvesant Town
Post conference, many members also participated in a lunchtime tour of Peter Cooper Village-Stuyvesant Town, an 11,000-plus unit, 80-acre, landmark residential community on New York's lower East Side. Executives from CompassRock Real Estate walked attendees through the history of the property, from its post-WWII roots through the 2010 mega default on the property and subsequent management takeover by CompassRock in 2012.
Since then, the company has succeeded in establishing consistent business processes, from rent setting to security. The company is investing in the massive task of updating the units, which range from one bedrooms to the odd five-bedroom unit and offer many flexible variations in between. This process is a significant undertaking both in terms of dollars and time and made more complicated given the company's need to balance market rate units with what it calls its "deeply stabilized," rent-controlled units.
NMHC thanks all its sponsors, supporters and participants for contributing to another high-quality spring meeting in the Big Apple. We look forward to seeing everyone again in September in Washington, D.C., for the annual Fall Board of Directors and Advisory Committee meeting.
For a deeper dive into some of the programming from the spring meeting, check out the storylines below. Presentations from the event can be downloaded here and photos are available on the NMHC Flickr page here.
Training and Testing Are Most Effective Defenses Against Data Breach 
The average breach is estimated to cost a company between $3 million and $5 million, or roughly $200 per record. But training and testing can help apartment firms reduce their vulnerabilities and liabilities. Testing IT systems in advance of a breach can bring average costs down $42 per record compromised.
David Barker, partner with Barker Apartments and adjunct professor in the Department of Finance at the University of Iowa, weighs the pros and cons of a multifamily benchmarking report akin to the hotel industry's STR report with NMHC Secretary David Schwartz of Waterton Associates.
Multifamily Debates the Need for an Industry-wide Benchmarking Model 
Unlike other industries using real-time revenue management, the multifamily industry never developed a universal standard to benchmark achieved revenue. Benchmarking could enable operators to better understand whether an individual property's market share is growing or shrinking. But do the apartment industry's idiosyncrasies make it impossible?
Innovative Capital Sources Aim to Disrupt Traditional Lending
With the GSE rapidly closing in on their caps for the year and interest rates set to rise, apartment executives are keeping a close watch on alternative capital sources. Here's a look at three innovative and emerging capital sources - crowdfunding, bitcoin and the EB-5 visa program - that are changing the capital landscape.
As Single-Family Rental Market Grows More Sophisticated, Management Strategies Evolve
The economic downturn unleashed a wave of single-family foreclosures that created an opportunity for an institutional-grade, professionally managed single-family rental market to emerge. Today, the adolescent industry has cleared some of the initial hurdles, establishing itself as a veritable market sector even as it strives to gain scale and efficiency.
 
New York City's Plan for Affordable Housing Focuses on Preservation 
In New York, one of the most expensive cities in the world, rental affordability is in the spotlight. To help address the city's growing need for more affordable housing units, Mayor Bill de Blasio launched a progressive if not historic plan to add 200,000 affordable units to the city's stock over the next decade. Roughly 60 percent of the units will come from preservation efforts.
Eco-Districts Take Sustainable Development to the Next Level
While many apartment firms have already taken steps to make their projects more sustainable, many are now looking to take these efforts beyond their property lines, aiding in the creation of eco-districts. Such district- and neighborhood-scale efforts have the ability to enact significant environmental change but are also wrought with challenges.
---