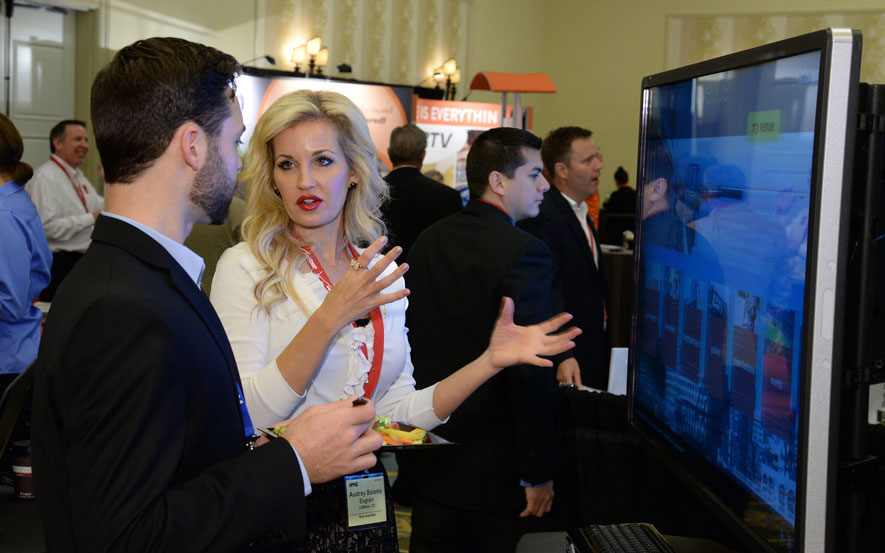 The 2014 NMHC OpTech Conference & Exposition attracted another record crowd to the Hilton Bonnet Creek Orlando last week for two-plus days of unparalleled educational programming, unique networking opportunities and the chance to explore some of the most innovative multifamily products and services on the market in a robust exhibit hall.
Jonah Berger, author of the best-selling book, "Contagious: Why Things Catch On"
The conference kicked off Monday afternoon with a bang thanks to a keynote by Jonah Berger, author of the best-selling book, Contagious: Why Things Catch On. Berger focused on the importance of word of mouth and the science (not luck) behind creating it. Get his workbook on how to craft contagious messages at www.jonahberger.com/resources.
Day two of OpTech was a flurry of discussion and activity as attendees jumped into a full day of programming. Attendees participated in more than 20 education sessions focused on marketing, technology, telecommunications and sustainability trends, including special tech roundtables for in-depth discussion on topics such as business intelligence and software integration.
Exhibitors' demos gave attendees a chance to test drive new tech solutions
However, back by popular demand was Commerce Corner, a unique reverse tradeshow experience where supplier partners signed up for one-on-one sessions with executives from some of the industry's leading firms. The roughly $25,000 in proceeds from Commerce Corner will go to support the Semper Fi Fund, NMHC's charity of choice for its annual Walk for the Troops, being held on Thursday, Jan. 22 as part of the 2015 NMHC Annual Meeting program.
The highlight of the day was a special CIO panel, during which Lincoln Properties' Scott Wilder led a discussion on the expanding role of the CIO with Greystar Real Estate Partners' Tom Bumpass, GID's Shawn Mahoney and UDR's Scott Wesson.
Industry CIOs discuss technology investments
The session was followed by a CEO panel featuring Pinnacle's Rick Graf, AMLI Residential Properties' Greg Mutz and UDR's Tom Toomey. The chief execs dished on technology investments, data security and business intelligence. All agreed that the next frontier for technology is in predictive analytics, where apartment firms could gain forward-looking insights into their customers' behaviors. (Click here for a quick recap of the discussion.)
Click the headlines to catch up on a few more takeaways from Tuesday.

Marketing Executives Identify Keys to a Winning Website

Payoff in BI Takes Thought, Money and Time

EPA's Multifamily Energy and Water Saving Programs Take Off

Simple But Not So Sexy Energy Solutions

Solving Wireless Reception and Coverage Issues Frustrates Industry Execs

The Unbundling of Cable TV and Internet Services Has Ripple Effect on Apartments
The third and final day of the conference got underway with the release of the 2014 NMHC/Kingsley Associates Package Survey, a new report that explores the increasing volume of package deliveries at apartment communities and their solutions for managing the volumes. More than 2,700 community managers from 28 leading firms participated in the survey.

Other highlights from the program included the Room for Debate session from the marketing track, where executives debated the pros and cons of popular marketing strategies, and Ask the Tech Pros, where the industry's tech gurus talked about their strategies for taming the data tide.

Wednesday's agenda also included the 2014 NMHC Human Resources & Risk Management Forums, which offered highly focused sessions and roundtables tailored to meet the specific needs of professionals in each discipline. One of the most popular sessions focused on multifamily firms' best practices to avoid, manage and recover from data breach.
Jason Jennings, author of "Less is More"
Jason Jennings, a business and leadership guru and best-selling author of "Less Is More," gave a thoughtful and inspiring keynote on the elements that underpin the most extraordinary companies. Based on his research of many of the most successful firms, Jennings said companies' performances were directly tied to their cultures and offered five basic "people truths" for business leaders to keep in mind.

So, to build the kinds of knock-your-socks-off companies that people dream about, Jennings said business leaders need to focus on being good stewards. More specifically, they need to share information, remain accessible, continue to get their hands dirty, be fearless about growth, stand for something, have a fierce sense of urgency and have a deep sense of service.
The 2014 NMHC OpTech concluded with its third annual Launch Pad competition, where four industry technology start-ups competed for a $5,000 cash prize. A panel of high-profile industry executives selected Leonardo247, an operations and risk management software provider, as the competition winner. An overview of all the finalists is available here.

However, Leonard247 wasn't the only winner at OpTech. Mary Herrold of JVM was the grand prize winner of the 10-day trip for two to Rome, Florence and Venice.
NMHC thanks all attendees, sponsors and exhibitors for contributing to another successful OpTech event. All presentation materials are available here. And it's never too early to mark your calendars for the 2015 NMHC OpTech Conference & Exposition, being held Nov. 17-19, 2015, at the Hilton San Diego Bayfront in San Diego.
---