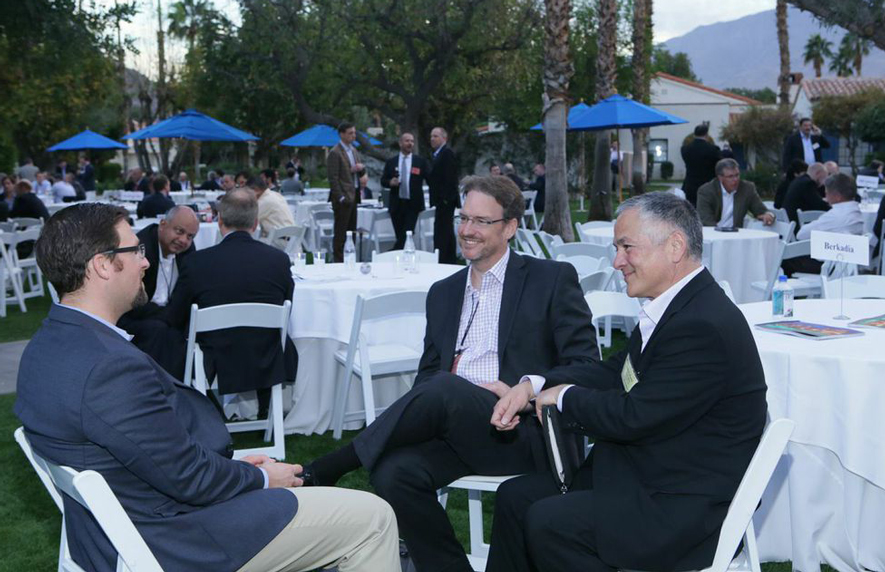 Apartment Strategies Conference Celebrates Golden Age of the Industry
Nearly 3,000 apartment executives gathered in Palm Springs last week for NMHC's Apartment Strategies Conference and Annual Meeting to celebrate what NMHC Chairman Daryl Carter called the "golden age of the apartment industry."
There are many reasons to be optimistic about the continued success of the apartment sector. Demand continues to outpace the growth in supply, homeownership rates remain low, rents are rising, capital is plenty and investor demand is high.
While stagnant wage growth and new supply will create some deceleration, Nicholas Buss, research director at INVESCO Real Estate, said he expects the market to stay at or above market average for the next five years. "The strength of job growth surprised me in 2014," added Buss, saying 100,000 more jobs than he expected were created.
NMHC Emering Leaders Allina Boohof of J.P. Morgan Asset Management and Kris Mikkelsen of Engler Financial Group participate in a panel discussion of the key takeaways from the conference.
Three recurring themes throughout the conference were the inflow of global capital into our sector, the increased attention being focused on the suburbs and the new renter growth coming out of the Baby Boomers.
Even concerns about possible oversupply were fairly muted. As Hessam Nadji, senior vice president/chief strategy officer at Marcus & Millichap, pointed out, 52 percent of the new apartment construction is concentrated in 10 cities, limiting concerns to a handful of markets.
There was much debate about whether the industry is entering a "new normal" phase, and Allina Boohoff, executive director of J.P. Morgan Asset Management, captured it best saying "we're in a new normal until we're not," meaning the cyclical nature of the industry hasn't changed.
Nevertheless, there are some things in this cycle that are different:

People aren't rushing to buy houses as they usually do after a recession.
The level of transparency in the industry is so much higher today that, even though it makes it a little more challenging to get deals done, it also prolongs the healthier equilibrium and gives us a longer runway.
The Baby Boomers are a whole new audience that is likely to become a larger source of demand if the industry can figure out how to meet their needs.
The number of projects being developed with medium to long-term holds is much higher this time. Fully 40 to 50 percent of the product being developed won't trade in the next 10 years. In the past, up to 80 percent was produced by merchant builders.
Our business is being institutionalized and internationalized as global capital flows connect us to everything else going on in the world, from oil prices to the Swiss Franc.
For the full scoop on all the discussion at the Conference, click on the stories below:
MPF's Greg Willett talks about suburban development strategies with Dean Henry of Legacy Partners Residential.
Investor Outlook: Some Things Never Change
For the institutional investors, cash flow continues to be king. They are also making risk-return decisions that start with deep research from the top down.
The Boomers are Coming, The Boomers are Coming
Fully 30 percent to 35 percent of the new construction is being absorbed by empty nesters and the industry has noticed. While no one is building Boomer-only properties, many firms are adapting their amenities and building out penthouses to attract them.
Are the "sexy six" being replaced by the suburbs? Even though the urban core's share of new construction is way up this cycle, two-thirds of starts have been suburban. The suburban story is resonating with investors who want to diversify their investment portfolio.
Industry leaders with years of experience deploying capital share the secrets of their success in 2014.
Unprecedented Flow of Foreign Capital Headed into Apartments
China, Mexico, Japan and Australia are just a few of the countries pouring capital into the U.S. apartment market as they seek capital preservation and a safe haven. Importantly, the risk premium formerly applied to apartments versus other asset classes seems to be a thing of the past.
Regional Rental Markets to Watch: The Good, the Bad and the Ugly
Find out what the experts think of the prospects for five regions in the U.S. with the economy and jobs coming back.
Don't Forget to Do Your Development Homework
From keeping in mind everything from income, to education, to amenities, the industry is focused on what they're doing upfront to get development right and, ultimately, draw prospective residents in a specific market. As one panelist put it, "There are a lot of really smart people grappling with strategies to drive performance and differentiate themselves."
Stagnant Incomes Exacerbate Affordability Challenges
The mismatch between rents and incomes sits at never-seen-before, unstainable levels. Local officials and policymakers are paying attention and seeking ways to address the situation - including inclusionary zoning requirements and possibly even rent control.
Bonus Hallway Chatter: It's all About the Outlets
Closing out a session on development and construction trends, Mark Tennison, EVP of Development for Equity Residential, threw out a tip to participants that had people talking in the halls: most product lacks enough electrical outlets. Add them to your club rooms, and your residents will use them. Add them to your garages for electric cars, and you can charge for them.
Additional Resources
Find the presentations from the Conference here.
View the pictures from the event here
Mark your calendars for next year: January 19, 2016 at the Waldorf Astoria/Hilton Orlando Bonnet Creek.
---