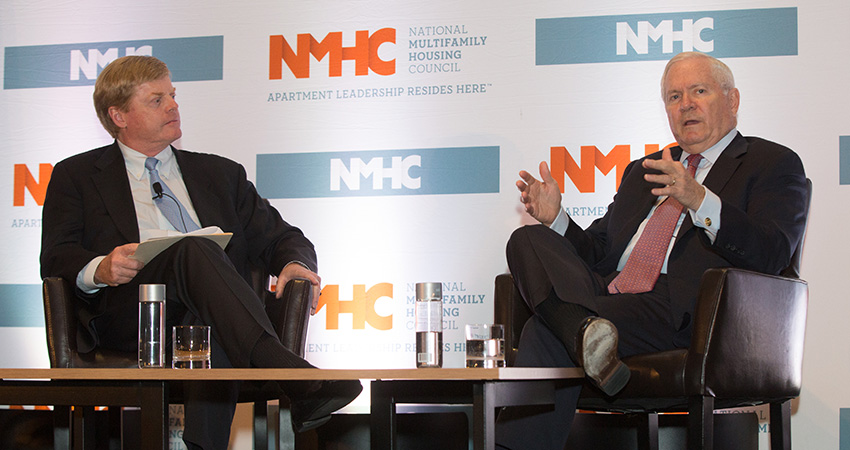 Jon Meacham, presidential biographer
Our most exclusive event of the year, the spring meeting is a unique opportunity for members to access some of the brightest minds in business and politics. Keynote speakers included former Secretary of State Robert Gates, presidential historian Jon Meacham and finance maven Sallie Krawcheck.
However, the spring meeting also provides a platform for members to engage with other multifamily leaders on key industry topics. Meaningful discussions were focused on areas like tax reform, affordable housing, construction and development trends and more.
The close of President Trump's first 100 days, coupled with his recent firing of FBI Director James Comey, made for a good backdrop for discussion with both Gates and Meacham. When asked about the tumult in the White House, Gates noted that the Reagan and Clinton administrations had also started out in similarly chaotic ways, but he added that each eventually was able to put a staff structure in place that created stability.
Sallie Krawcheck, Ellevest
"There is no White House that works effectively when there are three, four, five power centers," Gates added. "Until that is sorted out and there is a real hierarchy and a chief of staff who can control access, I think you're going to see these kinds of unforced errors, if you will."
Given the comparisons Trump has drawn between himself and former President Andrew Jackson, Meacham looked through a much different lens at the new administration. As the winner of the 2009 Pulitzer Prize for American Lion, a biography of Jackson, Meacham drew some interesting parallels and also highlighted some key differences between the two leaders-many of which were laid out in Meacham's open letter to President Trump, published in March on the occasion of the President's visit to Jackson's Hermitage.
"God knows what Andrew Jackson would have done with Twitter," Meacham joked.
The ever-dynamic Krawcheck anchored the final day of the meeting. The former CEO of both Merrill Lynch Wealth Management and Smith Barney, Krawcheck is now rewriting investment and wealth management strategy as CEO and cofounder of Ellevest, an online financial management platform for women.
"I'm also the only woman CEO to be fired on the front page of The Wall Street Journal-twice!" she added lightly.
Krawcheck covered a range of topics from performance challenges in the wealth management industry to diversity in the workplace and women's career trajectories. To that end, she said a big hurdle for women in business is that they aren't promoted as often or for the same reasons as men.
"We promote men based on potential," she said. "However, we promote women based on experience. It's a different bar."
The meeting closed out with an optional tour of the 28-acre Hudson Yards mixed-use project-the largest development project in New York since Rockefeller Center was built in 1930 and quite possibly the biggest real estate development deal ever.
The project is an engineering marvel, built over a working rail yard, and once finished will not only permanently transform the New York skyline but shift the cultural and commercial center of Manhattan to the West Side. NMHC thanks Jeff Brodsky at Related Companies for organizing this behind-the-scenes tour of the construction site.
NMHC thanks all its sponsors, speakers and participants for contributing to another high-quality spring meeting in New York. We look forward to seeing everyone again in September in Washington, D.C., for the 2017 NMHC Fall Board of Directors and Advisory Committee Meeting.
---