While there are still a few outstanding races yet to be determined, we know now that the midterm elections produced a divided government where Democrats now control the House and Republicans continue to lead the Senate.
Let's take a look at what this means for Washington's ability to move forward on the important issues facing the nation and for the multifamily industry.
Control of Congress
According to the most recent election results, Democrats have picked up a net 27 seats in the House and will have a majority comprised of at least 230 seats.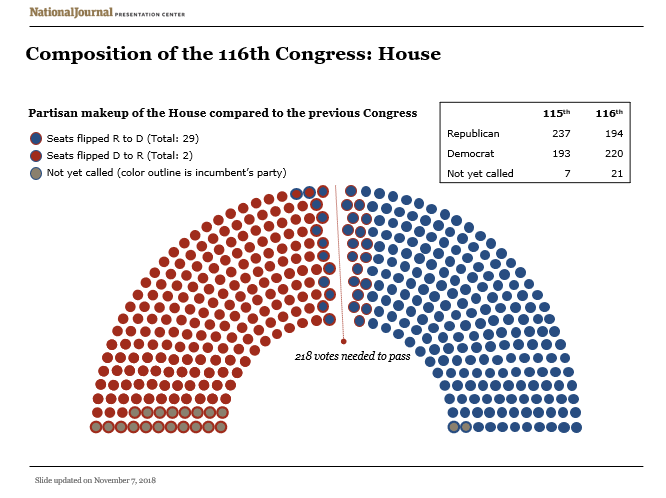 In the Senate, to date, Republicans have picked up at least two seats and secured a majority of at least 53 to the Democrats' 46.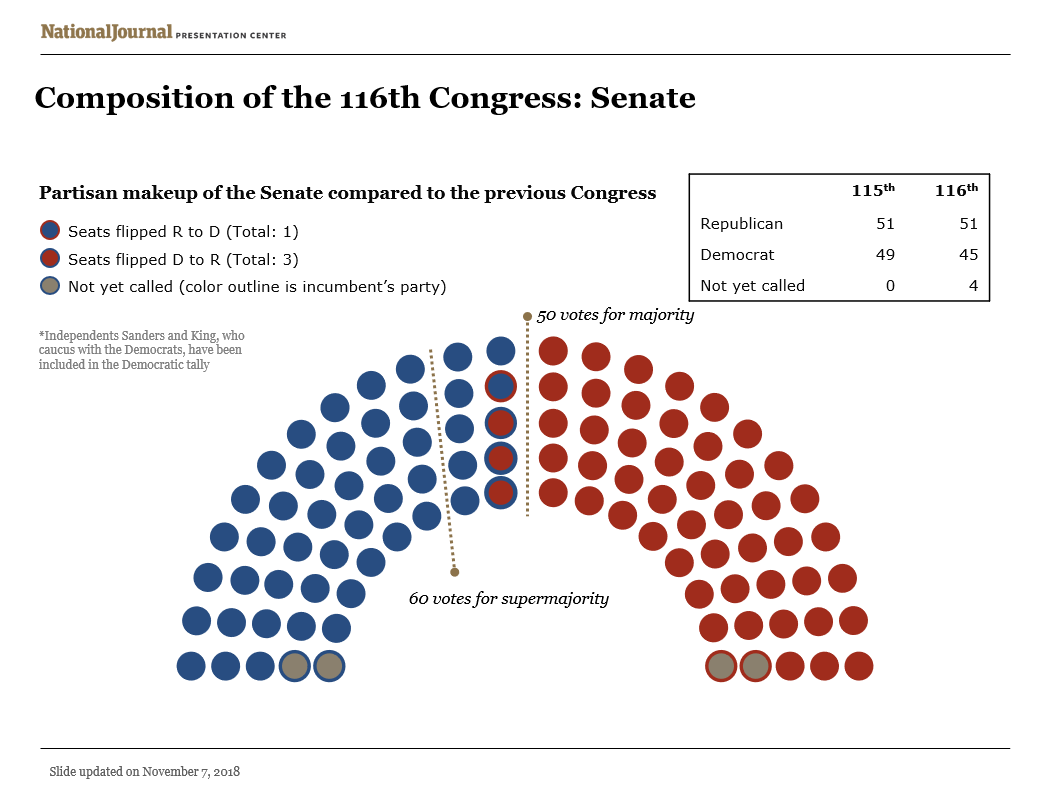 Leadership in the 116th Congress
There will be changes in leadership in both the House and Senate, but the biggest changes will take place in the House as Democrats take control of the committee gavels and control the legislative agenda.
Democratic leadership elections will take place in late November with a floor vote for Speaker in January. Nancy Pelosi has already announced her intention to seek the Speakership. Democratic Leader Pelosi will need to secure 218 votes and there is still a possibility that someone will challenge her for the gavel. However, conventional wisdom is that she will be successful in securing the Speakership. Current Minority Whip Steny Hoyer (D-MD) has launched a bid for Majority Leader and a number of Democratic members have announced bids for Assistant Majority Leader and other Caucus leadership positions.
Republicans are poised to choose their leadership on Thursday, November 15. With the loss of their majority and Paul Ryan's retirement, Republicans must choose a new party leader in the House. Kevin McCarthy (R-CA) and Steve Scalise (R-LA) are seeking the top leadership positions (Minority Leader and Minority Whip, respectively), but Congressman Jim Jordan (R-OH) has also announced he will be running for Minority Leader.
Potential House Majority Leadership
| | |
| --- | --- |
| Position | Member |
| Speaker | Nancy Pelosi (CA) |
| Leader | Steny Hoyer (MD) |
| Whip | Jim Clyburn (SC) |
| Assistant Leader | Ben Ray Lujan (NM), Cheri Bustos (IL) or David Cicilline (RI) |
| Conference Chair | Barbara Lee (CA) or Hakeem Jeffries (NY) |
| Conference Vice Chair | Katherine Clark (MA) or Pete Aguilar (CA) |
| DCCC Chair | Denny Heck (WA), Suzan DelBene (WA), Katherine Clark (MA), Cheri Bustos (IL) or Pete Aguilar (CA) |
| Frontline Program | Cheri Bustos (IL) |
Potential House Minority Leadership
| | |
| --- | --- |
| Position | Member |
| Leader | Kevin McCarthy (CA) or Jim Jordan (OH) |
| Whip | Steve Scalise (LA) |
| Conference Chair | Liz Cheney (WV)* |
*Cathy McMorris Rodgers (WA) has announced that she will not be seeking a position in leadership, but instead will be looking to be the Ranking Member on the Energy and Commerce Committee.
Top leadership positions in the Senate are expected to remain in the hands of Majority Leader Mitch McConnell (R-KY) and Minority Leader Chuck Schumer (D-NY). That said, there are two notable moves that will change the makeup of Senate Republican leadership. Due to term limits, current Majority Whip John Cornyn (R-TX) must step aside paving the way for Senator John Thune (R-SD) to assume the second highest position in the Republican Conference. Senator John Barasso (R-WY) is expected to take on Thune's current leadership post of Chairman of the Republican Conference. Senators Joni Ernst (R-IA) and Deb Fisher (R-NE) are vying for the Conference Vice Chair position.
Potential Senate Majority Leadership
| | |
| --- | --- |
| Position | Member |
| Leader | Mitch McConnell (KY) |
| Whip | John Thune (SD) |
| Conference Chair | John Barrasso (WY) |
| Policy Committee Chair | Roy Blunt (MO) |
| Conference Vice Chair | Joni Ernst (IA) or Deb Fischer (NE) |
| NRSC Chair | Todd Young (IN) |
Potential Senate Minority Leadership

| | |
| --- | --- |
| Position | Member |
| Leader | Chuck Schumer (NY) |
| Whip | Richard Durbin (IL) |
| Conference Chair | Patty Murray (WA) |
| Policy Committee Chair | Debbie Stabenow (MI) |
| Conference Vice Chair | Elizabeth Warren (MA) |
| DSCC Chair | Chris Van Hollen (MD) |
| Outreach Chair | Bernie Sanders (VT) |
Committee Makeup
In the House, Democrats will control the agenda and all committees.
Potential House Committee Chairs and Ranking Members
| | | |
| --- | --- | --- |
| Committee | Chair | Ranking Member |
| Appropriations | Nita Lowey (NY) | Robert Aderholt (AL) or Tom Graves (GA) |
| Armed Services | Adam Smith (WA) | Mac Thornberry (TX) |
| Budget | John Yarmuth (KY) | Steve Womack (AR) |
| Energy & Commerce | Frank Pallone (NJ) | Greg Walden (OR) |
| Financial Services | Maxine Waters (CA) | Peter King (NY) |
| Ways & Means | Richie Neal (MA) | Kevin Brady (TX) |
While there could be some rearranging of committee and subcommittee chairs, the top positions on Senate committees will be largely unchanged.
Potential Senate Committee Chairs and Ranking Members
| | | |
| --- | --- | --- |
| Committee | Chair | Ranking Member |
| Appropriations | Richard Shelby (AL) | Patrick Leahy (VT) |
| Armed Services | Jim Inhofe (OK) | Jack Reed (RI) |
| Banking, Housing, & Urban Development | Mike Crapo (ID) or Pat Toomey (PA) | Sherrod Brown (OH) |
| Budget | Mike Enzi (WY) | Bernie Sanders (VT) |
| Commerce, Science & Transportation | John Thune (SD) | Bill Nelson (FL)* or Maria Cantwell (WA) |
| Energy & Natural Resources | Lisa Murkowski (AK) | Maria Cantwell (WA) or Ron Wyden (OR) |
| Finance | Chuck Grassley (IA) or Mike Crapo (ID) | Ron Wyden (OR) |
*Potentially not returning to office.
The Outlook for the Multifamily Industry
We expect the Democratic House to advance a robust oversight agenda focusing on President Trump and his administration. In addition, Democrats have identified infrastructure, housing affordability, prescription drug prices, and healthcare as top-tier issues for the new Congress. In the Senate, we expect Republicans to continue their focus on regulatory relief and prioritizing judicial appointments.
NMHC is well-positioned with friends on both sides of the aisle, including long standing relationships with members of the Democratic Caucus such as presumptive Speaker Nancy Pelosi (D-CA), soon-to-be Financial Services Committee Chairperson Maxine Waters (D-CA) and expected Ways and Means Chairman, Richie Neal (D-MA).
NMHC will continue to focus on the critical issues important to the industry. The multifamily sector is impacted by the overarching issues of housing affordability and regulatory reform and we look forward to working with this Congress to identify new ways to tackle the nation's housing affordability crisis.
While many factors influence the apartment industry's health and ability to meet the nation's growing demand for rental housing, the existing patchwork of overly complex, costly, duplicative and often counter-productive regulations at all levels of government remain one of the biggest threats to delivering much-needed housing units across the country. We will continue working with this administration on a number of specific regulatory issues such as fair housing/disparate impact, emotional support animals, Davis Bacon, Section 8 Reform, a long-term reauthorization for the National Flood Insurance Program (NFIP) and a housing finance system that ensures the continuation of a federal guarantee and preserves the ability of the GSEs to provide the necessary capital financing to the apartment industry.
---