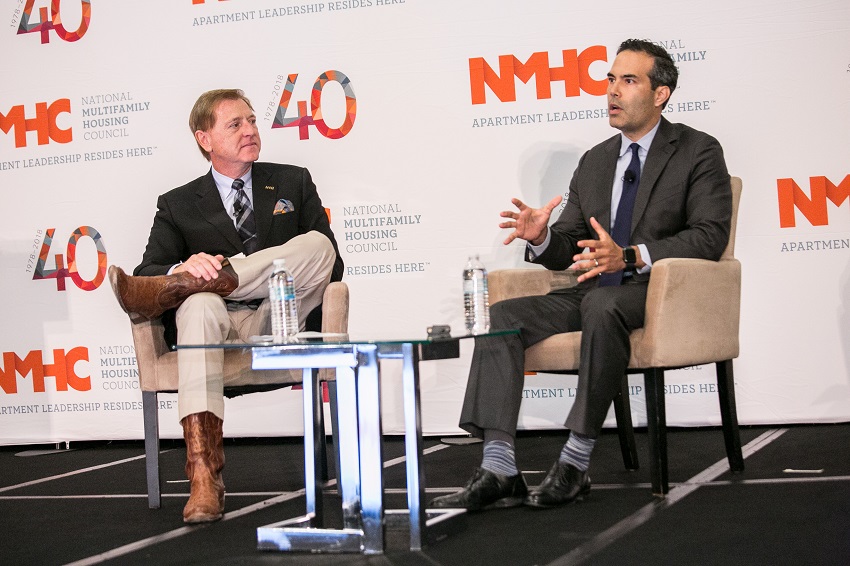 Last week, NMHC hosted members of our Executive Committee and Board of Directors at the Four Seasons Hotel in Dallas for our annual spring meeting and the 2018 NMHC Leadership Forum on Diversity & Inclusion.

Our most exclusive event of the year, the spring meeting is a unique opportunity for members to access some of the brightest minds in business, academia and politics. Keynote speakers included Michael C. Bush, the Chief Executive Officer of Great Place to Work; Michael Steep, the Executive Director of the Stanford Engineering Center for Disruptive Technology & Digital Cities; Pulitzer Prize-winning Author Viet Thanh Nguyen; and Commissioner of the Texas General Land Office, George P. Bush.

The spring meeting provides a platform for members to engage with other multifamily leaders on key industry topics. Meaningful discussions focused on areas like disruptive technologies, building for the future, risk management and more.

The 2018 Spring Board of Directors meeting was forward-looking and aspirational – a meeting dedicated to sparking new ways of thinking and understanding the impact broader societal trends could have on the multifamily industry. During his keynote discussion, Great Place to Work CEO Michael C. Bush urged business leaders to foster workplaces that "allow the creative experience to be felt by employees throughout a firm," essentially noting that good ideas aren't limited to executives but can spring from anyone at a company.

Continuing the innovative trend, Stanford's Michael Steep gave a comprehensive overview of a number of leading-edge technologies that not only have the potential to radically impact the multifamily industry, but how cities are designed and function altogether. For example, he noted how an elastic membrane imbued with thousands of sensors could lead to immediate changes in how buildings, roads and even utilities are designed and monitored – decreasing maintenance needs and costs.

On Thursday, NMHC's Chairwoman Sue Ansel interviewed Pulitzer Prize-winning author Viet Thanh Nguyen and discussed his family's story as refugees from Ban Me Thuot, Viet Nam to San Jose, California and how that influenced his prize-winning novel, The Sympathizer. He noted the importance of writers to being society's "memory" as both the United States and Vietnam move on, but important ethical questions about how the war should be remembered remain.

Finally, the 2018 Spring Board Meeting concluded with Continental Properties CEO and NMHC Secretary, Jim Schloemer, interviewing Texas Land Commissioner George P. Bush. Schloemer began the discussion noting the impact that Bush's grandmother, First Lady Barbara Bush, had on him, his family and the full NMHC audience. During the interview, Commissioner Bush highlighted the ongoing work that his office is undertaking in the recovery from Harvey and noted the different ways that the multifamily industry could play a role in supporting those affected by the hurricane.

NMHC thanks all its sponsors, speakers and participants for contributing to another high-quality spring meeting in Dallas. We look forward to seeing everyone again in September in Washington, D.C., for the 2018 NMHC Fall Board of Directors and Advisory Committee Meeting.
---