The rent is due on April 1, but widespread layoffs means millions of Americans have lost their income and ability to pay rent. Help is on the way from the federal government to assist renters in making ends meet. Yet, despite the expectation that most affected Americans will receive close to 100% of their pre-outbreak/crisis salary via unemployment benefits, some tenants' rights advocates have called for rent strikes, while others who may be able to pay are under the impression that the eviction moratoriums they've read about mean they get a "rent holiday."
To help educate residents about our willingness to help and their continued responsibility, NMHC previously issued talking points and a signage template to use in advance of April 1 to indicate your willingness to work with residents on rent flexibility.
Today, we are providing you with an additional resource—a document you can customize aimed at helping residents understand the newly passed federal resources available to help them meet their financial obligations. It also encourages those who can pay to do so to ensure that we, the apartment providers, can continue to provide safe and clean housing to all residents who call an apartment home.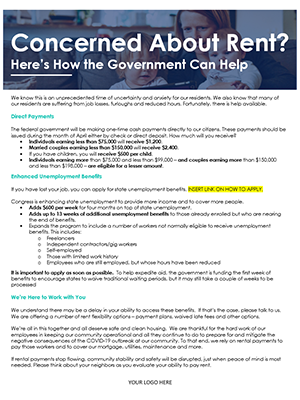 NMHC is also proactively working with the media to make the case for paying the rent. In the past week alone, we have talked to reporters from Bloomberg, The New York Times, the Los Angeles Times, NBC News, Marketplace and dozens more to make it clear that while NMHC encourages industry leaders to take a flexible, practical approach during this crisis, rent is still due.
Finally, we published an article today on flex rental payment options that summarizes some of the payment alternatives various firms are using to help renters address the strain on their wallets.
We know these are tumultuous times, and we truly appreciate all of our members who have been so transparent in sharing their responses to this pandemic, from operations to transactions to marketing. Your willingness to share helps us craft our responses and advice to the industry, including lobbying as well as guidance. I encourage you to bookmark our COVID-19 Hub and to participate in our Emergency Preparedness Listserve.
---