Housing affordability has always been an issue for our country, but its spread beyond the coasts and to middle-income households has increased momentum behind calls for rent control and other draconian measures as a "quick fix" to the problem. Much is at stake for our industry as more than half of the total number of apartment units nationwide are at risk of potential new rent control regulations.
In 2018, the industry spent more than $75 million to defeat a California ballot initiative that would have rolled back that state's rent control restrictions. While the victory drew a line in the sand and showed the industry is prepared and ready to fight unwise and failed policies, another ballot initiative has already qualified for 2020. Moreover, two states enacted "anti-gouging" rent caps this year, setting a potential precedent for other states to follow. This memo provides a summary of actions taken in 2019 and offers a preview of what we expect in 2020. Suffice it to say, we have several fights on our hands in the year ahead.
2019 Review
The year served as one of the most turbulent in recent memory for the multifamily industry, punctuated with major victories and defeats. The resulting rent control policies in 2019 have already led to a significant decline in investment in those areas as found in NMHC's October Quarterly Survey. Here's a look at where we saw the most action:
---
2020 Outlook
If 2019 proved anything, it's that this has the potential to be an existential threat to the industry and something that needs to be a priority, not just for NMHC, but also our member firms. To help you understand what we are facing in 2020, the following is an assessment of some of the anticipated threats.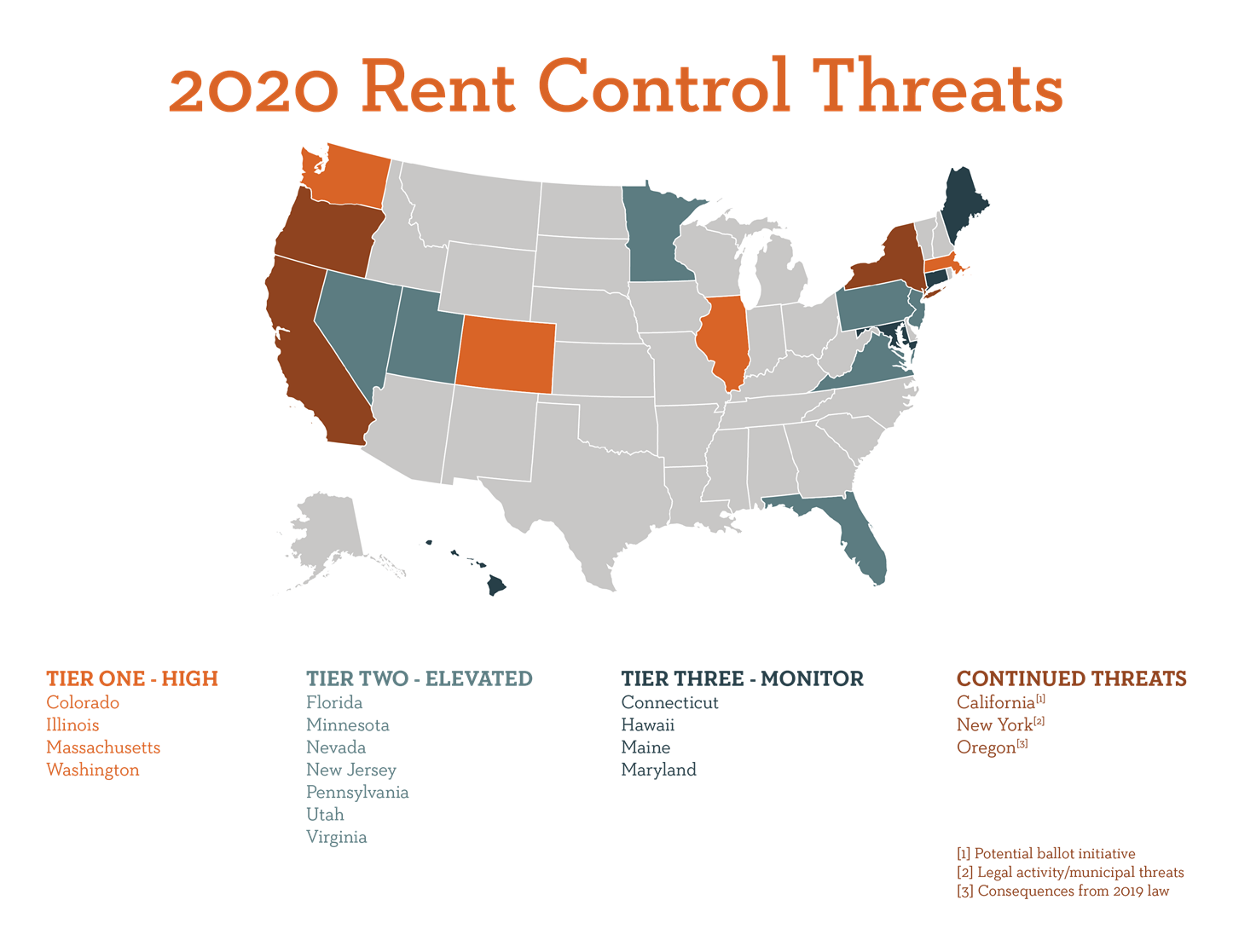 Despite the defeat in 2018, the proponents of stricter California rent control have already secured enough signatures to put another initiative in the ballot in 2020. It cost the industry $75 million to defeat the 2018 ballot initiative. Given the expected higher turnout for 2020, a presidential election, not to mention higher advertising costs in a presidential election year, this would suggest that the upcoming initiative will be as expensive or more.
In Colorado and Illinois, we expect a return of measures that would eliminate their statewide rent control preemptions. In each state, Democrats control both chambers of the legislature as well as the governorship, meaning that rent control could move very quickly from a proposal to a law unless a vigorous defense is mounted. Notably, in Illinois, Chicago teachers included rent control as a demand for settling their recent strike. The Nevada legislature will not convene in 2020, but it is likely that rent control measures will arise in 2021.
In Massachusetts, a bill to remove the statewide preemption will receive its first hearing in January 2020. While Republican Governor Charlie Baker supports solutions that address the lack of housing supply, rent control amendments to the bill are expected.
While Washington State maintains a statewide preemption, the Seattle City Council is nonetheless actively pushing for rent control. In the November elections, City Councilwoman Kshama Sawant – an outspoken rent control advocate – defeated a candidate heavily backed by Amazon, which opposed rent control.
There have long been rent control rumblings in Minnesota. While the state has preemption provisions, the Minneapolis City Council is officially studying rent control as an option to address housing affordability.
In New Jersey, where some cities already impose rent control, lawmakers introduced a measure in late 2019 that would set a statewide rent cap at five percent plus CPI or 10 percent, whichever is lower. The proposal is likely to receive consideration in this year's legislative session.
Florida and Utah lawmakers also introduced measures in 2019 that would remove the state preemption on rent control. The bills are poised for consideration in the new year.
With Democrats in control of all statewide elected offices and the General Assembly in Virginia, and the pending arrival of Amazon's HQ2 in Northern Virginia, it is possible that rent control will be raised.
Though Michigan preempts local municipalities from imposing rent control, the Ann Arbor City Council is pursuing the policy. It remains to be seen how the issue will proceed in the state.
While Georgia also has a preemption against rent control, Atlanta City Councilman Antonio Brown recently introduced a resolution encouraging the state to allow cities to pass rent control legislation.
Housing affordability is clearly top-of-mind for many lawmakers, but the fact remains that too many view rent control as a source of immediate relief while they work out longer term solutions that address the supply shortage. NMHC continues to advance real solutions to the housing affordability crisis and to push back on misguided rent control. To that end, NMHC is dedicated to making sure you are aware of all of our resources at your disposal.