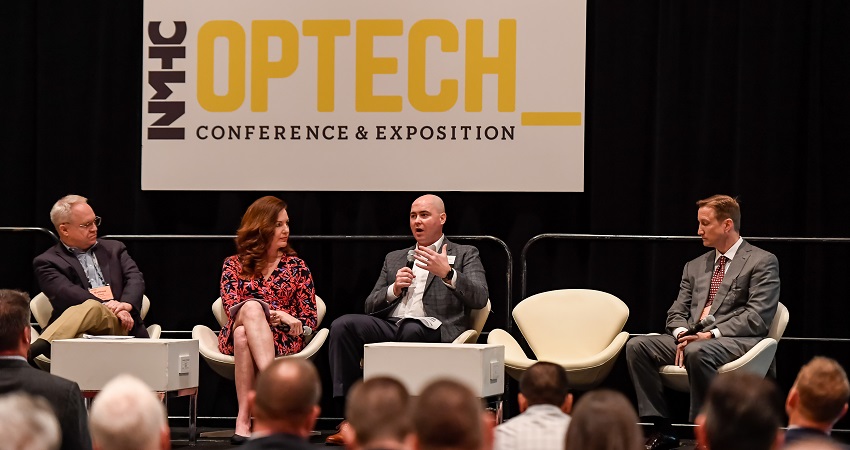 Telecommunications was top of mind at the 2018 NMHC OPTECH Conference & Exposition. Throughout the week, industry expert discussions ran the gamut from the disruption of smart-home technology in the apartment sector to the ever-changing political landscape for telecom policy and regulation.
Lennar Multifamily Communities' Chris Acker and Fairfield Residential's Gail Corder hosted the Telecom Town Hall, a gathering of multifamily owners and managers, telecom service providers, legal experts and tech companies. NMHC's Kevin Donnelly opened the forum with details on NMHC's recent meeting with the Federal Communications Commission (FCC), at which NMHC highlighted three active FCC proceedings that have the potential to affect apartment community operations.
In recent months and years, the existing rules of the road that govern the multifamily space in terms of telecommunications have been called into question," Donnelly noted.
Hubacher & Ames' Matt Ames, Multifamily Broadband Council's Valerie Sargent and Davis Craig PLLC's Ian Davis joined Donnelly in discussing the recent San Francisco ordinance that forces owners to give Internet providers access to existing wiring in their buildings.
"Ultimately, [the ordinance] wouldn't allow the owner to make their own decision, which is why we jumped on it," Sargent explained.
Policy and legal issues again surfaced during a Telecom Legal Strategies and Policy Update session, with Ames and Hubacher diving deeper into many of those issues. In discussing the recent meetings with the FCC, they highlighted the importance of educating the commission on the real estate industry.
"Throughout our meetings we were trying to educate them about the real estate market," Hubacher said. "The market is quite complex, and a single set of rules is not the way we want to go. We need flexibility, diversity."
The panel also discussed bulk agreements and how the FCC views those deals. "Bulk agreements definitely have consumer advantages and the commission seems to understand that. I doubt they'll act to take that away," Ames noted. "Property owners know their market and that they want choice and broadband."
Residents' access to Wi-Fi was touched on during the Telecom Town Hall as well. Cox Home Security & Smart Home Operations' Richard Culberson, LMC's Acker, Point Central's Sean Miller, SmartRent's Lucas Haldeman, IOTAS's Chad Summers and Comcast's Scott Werner focused on smart home and Internet of Things (IoT) technology. The group discussed the best kind of smart-home technology to integrate, pointing out that smart tech that will provide the greatest immediate return on investment are obvious choice items like smart thermostats and smart valves. In addition, the group touched on best practices for IoT deployment, citing NMHC's recently released white paper as a great resource for owners looking to get started.
As more and more residents depend on reliable internet connection to power their televisions, mobile devices, computers and, now, smart-home devices, access to good Wi-Fi and cellular service is more important than ever. Internet connectivity once considered an amenity, should now be viewed as a utility.
To that end, Mill Creek Residential's Jeff Kok moderated a panel with AT&T's Jackie Arbour, RealPage, Inc.'s Steve Sadler and Alliance Residential's Taylor Wiederkehr on strategies for assuring good Wi-Fi and cell service in new and existing communities. The group covered topics like 5G, designing buildings with internet connectivity in mind, how to best tackle retrofits of older buildings and how to keep residents happy in the age of instant access and seamless connection.
For more information on issues related telecommunications, please visit our Telecom page.
---