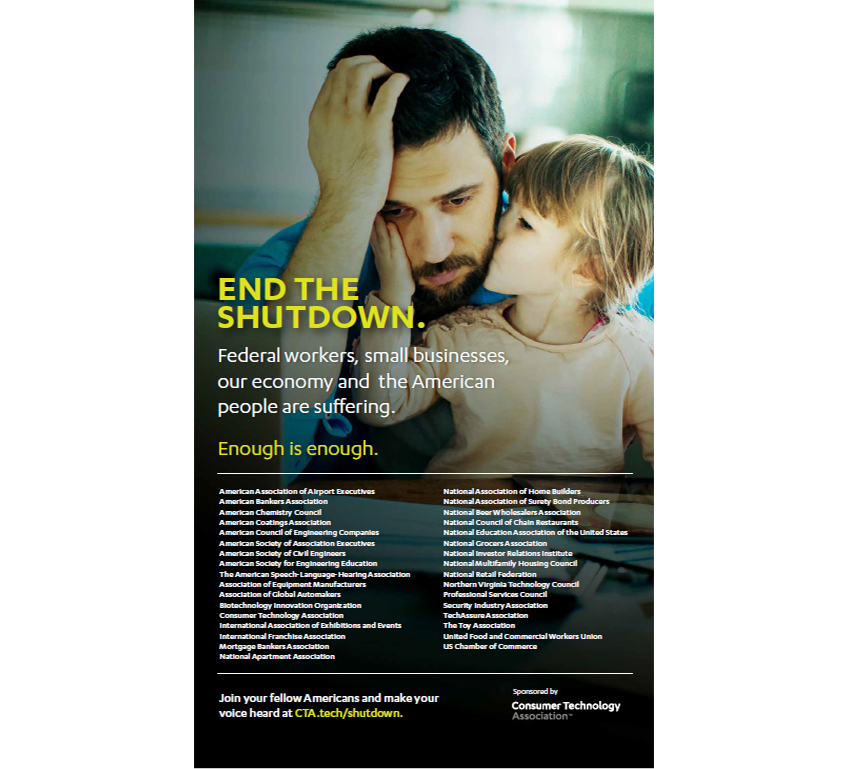 President Trump announced today a tentative deal to reopen the government for three weeks while negotiations for border security continue. Prior to Trump's announcement, NMHC/NAA joined with other business groups last week in urging the Administration and Congress to end the shutdown and reverse the economic harm done to the federal workforce and the private sector. NMHC/NAA also joined other business groups this week in sponsoring an advertisement in The Washington Post (pictured above) that urges lawmakers to end the shutdown.
Days before Trump's announcement was made, legislation relevant to the multifamily sector was introduced. Senator Brian Schatz (D-HI) and Congressman Derek Kilmer (D-WA) introduced "The Federal Employees Civil Relief Act," which would prohibit adverse legal actions from being taken against federal workers throughout the duration of the shutdown.
For the apartment industry, this means that property owners and managers would be prevented from filing for an eviction if a federal employee or contractor is unable to pay rent due to the shutdown (evictions unrelated to non-payment of rent during the shutdown could still proceed). Mortgage, health insurance and other consumer-facing financial institutions would have similar prohibitions put in place as well. Covered federal employees and contractors would then have protections in place until 30 days after the shutdown ends to make back payments on rent and other debts.
While the legislation is well-intentioned, NMHC/NAA have expressed some concern and have been working closely with both Senator Schatz and Representative Kilmer on addressing the negative impacts the shutdown and this legislation could have on the health of the apartment industry.
One particularly important concern is the impact the shutdown and lack of rental payments could have on smaller property owners or those who operate where there is a high-concentration of federal employees. Among the numerous changes NMHC/NAA are advocating for is similar relief to be granted to property owners who suffer similar negative consequences as the federal workforce.
If Congress and the Administration are able to reach a final agreement on funding for the government, the need for this legislation may diminish. However, given the potential for future shutdowns, NMHC/NAA will continue to work closely with the sponsors to mitigate the negative impacts that this type of legislation could have on the multifamily industry.
---