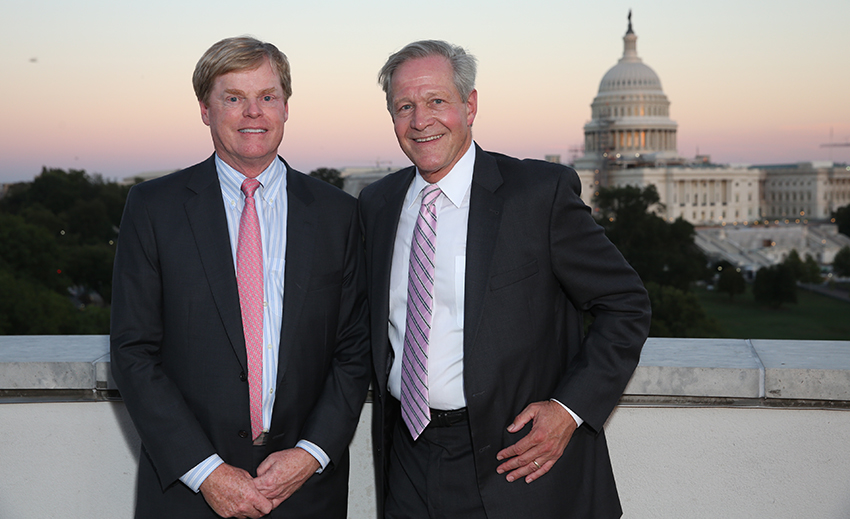 When GID's Bob Dewitt took over as NMHC chairman in January 2016, he identified five priority issues: housing affordability, GSE reform, cyber security, diversity and disruptive technologies. Here is a midyear update on the progress NMHC has made on behalf of its members in each area.
Housing Affordability
NMHC has continued to expand work in this area, aided greatly by WinnCompanies' Larry Curtis, who was recently named as the head of NMHC's new Workforce Housing Affordability Committee.
Curtis and Dewitt recently met with both Senator Elizabeth Warren (D-Mass.) and with the Democratic staff on the House Financial Services and Senate Banking Committees to discuss the many challenges that the industry faces when working to build housing that is affordable both to low- and moderate- income levels.
The workforce housing committee also has been providing input to Senator Ron Wyden (D-Ore.) on the creation of a workforce housing tax credit that would be modeled after the LIHTC program but target to middle-income households.
In addition, Holland Partners Group's Clyde Holland testified before the House Financial Services Committee earlier this year highlighting barriers and solutions to the development and preservation of housing that is affordable.
NMHC staff continues to engage policymakers and other stakeholders on tax, finance and housing regulation aimed at ways to address housing affordability.
NMHC and NAA are also investing in message testing and a larger PR campaign to best position our industry as a constructive partner in the effort to address affordability in the communities where we do business.
GSE Reform
GSE reform remains just beyond the horizon for yet another Congress, but positioning and jockeying has begun in earnest both on Capitol Hill and within the business community. The prospect of fully depleted capital reserves for Fannie and Freddie by the end of 2017 will likely jumpstart this debate.
Along with leading voices on housing finance reform from across the spectrum, NMHC President Doug Bibby and Chairman Bob DeWitt submitted a white paper to the Urban Institute earlier this year, outlining the importance of GSE reform to stable and healthy rental markets.
NMHC continues to communicate this message with the administration, Congress and even the presidential campaigns in preparation for whatever comes next.
Cyber Security
Cyber security has been a major focus at NMHC over the past year. For too long, many in the industry didn't take the challenges seriously enough and dismissed the problem as purely an "IT issue."
To advance industry knowledge of cyber security risk, NMHC issued a first industry white paper and set of best practices that serves a roadmap to enhancing cyber security. The report covers third party contract negotiations, cyber insurance, the need for incident response plans, and the existing regulatory framework.
These efforts combined with our continuing programming at NMHC conferences like the upcoming NMHC OPTECH conference, double down on our already robust advocacy work in this space in the regulatory and legislative arenas.
We secured a big win last year with passage of the Cyber Security Information Sharing Act, which provides clear authority for companies to share information with each other and with law enforcement agencies without fear of antitrust or liability concerns.
NMHC continues to be active in the debate surrounding any sort of national data security or breach standard, in order to prevent overly burdensome regulations on member companies or an enforcement regime that is impractical for our industry.
Diversity
NMHC is showcasing the importance of diversity and inclusion to the industry through new video and website content. NMHC is developing new related programming during meetings, building and supporting relevant organizational partnerships, providing a variety of resources on our website to help members consider strategies for strengthening diversity and inclusion within their own companies.
NMHC President Doug Bibby is on the board of Real Estate Associates Program (REAP) and RailField Partners' Ken Bacon is vice chair of Real Estate Executive Council. We hope to build bridges between those two organizations that promote inclusion in real estate.
Disruptive Technologies
Disruptive technologies are shaking up not just the multifamily industry but the economy as a whole. NMHC has looked to foster multifamily tech start-ups with the goal of helping innovate our industry. Besides establishing relationships with tech innovators like home sharing giant Airbnb and e-commerce leader Amazon, NMHC continues to invest in the annual Launch Pad competition. A part of the NMHC OPTECH Conference and Exposition, the multifamily tech competition continues to grow. This year, the competition has drawn more than 34 submissions.
---