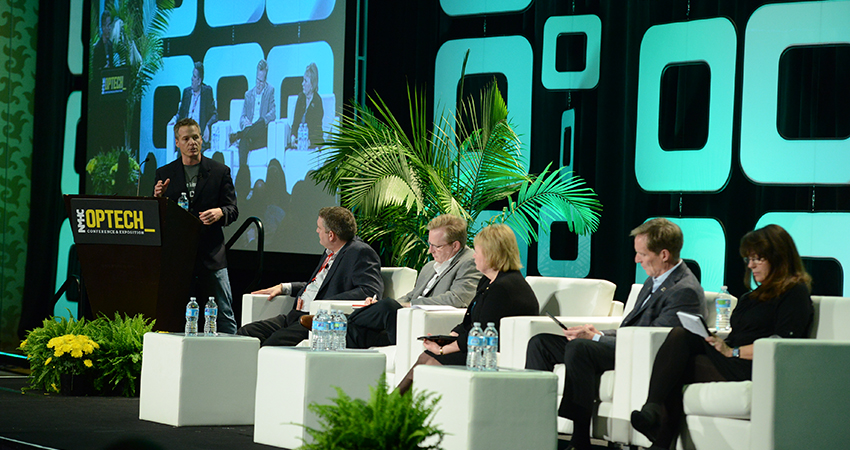 With the 2016 NMHC OPTECH Conference & Exposition just weeks away, NMHC is thrilled to announce the 2016 Launch Pad top ten semifinalists.
Now in its fifth year, Launch Pad is the multifamily industry's leading tech start-up competition and premier showcase of new and innovative multifamily technology solutions.

Chosen from a record number of applicants, a panel of industry expert judges narrowed down the competition to the following tech startups offering a broad spectrum of multifamily products and services.
1. Baroo
Baroo is a full-service pet concierge startup operating solely in urban luxury multifamily properties throughout Boston, Washington, D.C., and Chicago. Services are offered through the company's mobile app, which include a variety of dog walk-or-run programs, on-site playdates, in-home pet sitting, grooming, feeding, vet visits and training.

2. Capexed
Capexed is the world's only online marketplace devoted to enabling real estate owners and operators to buy and sell all extra inventory. An eBay-like setup provides industry professionals, buyers and sellers, with an online platform to do the same brokering for furniture or appliances that is currently being done offline.

3. Embue
Embue delivers smart apartments for residents and building intelligence for owners through its portfolio-wide dashboard and in-building network. Embue smart home technology automates management tasks, optimizes resource use and protects against loss.

4. Happy Inspector
Happy Inspector is a fully native mobile app that gives users the flexibility to power any inspection required-onsite, in the field and globally. Benefits for multifamily properties, student housing, military housing and affordable housing include increased operational efficiencies, better compliance, reduced liabilities and improved resident satisfaction.

5. IMS Platform
Investor Management Services (IMS) is a software solution that aims to help commercial real estate owners improve back office efficiency and investor relations. IMS unites the expertise of seasoned real estate professionals with advanced technology to deliver a state-of-the-art online experience for owners and their investors.

6. Knock
Knock online scheduling and messaging platform is designed for faster, easier prospect conversion and communication. Knock quickly converts searches and questions into booked tours and answers, no matter where or when prospects find you.

7. Logware
PackageLog by Logware software was created to expand communication with residents through automated reminders by text message and email. In addition, PackageLog manages all resident packages including return-to-sender, missing, signature required, perishable, etc.
8. Matterport

Matterport's powerful end-to-end immersive media system allows property managers to easily capture the attention of any prospective resident where they start their search-online. The Matterport Pro Camera quickly creates visually engaging, immersive virtual experiences that are easily shared through existing marketing channels like web, social and email.

9. redIQ

redIQ provides a central hub for the exchange and analysis of multifamily property operating data. redIQ is the only platform that extracts data out of static property management reports received from external parties and transforms it into actionable intelligence.

10. StratIS

StratIS provides multifamily and campus community owners and managers with remote management andcontrol capabilities for access, energy and automation-advanced features that had previously been cost prohibitive to all but the largest budgets.
NMHC congratulates all the 2016 NMHC
Launch Pad
semifinalists and thanks the panel of judges who carefully reviewed every application to determine the ten semifinalists.
Launch Pad preliminary judges will next further narrow down the field, with
four finalists to compete live at OPTECH in Dallas, Nov. 14-16
. The winner takes home a $5,000 prize and a complimentary Advisory Committee membership.
Have a favorite? Audience vote will decide the winner, so be there. OPTECH registration details are available at
nmhc.org/OPTECH16
.
---