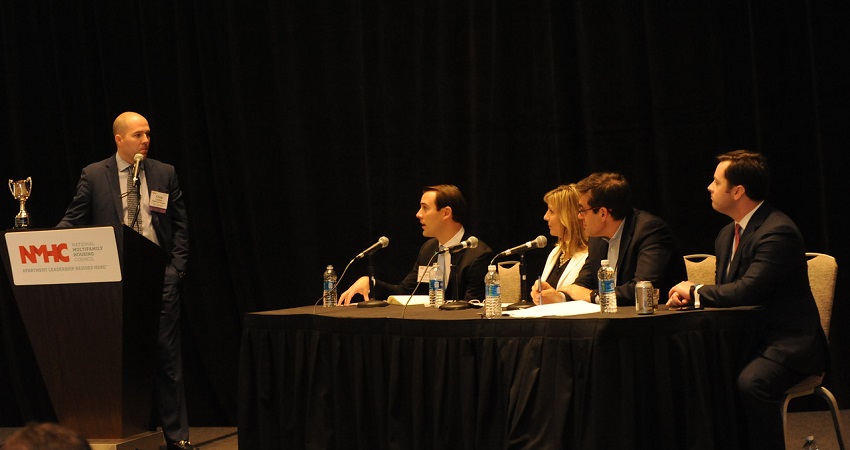 More than 250 young, rising professionals attended the 2017 NMHC Annual Meeting, bringing fresh talent and energy to the halls and enriching the program.
These young professionals were able to attend thanks to our special Emerging Leaders registration program. The program allows member firms to send one under-40 rising talent with at least five years industry experience to the sold-out event to network, attend sessions and gain exposure to the industry's senior leaders-all without member companies having to use an allotted registration.
But the registration program was hardly the only perk for this group of young professionals. On opening night, the Emerging Leaders Committee, led by Colliers Residential's Will Mathews, Mill Creek Residential's Jessie Henry and Waterton's Peter Kuzma, hosted a meet and greet so this group of attendees could have an opportunity to meet each other before the full slate of activities began.
The committee also hosted a complimentary Emerging Leaders lunch, giving these attendees another opportunity to network with peers. The lunch also featured a brief roundtable discussion of key industry trends, including the impact of rising interest rates, shifting demographics, changing parking needs, the pullback in construction lending and more.
Several current and former Emerging Leaders were featured on the meeting program as well. Once again, the Young Guns Pitch to Senior Leaders session, an annual tradition where three young executives present a deal to a mock investment panel, drew a huge crowd.
Participating in this year's competition were Waterton's Peter Kuzma, PGIM's Chris Lackett and Green Street Advisors' Dave Bragg. Competing against an attractive value-add deal and an alternative investment REIT stock play, PGIM's Lackett took home the trophy with his presentation of a 430-unit new development deal in an emerging neighborhood in downtown Washington, D.C.
NMHC thanks the investment committee, which included Bell Partners President Lili Dunn, LMC Managing Director and Head of Investments John Gray (also an Emerging Leader) and Brookfield Properties Senior Vice President Jon Moore, for their participation and constructive feedback.
NMHC was also happy to have former Emerging Leader Ricardo Rivas, principal and chief investment officer with Allied Orion Group, moderate a panel discussion on strategic issues in new development.
NMHC encourages member firms to get their young talent stars involved in the Emerging Leaders program. Qualifying employees can join the database to connect with other Emerging Leaders. Also check out our list of networking events offering exclusive access to some of the industry's titans.
---