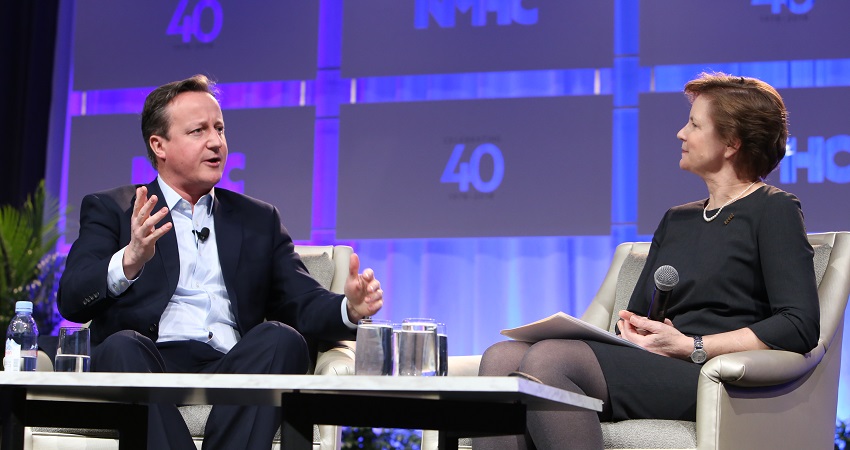 The who's who of multifamily gathered in Orlando last week for the back-to-back 2018NMHC Apartment Strategies and NMHC Annual Meeting events. Deal-making and networking were top of mind but so, too, was getting a handle on how the best in the business are looking to navigate the year ahead.
NMHC President Doug Bibby may have summed it up best in saying, "While the market fundamentals remain strong, the headwinds we have discussed in recent years have arrived, making yield a key focus."
To help executives better prepare for the challenges and opportunities in the near term and beyond, NMHC assembled nearly 70 speakers across both events to share data, insight and perspectives.
We were especially thrilled to welcome urban revitalization strategist, developer and award-winning broadcaster Majora Carter on our main stage, as well as Hines founder and Chairman Gerald Hines to an exclusive Executive Committee gathering and political analyst and best-selling author Dr. Larry Sabato to our special PAC appreciation breakfast.
Former U.K. Prime Minister David Cameron closed out the week with discussions of China, Brexit and the future of the euro, the special U.S.-U.K. relationship and dished on what it's like to meet the Queen. He also talked at length about Britain's housing challenges. Turns out things might not be all that different across the pond, as he pointed out the need for an investment-grade private rental market, more affordable starter homes and a more pro-housing regulatory environment.
"We need to fix the regulatory environment to make it easier to build the units people need," he said, adding, "You should have to prove why a development shouldn't happen instead of why it should."
The meetings were also cause to celebrate NMHC's 40th anniversary. Nothing says party like a massive donut display, fireworks and nighttime entertainment with comedy duo Steve Martin and Martin Short. To further commemorate the occasion, NMHC is partnering with Shelters to Shutters for a 40 for 40 initiative to fight homelessness. The goal of the campaign is to sign up at least 40 new multifamily partners to help raise $200,000 to support S2S.
NMHC is also thrilled to announce the election of Sue Ansel, president and CEO of Gables Residential, to serve a two-year term as chairwoman. In a short member address, she outlined several priorities under her leadership, which included fostering more innovation and diversity and inclusion in the industry, more engagement on legislative and regulatory issues and growing the NMHC Research Foundation.
We hope you all enjoyed our meetings again this year and thank all of our speakers, sponsors and attendees for their participation and feedback. Photos from the events are available on our Flickr stream and the presentations and other meeting materials are posted on the archive pages of both the Apartment Strategies Outlook Conference and Annual Meeting.

Don't forget to mark your calendars for next year's meetings, being held Jan. 29-31, 2019, at the Manchester Grand Hyatt in San Diego!
---