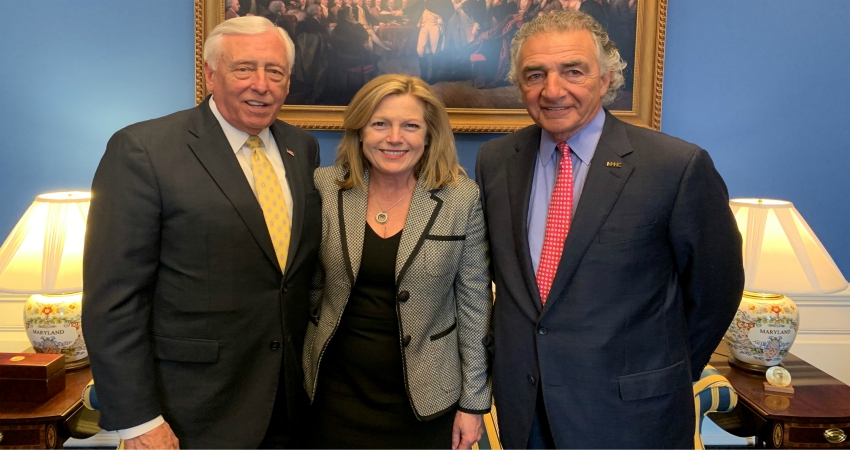 NMHC members Tom Bozzuto and Julie Smith of The Bozzuto Group joined NMHC staff on April 2 for advocacy meetings with Senator Chris Van Hollen (D-MD), House Majority Leader Steny Hoyer (D-MD), and Senator Ben Cardin (D-MD).
During the meetings, the group discussed a wide-range of topics of importance to the multifamily industry – such as housing affordability, housing finance reform, infrastructure, tax policy and regulatory reform.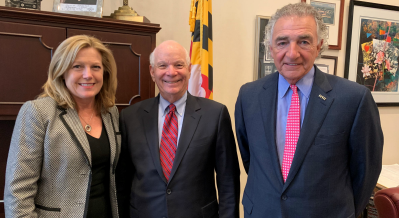 NMHC has long been engaged on the debate surrounding solutions for our nation's affordability crisis. Bozzuto and Smith highlighted the many hurdles that must be overcome to build affordable housing. The group explained that even in communities that want – and desperately need – new apartment development, challenges include: entitlement expenditures; zoning rules; environmental site assessments; impact fees; mandates such as inclusionary zoning or rent control; labor expenses; and building code requirements.
On infrastructure, Bozzuto made the case that a cooperative approach to housing development and infrastructure planning maximizes community benefit and promotes efficiencies in transportation, land use and public works. NMHC believes that an infrastructure package could play a key role in addressing housing affordability issues across the nation. Leveraging federal financial resources with incentives for state and local governments to reduce regulatory barriers and impact fees for the development of new multifamily housing could help in addressing the housing shortages.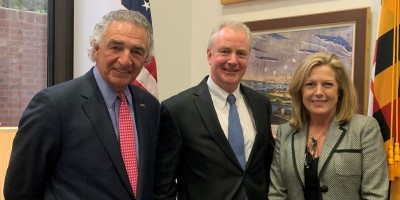 Bozzuto also stressed the importance of GSE reform to the industry. Throughout the meetings, they reiterated the message that NMHC's chairwoman Sue Ansel expressed at a recent GSE hearing on the hill: Getting multifamily right in housing finance reform is the single most important factor to ensuring that the apartment industry can meet the nation's growing rental housing demand and address affordability issues across the country.
Although NMHC staff are hard at work advocating for the multifamily sector, member advocacy is also critical in ensuring our industry's voice is heard. To learn more about NMHC's advocacy efforts, please visit our advocacy webpage or reach out to NMHC's Senior Vice President of Government Affairs, Cindy Chetti at cchetti@nmhc.org.
---