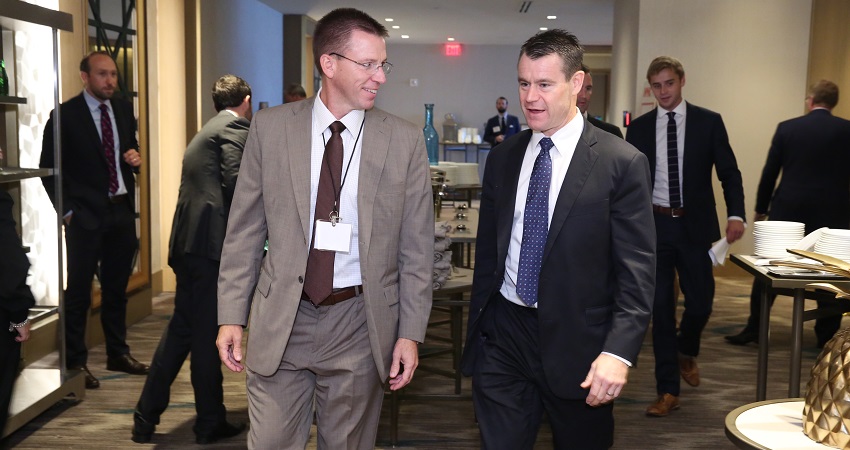 The affordable housing crisis is a mounting problem facing communities across the country. Finding solutions to the affordability challenge was a recurrent message from policymakers, industry leaders and the media during the 2018 NMHC Fall Meeting.
Senator Todd Young (R-Ind.) and Representative Denny Heck (D-Wash.) each addressed housing affordability. Senator Young discussed his efforts and the recent creation of the bipartisan task force to evaluate solutions to the affordable housing crisis. He noted that housing affordability was identified early in his tenure as an issue he wanted to focus on.
"Ultimately, my objective is to develop a bottom-up agenda," he explained. "It became clear—early on—that I need to focus my efforts on housing affordability."
Senator Young also touched on possible solutions to the challenge. "To me, it means breaking down unnecessary and duplicative development barriers," he said. "Solving this problem is going to need a multifaceted approach. It spans all income levels and affects families in urban, rural and suburban areas across the country."
Representative Heck's remarks highlighted his work in the New Democratic Coalition and their recently released research that explores the many facets of the housing affordability challenge. Much like Senator Young, Representative Heck explained that this issue is far reaching.
"It's important to step back and acknowledge that the creation of housing in this country is affected by state, local and also federal government," he said.
In addition, Representative Heck expressed his hope for bipartisan efforts on this issue, citing that the need for housing is one of the most basic needs: "My philosophy is this: pillow, blanket, roof. Housing is the most basic need—you can't live without it."
Members also had the opportunity to hear the media's perspective on the issue. NMHC Senior Vice President of Public Affairs and Industry Initiatives Kim Duty moderated a panel with Liam Dillon of the Los Angeles Times, Laura Kusisto of The Wall Street Journal and Katy O'Donnell of Politico.
The group explored the topic of housing affordability and how developers are perceived by the public. Kusisto noted, "There is a real sense of resentment around the types of development that are happening."
The panel emphasized the importance of taking an empathetic approach to questions of affordability and being open to experiences and views different from what the industry may expect. The journalists highlighted ways in which that perception could be altered and also discussed the potential for affordable housing reform at the federal level.
NMHC is focused on finding federal, state and local government solutions that reduce barriers to developing more rental housing and leverage the strength of the private sector to both produce new housing and preserve existing apartments. To learn more, please visit our affordable housing advocacy page.
---