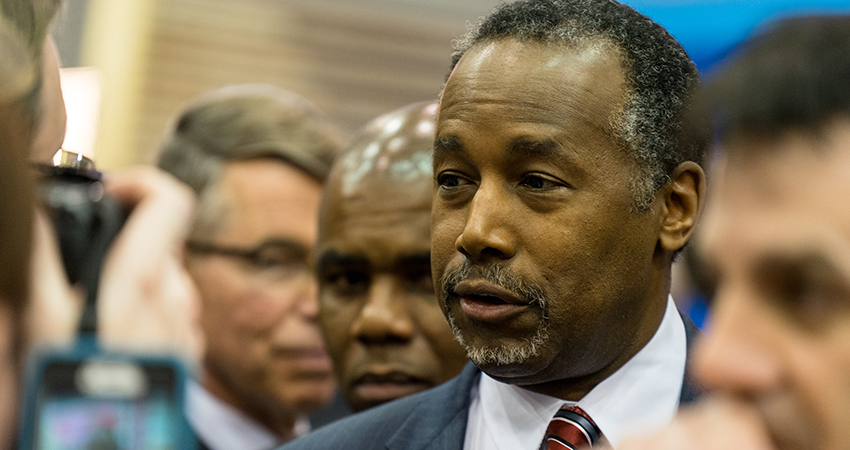 Before a Senate hearing that was first expected to be tumultuous, Dr. Ben Carson, President-elect Trump's nominee for Secretary of the Department of Housing and Urban Development (HUD), enjoyed a relatively smooth exchange with Senators on the Banking, Housing, and Urban Affairs Committee.
In his opening statement, Carson focused less on the specifics of housing policy and more on his childhood in Detroit and his growth into a renowned neurosurgeon. He explained that he had a unique perspective on housing insecurity due to his background and, drawing on his medical experience, argued that there is a connection between housing and health, stating, "good health has a lot to do with a good environment."
Carson's most contentious exchange took place with Sen. Elizabeth Warren (D-MA) who repeatedly asked Carson to promise that none of the HUD budget would benefit President-elect Trump or his company. Senators Brown (D-OH) and Menendez (D-NJ) also pressed Carson and asked him to reaffirm his commitment to HUD's mission.
Of particular note, when asked about Fannie Mae and Freddie Mac by Sen. Dean Heller (R-NV), Carson stated that he supported "some type of backstop" and was "very much in favor of introducing more private entities into the market." He also noted that he wants to work on housing finance reform in comments to banking committee Chairman Mike Crapo (R-ID).
Dr. Carson's full confirmation hearing can be viewed here and his prepared testimony can be found here.  
---