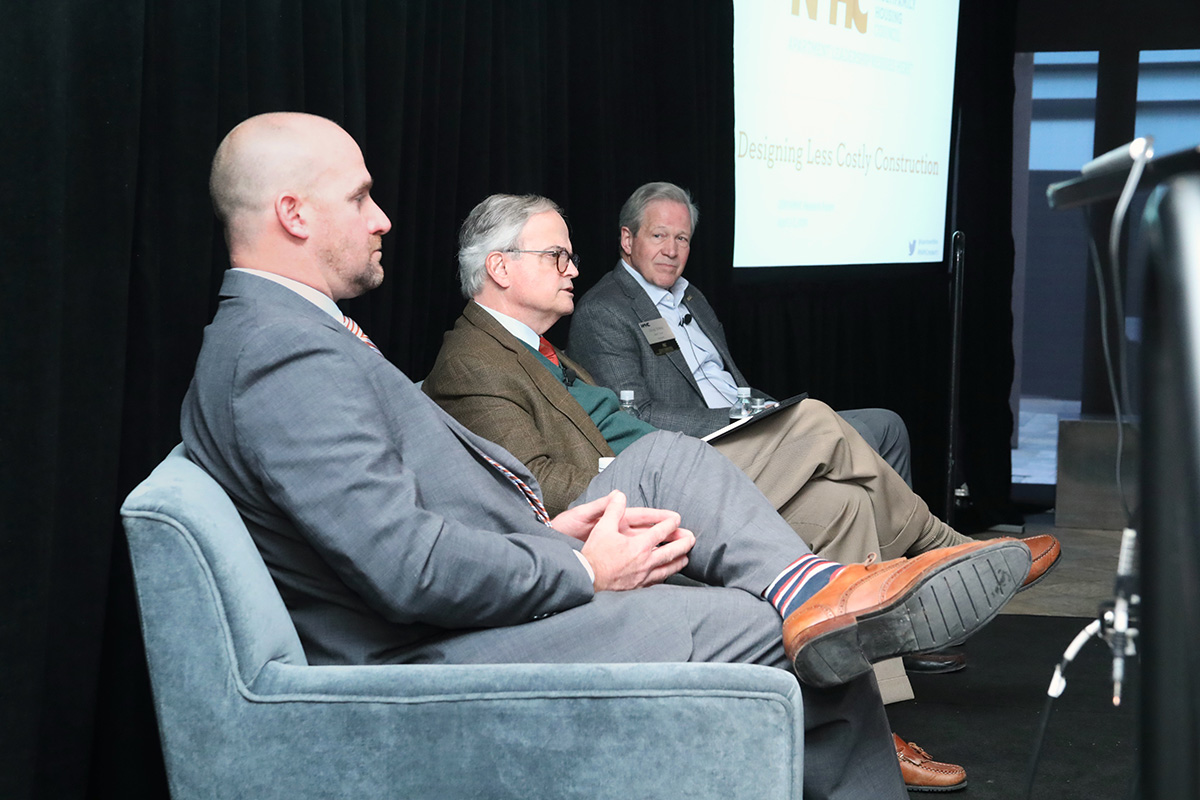 If necessity is the mother of invention, then the sharp and growing need for a greater number of affordable apartments should be driving big innovation in multifamily construction. However, while radical transformations might not be visible in the market today, according to some industry experts, that time is nearing. During the 2019 NMHC Research Forum, NMHC President Doug Bibby led a discussion with Niles Bolton Associates President Ray Kimsey and Trammell Crow Residential Managing Director Jarvie Worcester on what technologies and innovations in design and construction they believed could begin to move the needle on reducing construction costs.
Both Kimsey and Worcester pointed to the use of new construction systems like Katerra's modular construction model and Prescient's light gauge steel framing system. In both cases, structural components are manufactured off-site in a controlled environment and then assembled on site, with the benefits of reducing costs and waste, improving consistency and quality and reducing the time to build—all of which contribute to lower costs. While these systems are still relatively new to the industry, Worcester said they are being used more and more. Trammell Crow Residential, for example, has worked with Prescient on four projects, two of which have already been completed, stabilized and sold and two that are about to deliver.
When working with a new technology, there is always a learning curve. And in the beginning, that learning curve erodes some of the promise of time savings, said Worcester. As an example, one project in Denver had to have a portion re-permitted, which led to a two- to three-month delay. While not ideal, "it wasn't hugely material to the deal," Worcester said. But once the initial kinks are worked out, the process becomes smoother with every project.
As these issues have popped up and been resolved, there's also been a trend for some of these newer construction tech companies to begin to vertically integrate to maximize efficiencies. For example, in addition to outfitting its modular components with mechanical, plumbing and such, Katerra also has acquired a number of design firms across the country and has its own labor pool on hand to do on-site in at least one market where labor shortages are a big issue.
And companies like Prescient are moving in the same direction, said Kinsey noting that in one project in Georgia, all the mechanical, electrical and plumbing will be under the Prescient umbrella.
"What you are seeing is the general construction industry moving towards that fluidity that comes with the vertical integration on the Katerra side," Kinsey said.
"Bringing all that stuff under the Prescient umbrella frankly solves some of the problems and lessons learned that we had," added Worcester.
However, panelization or modular construction is only the beginning. New construction materials like cross laminated timber and new software and mobile technologies could dramatically affect apartment construction in the future. But for both Kinsey and Worcester, advances in robotics could be the real game changer. Pairing a components-based structural system with robotic technology could take efficiency and speed to new levels, further reducing costs.
"Robotics—whether it's in a plant or on the site—robotics are coming," said Kinsey.
---