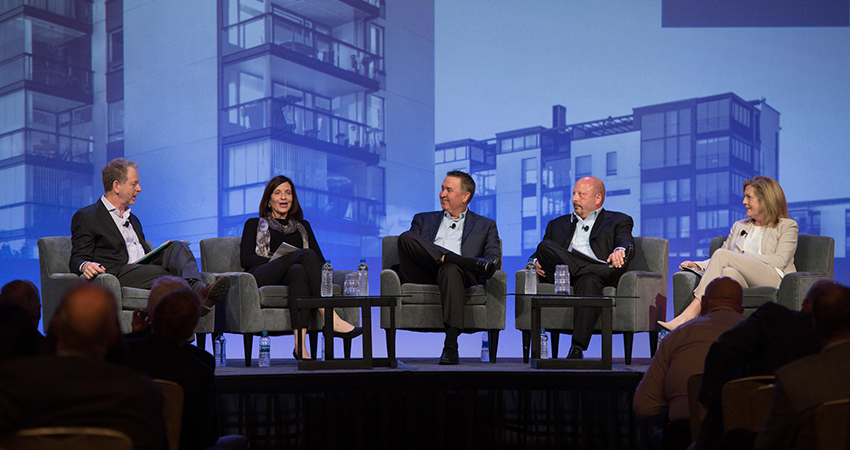 As the multifamily sector continues to grow, recruiting and retaining talent has become increasingly important. Generational differences between recruiters, managers and the next wave of real estate developers, owners and managers create both unique challenges and also opportunities.
This was a major discussion point during a panel on talent acquisition and management at the 2019 Apartment Strategies Outlook Conference. Moderated by Matt Slepin, founder and managing partners with Terra Search Partners, the panel included Bill Bayless, CEO of American Campus Communities; Chris Payne, president of SARES-REGIS Group; Cindy Scharringhausen, senior vice president of human resources at Camden Property Trust; and Julie Smith, chief administrative officer at The Bozzuto Group.
Bozzuto's Smith stressed that millennials tend to be mission-oriented. She said that helping someone find a home is an incredibly rewarding pursuit and that pushing this forward as the industry's objective can make multifamily a more appealing career path. Aside from mission, she said she also believed that the versatility of skills employed in the multifamily field can be a major selling point; younger employees can constantly use their financial, marketing and digital media abilities, which can be appealing to them.
During the discussion, the topic of technology also emerged as a double-edged sword. Online and digital technologies can go a long way in connecting companies to younger candidates; they also put a lot of information out in front of them—for better or worse. According to Smith, regardless of many other positive factors, bad reviews on sites like Glassdoor and Indeed can be a major red-flag to potential applicants. However, good reviews can go a long way. Camden's Scharringhausen added that her company's success in continually being listed as a top place to work has come through focusing on boosting Glassdoor and Indeed profiles. It starts with building a great work culture, she said, once you do that, online acclaim will follow.
Technology within the workplace also plays a role in recruiting and retaining interns and employees. "Our business is so clunky," Smith said, often running on numerous outdated and unsynchronized systems. Having one integrated and easy to use platform, she explained, can be a selling-point and boost satisfaction, particularly among younger employees.
Creating a great work culture can also help reduce turnover. SARES-REGIS' Payne said that he has recently saw a spike in turnover, creating a need to constantly recruit. "Some people just burnout," he said. All panelists agreed that building a great work culture can combat this.
Increasing flexibility is another way to improve work culture, Smith observed. For example, she said she sees an opportunity to bring in mothers as part-time employees. To do this successfully, she said, "we have to be more flexible in how we schedule."
Slepin brought up the importance of increasing diversity and inclusion. All agreed that this is vital to building a better work culture and to the industry's future success. "It's no longer a nice to have," Smith explained, "It's a business imperative." Not only is it important that those within the field better represent the people they serve but is also important for recruitment. People want to work in a diverse environment. In addition, variety in thought and experience has the potential to greatly improve business practices.
It is also a plus in recruiting because if people see themselves represented in the multifamily sector, especially in high-level positions, they are more likely to be drawn to it. According to Smith, if we want to see diverse leadership in the next few years, the field really needs to start recruiting more diverse entry-level employees now.
One place ACC's Bayless said he sees potential for increasing diversity is at universities. He explained that ACC has several feeder-programs that help students build a path from on-campus employees to successful leaders within the company. He pointed out that many of his colleagues who are currently climbing the company's ranks were graduates of these programs, including a significant number of women. He also says that paying student workers fairly and employing them for between 20 and 28 hours a week helps make college more affordable, but it also allows them to learn all the facets of the industry.
Smith agreed that having an active college recruiting program as well as a funnel from internships to employment can both boost diversity and aid in recruitment overall. Most importantly, Smith said that a company must have clearly defined values that every employee, regardless of hierarchy, knows and lives by.
---