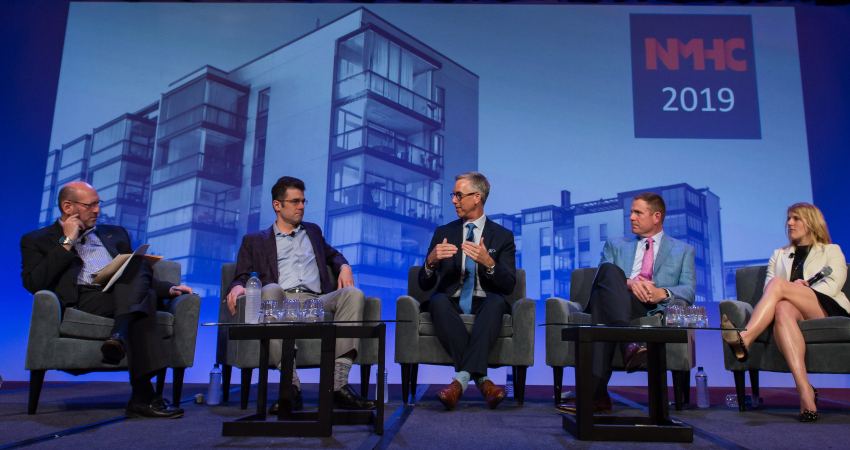 Between land, labor and material costs rising and new apartment deliveries catching up to household formations, 2019 is set to be one of the most challenging markets for developers in this recovery cycle so far. Developers have taken advantage of the low hanging fruit and burned through the discounted land purchased during the downturn, so it's time to sharpen strategies.
Innovation, diversification and a laser focus on the consumer are the key elements for a successful game plan in the next year or two, according to a panel of some of the nation's leading developers at the 2019 NMHC Apartment Strategies Outlook Conference. The panel was moderated by Jeff Adler, vice president of Matrix at Yardi Systems, and included panelists Kim Bucklew, managing director of Alliance Residential Company; Bob Flannery, president of CA Residential; Cliff Nash, senior managing director of finance at Greystar; and Leonard Wood Jr., senior managing director at TCR.
Here's a quick summary of their evolving strategies.
Focus on the Consumer
Alliance Residential's Bucklew said this year it's all about creativity to figure out how you "find the right product type for a specific submarket that really works and pencils out." For a lot of developers, that's going to be a focus on workforce housing, she says, or looking at new markets.
Lifestyle change is a big part of the story, said Bucklew. Jobs are moving to locations like Nashville, Denver, Portland that didn't used to be institutional markets, but now they are.
Cut What You Can Control
TCR's Wood, Jr., has a laser focus on controlling what you can reasonably control, and for him that is construction risk in the form of pursuit and pipeline exposure, to make sure their land acquisitions don't outlive the appetite of capital to underwrite new projects.
The firm is also scaling back to build more attainable and affordable housing by looking at cheaper sites in the suburbs and identifying what he calls "self-inflicted" cost overruns, namely the amenities race. They identified that $10 of their $45 per square foot cost increase in Atlanta was amenities.
Meanwhile, CA Residential's Flannery advised that it's all about execution and being disciplined, working with operations and leasing to make sure you are building a project that works.
Flannery says the company is building units 15 percent to 30 percent smaller than their competitors, but it is able to get rents 40 cents to 50 cents higher than the market by being thoughtful throughout the entire development process and investing in amenities that lower residents monthly fixed costs. "Think about the whole resident wallet, not just the rent," he said.
Greystar's Nash agreed with the importance of listening to the property operators on what to build and where, but he said his company is also embracing diversification. His firm's acquisition of student housing provider EDR has added more tools in their toolkit, and they are also looking at the active adult space.
"The goal is to get rid of the complexity costs and a 'get to the middle of the fairway' approach," summed up Adler.
Share Risk with Land Sellers
Nash and Wood both said they are pressing land sellers to share the risk in new construction. "We're telling land owners that our deals will pencil, but they won't start for a year so," explained Nash. "If they aren't willing to share in some of the pre-development risk, Greystar will drop sites it really likes."
Wood concurred, saying they are creating partnerships with land sellers and showing good faith along the way, but they won't take all the risk for getting a parcel entitled.
Be Mindful of Innovation
Much has been written about the role of innovation in bending the cost curve for housing production, but so far, no one sees the single game-changer on the horizon. That said, they all agree that every step toward innovation is progress.
Greystar is working with factory-based Katerra and doing some modular construction in London, where both capital markets and residents better understand the model.
TCR's Wood agreed that anything that makes it faster and cheaper to deliver housing is enticing. The company also is working with Katerra to deliver projects in the Pacific Northwest and has worked with Prescient in Denver, where they say the savings have multiplied now that regulators understand the product.
Keep an Eye on the Co-Living Trend
Can co-living and shared facilities lower housing costs? Greystar's Nash said the company is designing a mix of micro units and macro units within a "suite" concept. But he warns that it's not just about the box; it's also the operational execution. "There is a lot more to think through beyond lower rents," he said. But he does think there is a growing number of people attracted to it in high-density, high-cost areas.
Flannery agreed that there is demand for it, but he shared that when his company calls their properties four-bedroom apartments instead of co-living, the regulatory approvals are much easier to achieve. Moreover, on the theme of de-risking where you can, he said the company is looking at building buildings within buildings that would combine co-living and larger units together.
2019 still offers promise for developers as consumers continue to seek rental housing to accommodate their lifestyles and pocketbooks. But the strategies for making them pencil will require a more thoughtful approach than past years.
---