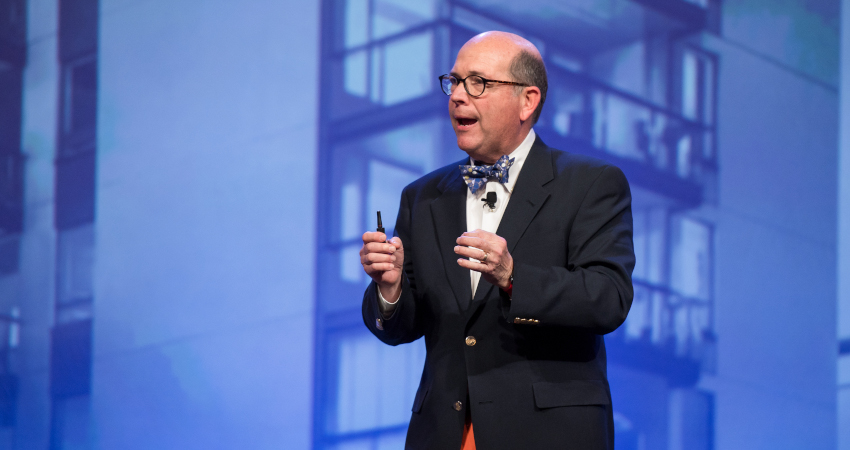 Disruptive demographics and the consumer preferences resulting from them are going to cause revolutionary changes in the way we do just about everything, including where and how we want to live, according to Dr. Joseph F. Coughlin, Ph.D., founder and director of the MIT Age Lab.

During his presentation at the 2019 NMHC Apartment Strategies Outlook Conference, he predicted a future that is grey, small, delayed and female. Here's what you need to know going forward.

The Longevity Economy
Half the children born between 1999 and 2017 will live 100 years or more, and by 2047, there will be more people on the planet over 60 than children under 15. We've never had older adults in this number; it's like an entire market of new consumers rising out of nowhere.

These older adults aren't just living longer, but they expect to live better. They are creating an entirely new life stage, complete with heightened expectations. They are smarter consumers and the future of housing is going to have to do something it's never done before for this age cohort—excite and delight.

Generation Delayed
Twenty-seven is the new 17. Millennials are the generation that just won't grow up. They are delaying everything, based in part, on a belief that since we are living longer, we can take more time to do the things we want. Marriage (and the changing housing preferences that brings) is no longer a rite of passage for the young.

Fertility is postponed because science lets us do so. The U.S. recorded the lowest birth rate in 30 years in 2017. If women postpone children, will they have more than one? You need 2.1 children per female to maintain population.

Solo Living
Small is becoming the new normal. Living solo is the fastest growing household in the world thanks to downsizing, divorce, disability and death. One-person households account for 27 percent of U.S. households, and 31 percent of households in Japan and Europe. This is a fundamental change in behavior.

Think small stores (big box retail was for big suburban families), smaller units of consumption (think single-portion packaging) and smaller apartments, where a small refrigerator and a two-burner stove might make more sense than a full kitchen.

However, don't think that living small necessarily means living completely alone. Pets have become the new amenity for many. Annual spending on pets is $61 billion, compared to the $59 billion we spend on children under the age of 15. A sign of the times is the number of parks closed to kids so people can bring their dogs and alcohol.

Female Focused
The future is also female. Women are the No. 1 influencer in making decisions for themselves and their families. They will control two-thirds of consumer wealth over the next decade, and by 2024, the average woman in the U.S. will out-earn the average man.

Entrepreneurship is the new women's movement as is what's being called "gray divorce". The highest divorce rate is among couples over age 50, and women are most likely to initiate it, usually citing boredom.

From Homeownership to Nownership
Finally, don't underestimate the shift in consumer preferences about ownership, said Coughlin. Today's consumer wants it all, s/he but doesn't want to own any of it. They are happy to rent their housing, their clothes, their cars, their books and their music. When they do spend their money, it's on experiences, not things.

Home as a Service
The new lifestyle for downsizing boomers and millennials alike is defined by ease, personalization, connectivity and fun; it's home as a service, not as a place. True entrepreneurs are already imagining what this means to the future of their firms and the experience they deliver to future residents.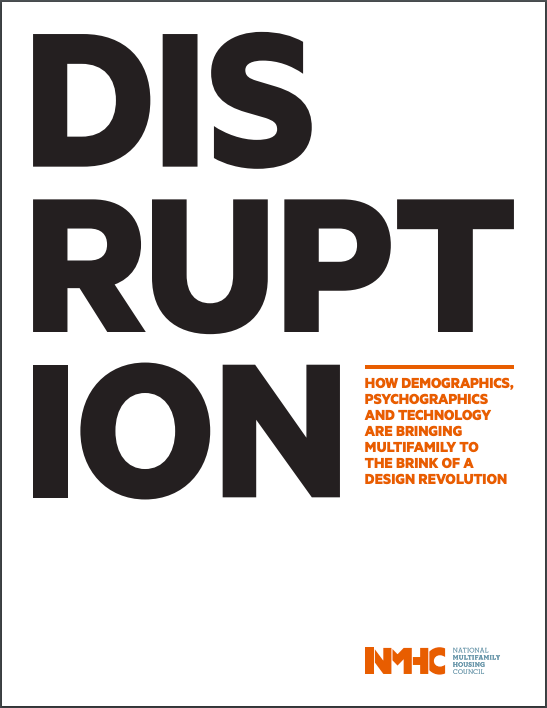 It's not just about what kind of properties you build and what amenities you include. Instead tomorrow's consumers want to know what services are included in, and even branded to this particular apartment. Tomorrow's prospective resident may very well ask you whether yours is an "Amazon-approved" property.
Are you ready for the disruptive demographics headed our way? Start preparing for it with NMHC's landmark Disruption report and website that explore these very topics and how they might impact your work 10 years from now.
---