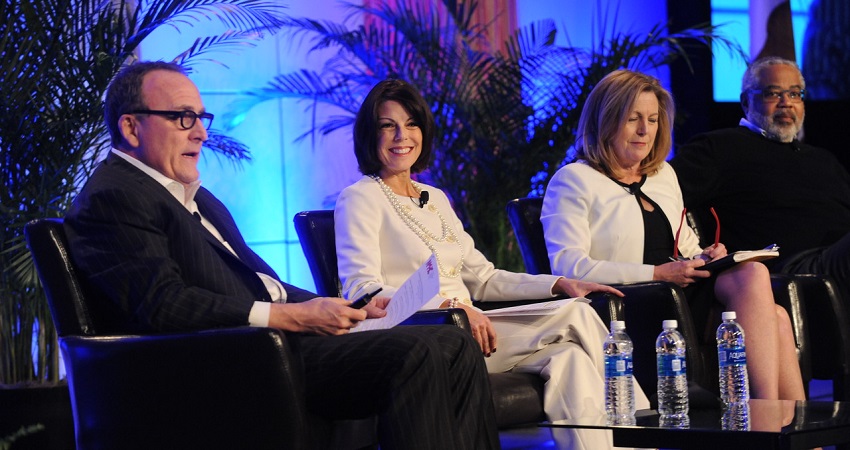 One of the overriding issues that apartment industry leaders focused on during the back-to-back 2017 NMHC Apartment Strategies Conference and 2017 NMHC Annual Meeting was diversity and inclusion. Growing awareness of not only the industry's lack of diversity but also the related business performance consequences had a number of executives from NMHC 50 companies raising the issue during several panel discussions.
For example, during a discussion of strategies to help companies maximize returns, Andrew Livingston, executive managing director for Greystar Real Estate Partners, discussed this company's decision to make diversity a business imperative.
"We've been spending a lot of time and needing to be more purposeful about diversity," he explained. We didn't really have a way to communicate to the organization how important it is to us. So, we created a task force to study the issue, do some research about where we are today and come up with some initiatives with some real budget dollars behind them."
NMHC's Diversity and Inclusion Committee dove deeper into the issues during its open-door meeting, featuring Jennifer Cobb, managing director and chief compliance officer with Greystar, who discussed the company's initiative more in depth. The committee also announced that NMHC's first Diversity & Inclusion Initiative Golf Outing, while cancelled due to unusually wet course conditions, raised funds for some of the committee's initiatives including a forthcoming event dedicated to D & I. Many thanks to sponsors AIG, Avanath Capital Management, CBRE, Davlyn Investments, Eastdil Secured, Gables Residential, HFF, Legacy Partners, Mill Creek Residential, Trammell Crow Residential and Wells Fargo for their continued support.
However, some of the most interesting discussion occurred during a panel moderated by Bill Ferguson, chairman and CEO of Ferguson & Partners, featuring Ken Bacon, managing partner at RailField Realty Partners and vice chairman of the Real Estate Executive Council (REEC); Laurie Baker, SVP of Camden Realty Trust and immediate past president of CREW Network; Mitch Harrison, CEO of First Communities and chairman of the Georgia Apartment Industry Education Foundation and Julie Smith, chief administrative officer of The Bozzuto Group and chair of the NMHC Diversity and Inclusion Committee.
The discussion kicked off with Ferguson noting that significant research has shown that a diversity of perspectives leads to more effective business leadership. Today, corporate America is making progress when it comes to diversity, but it still has a lot of work to do.
However, real estate at large is falling behind other industries. While Bozzuto's Smith explained that every industry-but especially multifamily-should be concerned with diversity because it's about talent on the front lines. Over the coming years, the industry will see scenarios where as many as four generations will be working together with different goals and priorities, and businesses need to prepare for that.
Smith also noted the importance of ensuring that apartment communities reflect the local communities they are serving. Minority- and single female-headed households are on the rise. And with women controlling two-thirds of consumer spending and making most real estate decisions for their households, having women in visible leadership positions is critical for multifamily.
To that end, Camden's Baker noted that the organization CREW recently conducted a study that found that there is a large wage gap between the genders in the commercial real estate business. It has also found that it is often difficult for women to find C-suite opportunities.
The panelists also described experiences where they find diversity and inclusion to be improving.
RailField Realty Partners' Bacon said that ultimately, diversity and inclusion is about having the best people work for and with you. "At the end of the day, we all have biases and we need to work against those to find the best talent," he said.
Click here to view the panel's full presentation.
---