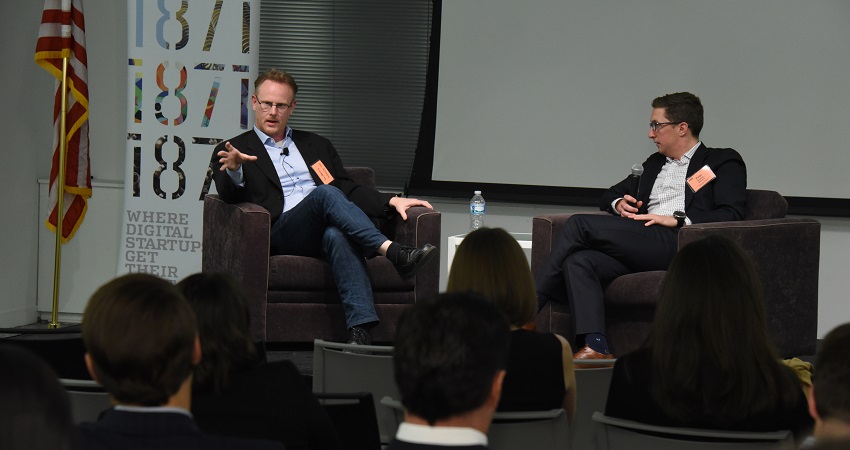 Technology is radically "disrupting" one industry after another. Yet real estate has often been a laggard in technological innovation. But does it have to be? NMHC's Emerging Leaders got a sneak peek at the future of real estate technology at a Speaker Series event last week in Chicago.
Held at Chicago's 1871 Tech Incubator, Waterton's Peter Kuzma moderated a discussion with Bob Gillespie, the executive director of Elmspring, the only seed stage technology accelerator focused exclusively on the real estate sector.
Asked about our industry's late adopter mentality, Gillespie explained, "You guys are trained to value assets and stable cash flow. Tech is completely the opposite. It's asset low with unreliable cash flow."
"You think, 'Stop, we're losing money,' and I say 'You're hemorrhaging money? That's awesome, let me give you some more.'"
"You can't be risk averse when it comes to technology," he said. "Real estate is slow to embrace tech because you have to be willing to invest in 20 companies and know eight are going to go out of business, you'll get your money back from four of them, two will make you a small profit and then you're hoping for one to be the next Airbnb or Grubhub."
In terms of predicting which startups are likely to be winners, Gillespie said it's all about the customers. Every idea has ten different ways to do it. To succeed, the technology play has to be scalable and it needs a customer acquisition model.
"The number one reason startups fail is a lack of customers," said Gillespie. "I have entrepreneurs telling me about their amazing technology all the time. My response is: Don't overthink it. Focus on how you can get customers and can it scale."
The event, which was sponsored by Google Fiber, also involved pitches from three startups that are current or former participants in the Elmspring accelerator.
The founders of CondoGrade realized there was no real way to know the financial health of a condo association before a buyer making an offer. "Fully 70% of condo associations are underfunded, but would-be buyers have no access to association documents until after they've signed a contract and put their escrow money down," explained co-founder (NAME).
CondoGrade is a data driven solution to that problem. They provide a third party opinion of condo associations' financial state so buyers know in advance whether an association is low on reserves, facing major repairs or carrying large outstanding loans.
"Our goal is to help buyers understand what a given condo might cost them down the road," said NAME.
Enodo Score is a predictive analytics tool that measures the institutional investment grade of multifamily properties. Using real-time data from public and private sources, Enodo Score's machine learning algorithm assigns a score to each property to facilitate data-driven investment decisions.
"A lot of companies can provide you with property, market and demographic data," explained co-founder NAME. "But then they leave up to you to make your own judgments. We are determining the top drivers of value in each market."
By combining data on over 800,000 apartment properties, 30 years of demographic and economic data and municipal and local data, Enodo Score seeks to provide answers to questions like:
Which amenities really add value?
How would a new property perform in my market?
Could I develop this property in a different market and get a better outcome?
What impact would it have on rent and occupancy if I add a roof deck?
Realync, a finalist in NMHC's 2015 Launch Pad, firm enables live, virtual tours and open houses as well as HD pre-recorded videos using just a mobile device. The tours are interactive so viewers can capture photos, take notes, view maps. Importantly, the entire live experience is saved so prospects can go back to them.
Realync also enables firms to create a DIY video library, saved on the cloud so there is no large file transfer, of all of their units that they can share with prospects when it comes time to rent that unit. Their videos can be set up as a private showing or a live virtual open house. The firm says their customers are seeing a 75% conversion rate from cold prospect to lease applicant via the tours.
Pictures from the event are available here.
The next Emerging Leaders Speakers Series is scheduled for July/August in Newport Beach, CA. Learn more at www.nmhc.org/EmergingLeaders.
Event Sponsored by:


---