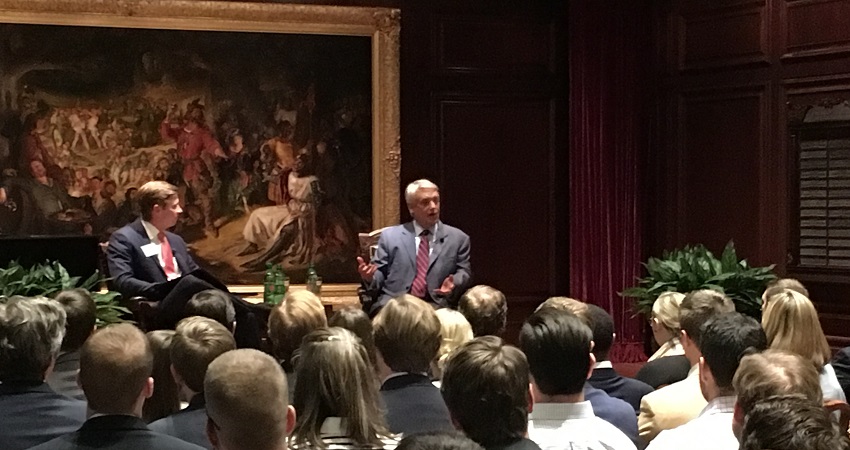 A sellout crowd of NMHC Emerging Leaders were treated to a fireside chat with Ken Valach, CEO of Trammell Crow Residential, at the famed library of Harlan and Kathy Crow in Dallas.
Harlan Crow kicked off the evening inviting guests to enjoy his collection of 8,000 rare books, manuscripts, paintings and photographs documenting American history. "People ask what item I like the best. That's like choosing a favorite child. But one favorite is an Abraham Lincoln syllogism about the immorality and outrage of slavery," Crow said.
Gerry Hedgcock, portfolio manager of Crow Holdings Capital Partners, set the stage by noting that Valach was responsible for guiding the firm through financial crisis and now oversees the development of over 200 rental and for-sale communities. Today, Trammell Crow has 11 development offices with $3 billion under construction and in the pipeline.
Taking Risks
"I had nothing to do with 99% of where I am. I'm part of the lucky duck club. The important thing is that you have to learn hard work," Valach commented. He said his first job picking berries and beans at eight years old taught him that. 
"And you need to take risks," Valach said. He started his career as a Price Waterhouse management consultant and received an offer at 24 to be the CFO of a nonprofit trade association, Fairplex. His mentors advised him to stay on his current path but Valach decided to pursue the more risky opportunity. Valach recalled saying to his new boss that "if I really screw things up, I'll go to business school and everyone will forget about me and will just think that you made a really bad decision in hiring a 24 year old."
Leadership and Success
Commenting on what makes a leader, Valach said "real power isn't something you're given, it's something you take. You need to be confident, you need to work hard and you can't be in it for your ego. And you need to be the go-to person."
"There are specific character traits that lead to success. If you look at who has been successful in this industry, they are all incredibly entrepreneurial. Starting your own company requires a lot of initiative." He continued saying, "there are hunters and skinners. Hunters find deals and skinners process deals. The leaders are all hunters."
Making it Through the Financial Crisis
Valach is known as the one who lead TCR through the 2008-2010 financial crisis. "We had to work through the nightmare to come out the other end, and it wasn't clear that we were going to survive," Valach recalled. "Leading up to the crash we were past warp 10 - we were ignoring all warning signs and were ramping up. During the 2008 NMHC Annual Meeting we were all euphoric." When AIG, Fannie Mae, Freddie Mac and Lehman collapsed, the team had to go through every deal. "There were no sacred cows. And then we had go through people and offices. We had to lay off whole offices. The one thing we learned is that you have to treat people humanely."
"The truth is that you never know how it's going to turn out," Valach noted. He took risks in joining Fairplex when he was 24, in joining Trammel Crow Residential's management company and in starting the Houston development office. "All of these decisions were risks. You don't know how they will play out, much like deals."
People Matter Most
"Ultimately, it's all about the people: the people you work with, the people you hire. We're all going to make mistakes but you need to clean those up quickly. You have to be fair to the other person - by not being upfront, you are mistreating a person. They need to know if there's no future for them with you." Valach said that there are people who didn't leave TCR by choice, but created a great opportunities out of it and built their own companies.
Valach offered advice about hiring: "When you hire, you need to look for heart. And you need to look for humility, for people who don't need to prove that they are superior to other people to feel good about themselves." And, with a smile, Valach recommended "looking for the brown rat. The brown rat will chew off his leg to survive. You want to ask who is going to get out of the trap."
"It's integrity, in the end. You want to be the person who is known to always do the right thing. Integrity is what you carry with you. Bankers look at the three Cs - collateral, credit and character - and character is the most important."

America's Political Climate and the Conservative Heart
Valach concluded the conversation by polling the audience on the presidential election. A majority supported Sen. Marco Rubio, with Gov. John Kasich a distant second and the other candidates receiving a handful of votes. Valach commented about the frustration that so many Americans feel. "There's nothing wrong with doing deals - that's how life works every day - and that's why Washington doesn't work."
After polling the audience, Valach said that, "Trammel Crow is a partnership - our job is to pay people and allow them to earn a living. Elected officials get hung up on deficit. The average person doesn't care about deficit. The bottom 50% are focused on shelter, food and making sure that their kids go to a good school." Valach commented that, "conservatives need to communicate that we need to give a hand up, not a hand out to show compassion," and recommended Arthur C. Brooks' The Conservative Heart: How to Build a Fairer, Happier, and More Prosperous America as a guide on how to change the dialogue.
---