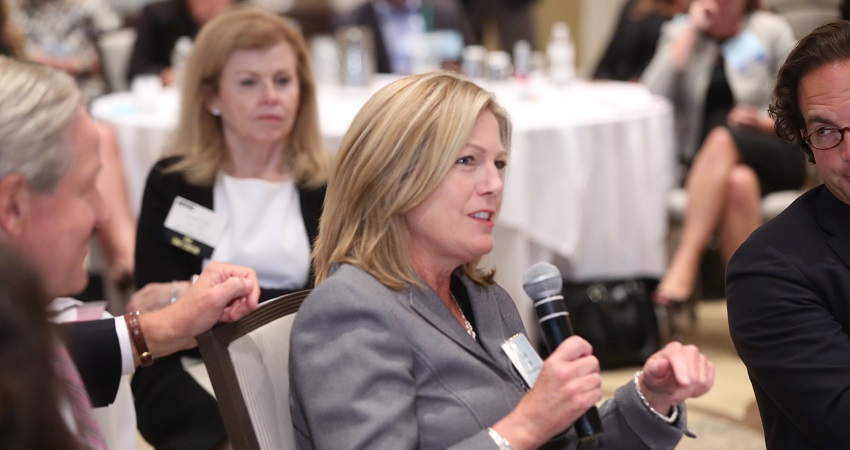 NMHC welcomed roughly 140 members to its first Leadership Forum, a half-day event dedicated to helping companies learn to better leverage diversity and inclusion to drive innovation and business performance. The program focused on bias awareness, best practices and the changing marketplace and featured leaders from various industries.
The day kicked off with a thought-provoking presentation from NPR's social science correspondent and host of the "Hidden Brain" podcast, Shankar Vedantam. Vedantam took a science-based approach to illustrate how unconscious bias influences how we conduct business and live our lives. However, by recognizing our biases and setting controls for them, organizations use diversity as an opportunity for more successful outcomes.
Attendees found some of their own biases exposed during a highly interactive exercise led by Eloiza Domingo-Snyder, senior director and deputy chief diversity officer at John Hopkins Medicine, and
James Page, Jr., vice president and chief diversity officer at Johns Hopkins Medicine. In small groups, attendees selected candidates for specific jobs based on information typically considered in hiring decisions. The exercise demonstrated the impact of bias on business decisions but suggested that policies and practices can reduce the influence of our biases.
A panel discussion led by Rohit Anand, a principal at KTGY Architecture + Planning, highlighted the business advantages of embedding D & I as a core strategy for meeting organizational goals instead of implementing a separate D & I initiative. Ethel "EJ" Dickerson, the Mid-Atlantic market people leader at PricewaterhouseCoopers and Sanjay Subramanian, a principal in advisory forensic services at PricewaterhouseCoopers, talked extensively about the company's strategic motivation for its D & I commitment.
Dickerson and Subramanian discussed a number approaches that PWC has employed to embed diversity and inclusion practices into their business processes. The company invests in benchmarking to see how they compare against similar firms. (The company offers some free benchmarking resources for other companies looking to start.) PWC also put in place a review committee that takes a look at the company's leadership pipeline and assigns partners to help evaluate how the company characterizes roles and responsibilities across the firm.  Subramanian noted that "No process is going to ever be perfect. But we're trying to have a good system of checks and balances."
Dr. Jennifer L. Lawless, professor of government and director of the Women & Politics Institute at American University, presented research that challenged some assumptions about the role of gender in politics. Specifically, female and male political candidates for federal office were subjected to similar media treatment, and they also performed comparably in fundraising and election outcomes, according to Lawless. She found that while bias favoring male candidates wasn't necessarily quantifiable, because people believe it is real, the political ambition of women is lower, leading to fewer female candidates and underrepresentation in Congress. Lawless suggested a similar scenario has resulted in fewer women seeking leadership roles in business.
Strengthening diversity and inclusion practices is also about better serving a changing customer base. According to research presented by Caitlin Sugrue Walter, NMHC's senior director of research, immigration will eclipse native population growth in the U.S. by 2030. This is important because immigrants are even more likely to rent.
NMHC thanks The Bozzuto Group for sponsoring the 2017 Leadership Forum. Select presentation materials are available here. 
---