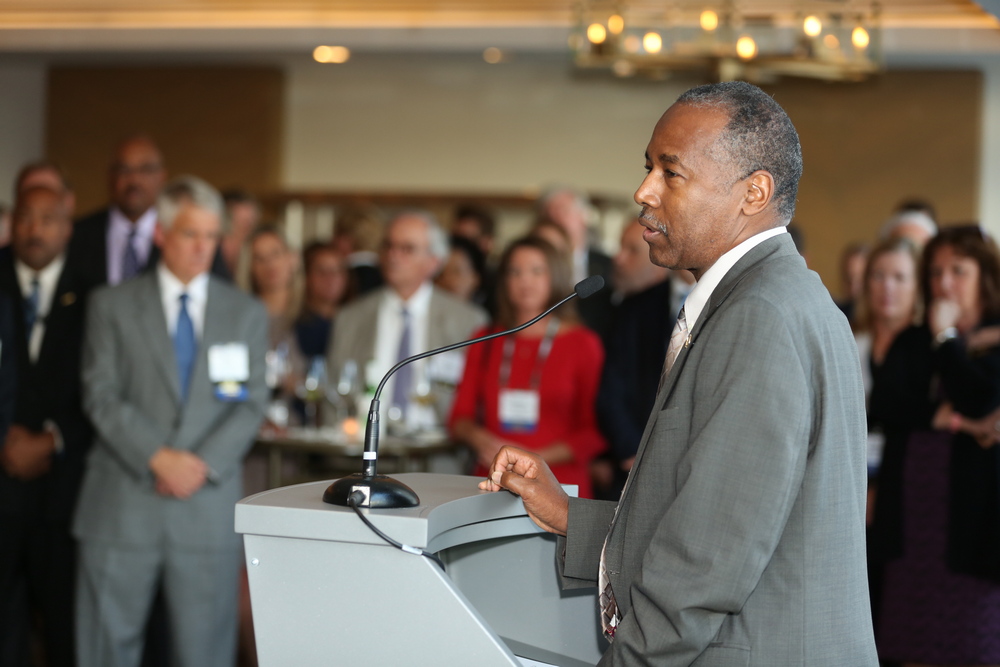 Housing affordability discussions took center stage at the 2019 NMHC Fall Meeting, following the passage of aggressive rent control measures in Oregon, New York and, most recently, California. Members participated in a special roundtable discussion of the housing affordability crisis and the proliferation of rent control initiatives.
As communities across the country face real housing affordability challenges, policymakers are responding in a variety of ways. Some are undertaking concrete efforts to expand housing supply at all price points and improve the variety of housing options available to residents. Case in point is Minneapolis, where policymakers have moved to significantly reform zoning codes to encourage more housing density and more multifamily development. However, others, unfortunately, are turning to ineffective policies like rent control that fail time and time again.
HUD Secretary Ben Carson, Congressman Denny Heck (D-WA), who leads the New Democrat Coalition Housing Task Force, and Senator Tim Scott (R-SC), who co-sponsored the bill that created the federal Opportunity Zone Program, were among the members of Congress and affordable housing experts who spoke about addressing housing affordability in meaningful ways during NMHC's meeting.
During a panel discussion with NMHC Chairwoman Sue Ansel and The Honorable Jeb Hensarling, former chairman of the House Financial Services Committee (2013-2019), The Honorable Barney Frank, also a former chairman of the House Financial Services Committee (2007-2011), offered some perspective on what policymakers and the industry need to do to move the needle on workable affordable housing solutions.
First, Frank said the federal government needs to get back in the business of subsidizing multifamily units. "Homeownership is not the only acceptable solution," he said. "We need to spend more federal money on increasing affordable housing. We need to employ private developers and builders and subsidize them to get it done."
Second, he said there should be "a campaign to rescue multifamily from the stigma people have of it." Other speakers discussed levers federal policymakers could pull to encourage smart housing policy at the state and local level. Ideas included leveraging federal transportation or disaster recovery dollars to encourage higher density and more affordable housing development.
However, the challenge continues to be at the local and state levels, where restrictive policies are making it more difficult to increase supply, especially at lower price points.
Jenny Schuetz, the David M. Rubenstein Fellow at Brookings Institution's Metropolitan Policy Program, expertly summed up the affordable housing conundrum during a panel discussion with NMHC's Vice President of Research Caitlin Sugrue Walter and Vox Senior Correspondent Matthew Yglesias.
"We haven't built enough housing for 30 years," she explained. "Even if we got rid of all the regulatory barriers and building at a high speed, it would still take a decade to get where we need to be. But not building anything in the next 10 years isn't going to help either."
Given the recent passage of new rent control measures in New York and California, speakers and members discussed different strategies for preventing the spread of the failed policy and the market's reaction in the wake of the new policies. More specifically, NMHC hosted a session on the recent rent control legislation passed in New York and legal steps being taken to push back on the lawmakers' overreach. Jay Martin, executive director of the Community Housing Improvement Program (CHIP), and Andrew J. Pincus, partner with Mayer Brown, reviewed their current strategy and described the legal process.
Over the past year, NMHC has developed a number of resources aimed at providing members, industry allies, lawmakers and others with the tools they need to highlight the options that lawmakers have and the success that can result from public and private stakeholders working together.
The NMHC Housing Affordability Toolkit, for example, explores the relationship between costs and rents, how state and local policies impact affordability and facilitates conversations that result in the enaction of effective local housing policies.
Growing Homes Together is a national clearinghouse for information on housing affordability at a national and state level, as well as a collection of policy solutions, research, news and materials that stakeholders can use to make the case for sensible, proactive housing policies.
---