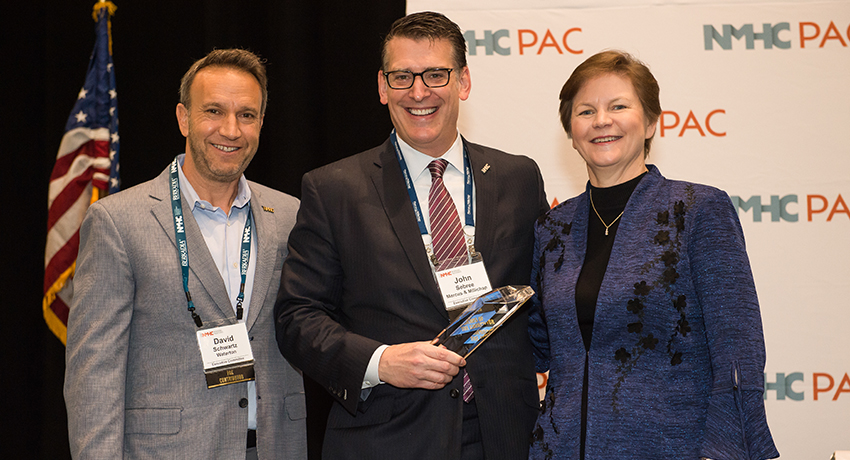 NMHC PAC showcased its ongoing efforts to strengthen industry visibility on Capitol Hill by hosting a variety of events during the 2019 NMHC Annual Meeting. NMHC PAC activities included a PAC Appreciation Reception, a PAC Committee meeting and a final PAC Recognition Breakfast, featuring political analyst Nathan Gonzales.
The NMHC PAC Committee meeting was a great success. The NMHC PAC heads into this year with a refined fundraising strategy and a new fundraising goal. In prior non-election years, the NMHC PAC has set a fundraising goal of $1.25 million. Due to the upward momentum created in 2018, the committee has set a goal of $1.5 million for 2019. The committee also plans to focus on gaining more support from the Board level members.
Each PAC event highlighted the crucial contributions of members to the NMHC PAC. In fact, the top five firms for employee contributions in 2018 were honored at the Recognition Breakfast.
Marcus & Millichap (IPA) earned the top spot, raising $160,458. Newmark Knight Frank trailed just behind, having raised $129,350 with an impressive 19 max out ($5,000) donors. JLL, RealPage, Bridge Investment Group, AMLI and Entrepreneurial Properties Corp. rounded out the top firms respectively. These contributions are critical to health of the multifamily industry and combine each member's voice with thousands of others, creating greater impact in the process.
Guest speaker Gonzales, a CNN political analyst and the editor and publisher of Inside Elections with Nathan L. Gonzales, briefed the Recognition Breakfast attendees on the current political landscape. He provided insight on the chances of the Democrats taking the Senate and holding the House in the 2020 elections. He also discussed how President Trump may fare—by way of explaining the state of the Republican party. Gonzales also analyzed the Democratic party and touched on several candidates vying for the 2020 Democratic ticket.
Although the 2020 elections are more than a year out, it's top of mind in Washington, D.C., and for the NMHC PAC. For the first time in decades, several candidates for the White House are focusing on housing issues. As an industry, we must continue to bring light to these important issues while educating policymakers on the valuable contributions the apartment industry makes to the housing market and the economy at large. The strong support NMHC PAC lends to allies on Capitol Hill will ensure our voice is heard when many key discussions and debates occur in the coming months.
If you wish to learn about the NMHC PAC, please visit our PAC webpage or contact Lisa Costello at lcostello@nmhc.org.
---