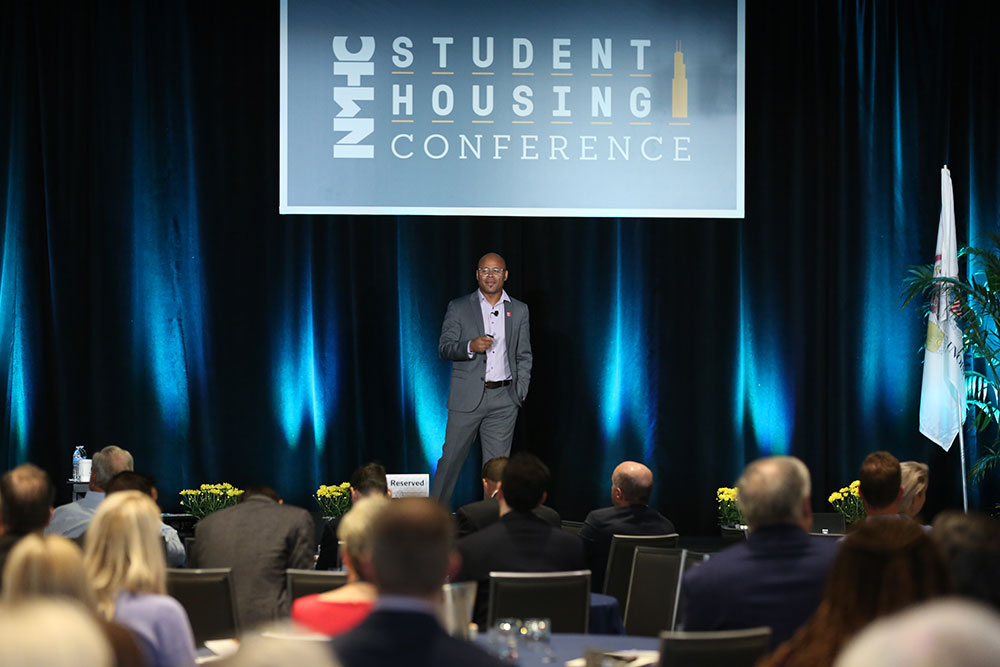 Amid a war for talent, where student housing companies struggle to attract and retain quality talent over the long haul, company culture can be a competitive advantage. That's why many industry executives were thrilled to hear from Julian D. Lute, strategic advisor at Great Place to Work, at the 2019 NMHC Student Housing Conference.
An expert on making companies attractive to new talent, as well as improving the workplace for current employees, Lute's keynote and follow-on breakout session focused on identifying the cultural characteristics holding companies back and strategies for removing the impediments. His advice not only resonated with student housing companies but also provides useful insights for all apartment companies.
"Anyone can do this," he said of making a company a great place to work, "If you have the focus, if you have the vision."
Lute explained that trust is the foundation of everything. He defines trust as a combination of credibility, fairness and respect. "People want the same thing," Lute said, "They want trust, they want to trust who they work for."
Trust is a more common issue in the workplace then one might think. A study conducted by Great Place to Work found that 46 percent of employees surveyed said that they believe they work in an emotionally healthy environment. This compares to the nearly 50 percent of employee respondents who said they feel they work in a low trust environment. The study also found that workplace politics were a major factor, with only 37 percent believing that managers avoid favoritism and 43 percent believing that employees were not using politicking and backstabbing to get stuff done.
So how can leaders address these issues? It starts by truly living the brand and company values.
"Your mission, your vision and your values are what differentiate your culture from the next," Lute said. "The companies that do this well weaponize those values. When they make decisions, they do it through the lens of those values."
Not only do strong culture and values aid in talent retention, it also leads to a more productive workforce that will then build better client relationships. Lute explained that customers can tell when they are having an authentic experience and want to work with companies that have values and live through them authentically. He points out that the top 25 companies on the annual Best Workplaces list experience 26 percent more growth per year, in large part due to culture.
With such a talent shortage, Lute says that culture is what will attract a potential new hire to your business over another. He advises that when hiring, it is also important to consider how the candidate would fit into culture.
With a new generation in the workforce, Lute expanded, comes different expectations. Whereas an older generation may see the workplace as just that, a place to come and work, the new generation expects "a great workplace experience." This includes things like wellness considerations, diversity and a fair distribution of benefits across all levels, or as Lute puts it, "a great place to work for all."
Lute points out culture is not defined by benefits and perks but something much deeper. If the entire executive team cannot describe the culture, that is a starting point to start creating it and defining companywide values.
CA Ventures, for example, thinks of values in terms of "health, wealth and happiness," according to Carmen Smith, vice president of human resources for CA Ventures. Smith, along with Peak Campus COO Casey Petersen, participated in breakout session with Lute, following his keynote address. Smith said she believed that companies are powered by people and when they feel good, they make clients feel good.
"Culture trickles down from the top," added Petersen. He also said that it is important to measure if the culture strategy is working. That's why he looks at turnover as a key metric of this; Smith said she focuses on 90-day interviews and exit interviews to get better understanding.
Setting up a great culture is also part of retention. Smith said that employee development is a major part of making sure that employees have a great work experience. For example, CA Ventures hosts leadership forums throughout the year as one way of promoting development.
Peterson, on the other hand, said he was focused on retaining those he brings in at the college level. He said that it is important to have a conversation with an intern or entry-level employee at the start as to whether they want to work in the industry in the long run. If the answer is no, then managers can tailor the experience to help them reach their future goals. If the answer is yes, then managers can focus on retention and create a pathway to the next step.
Innovation is a major part of business evolution that is often bogged down by fear, Lute said during the breakout session. For every two people pushing innovation ahead and feel safe doing so, there are six people experiencing friction in trying to innovate. Only 43 percent say management is genuinely seeking ideas while another 43 percent also say that they are involved in decisions.
So how can we change this? Lute said that people are not motivated only by money. Instead, they need to feel safe to try new things and fail. He explained that employees take inspiration from their colleagues and a sense that their work is serving a greater purpose.
"People want to be inspired and inspiration is free," Lute said. "When people have fear, they don't innovate, they don't bring their full selves to work."
---