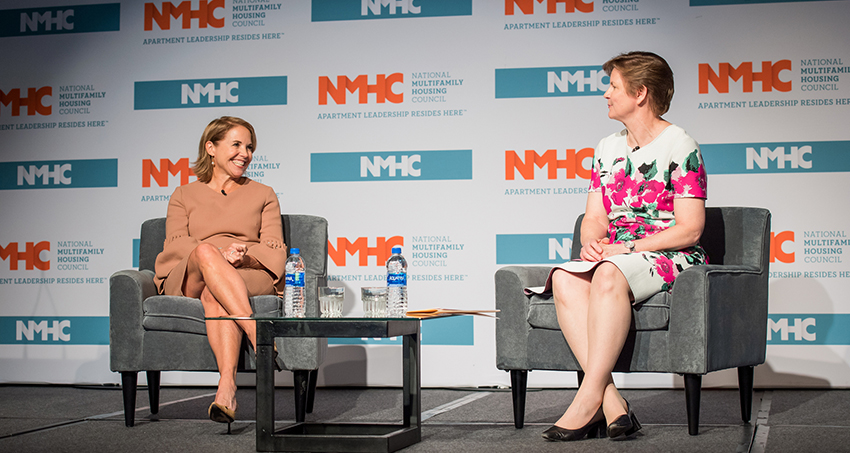 NMHC's first-ever Women's Event attracted more than 450 female multifamily executives. The half-day program included networking, group discussion of industry trends and an interactive fireside chat with Katie Couric, the award-winning journalist and New York Times best-selling author.
"NMHC's commitment to advancing women in the industry was typified by its new women's event," said Jessie Henry, founder of Charger Ventures and vice chair of NMHC's Diversity and Inclusion Committee. The conversation between Sue Ansel and Katie Couric inspired us all to live authentically with integrity and to stand up for what we're passionate about."
Hot industry topics included access to capital, transactions, Opportunity Zones, the economic and market outlook, marketing and resident engagement, innovation and technology, among others. Executives also discussed how the recent government shutdown had affected their businesses. (Check out pictures from the event.)
"We really learned how fragile the market is," commented Julie Smith, chief administrative officer for The Bozzuto Group and chair of NMHC's Diversity and Inclusion Committee. "We found out that there are 800,000 government workers living paycheck to paycheck."
Gables Residential CEO Sue Ansel, also NMHC's chair, interviewed Couric, asking her about a whole range of topics from getting started in the male-dominated field of journalism to founding Stand Up to Cancer. Couric stressed the importance of finding mentors and champions, as well as managing self-doubt.
"I looked really young when I first started [in broadcast journalism], so I wasn't taken seriously. And people often type cast you by your appearance," she explained. "'Perky' is a word I hate. I wasn't given my due as someone who was smart and cared about the world and public policy."
She added, "You do have to kind of put on blinders. The world is competitive, and people will try to trip you up or knock you down. And sometimes it's more about them than you."
The Women's Event was just one programmatic contribution of NMHC's D&I Initiative. The Diversity and Inclusion Committee held a members-only lunch meeting during the 2019 NMHC Annual Meeting. Roughly 75 executives attended the event.
Speakers included Wendy Mann, CEO of CREW Network, who talked about the research her organization has done to document the pay gap women in CRE still face, resources CRE professionals can use to advance diversity in their organizations and CREW's UCREW and CREW Careers programs that work to recruit high school and college students into CRE.
Bozzuto Management Company President Stephanie Williams highlighted the Real Estate Executive Council (REEC), the leading trade association formed to promote the interests of CRE professionals who are people of color. The group, which includes senior executives as well as rising stars, hosts quarterly events around the country to facilitate relationship development. NMHC also hosted several graduates of the Real Estate Associate Program (REAP) at the Annual Meeting, another commercial real estate program supporting diversity.
The 2019 NMHC Leadership Forum on Diversity & Inclusion will be held May 15 in conjunction with the 2019 NMHC Spring Board Meeting, May 15-17 in Chicago at the Four Seasons Hotel. Click here for registration details.
---