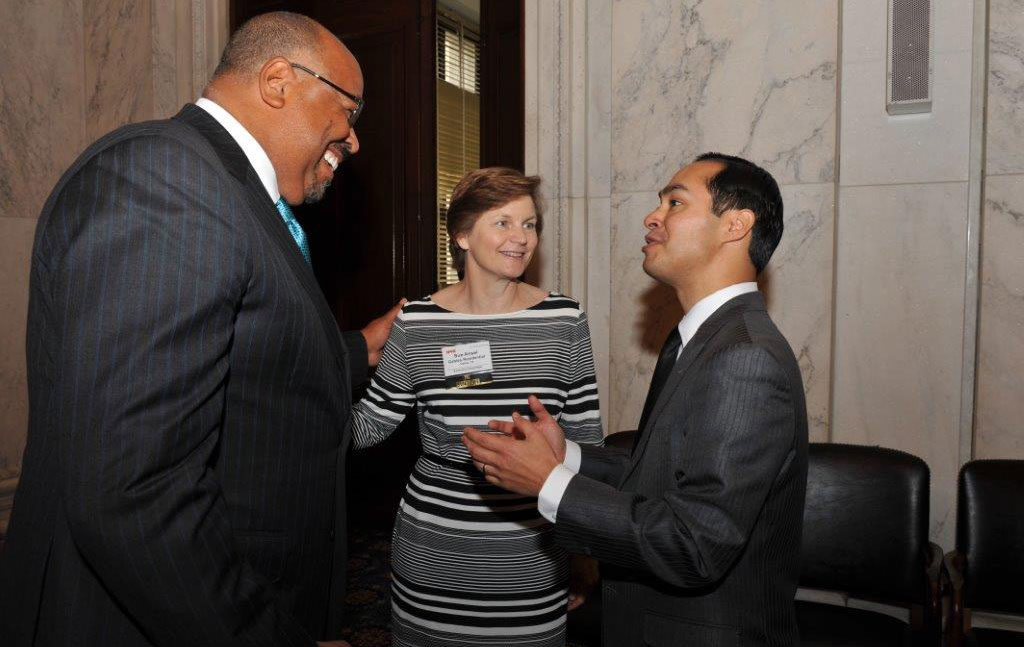 This week's NMHC September Board meeting included a number of memorable moments, from meetings with key Obama Administration officials (covered in a story below) to a star-studded lineup of speakers at the annual Capitol Hill luncheon.  The luncheon was held in the Kennedy Caucus Room of the Russell Senate Office Building, one of the grandest and most historic rooms in the nation's capital.  It is a room that has served as a stage for some of the most dramatic Senate investigations, such as the sinking of the Titanic, the Teapot Dome Scandal, Pearl Harbor, the Kefauver Crime Committee, the Army vs. McCarthy, the Vietnam War, and Watergate.
NMHC members heard from an array of influential lawmakers, including House Majority Leader Kevin McCarthy (R-CA) and House Chief Deputy Whip Aaron Schock (R-IL), and Senators Chuck Schumer (D-NY), Mark Begich (D-AL), Mike Crapo (R-ID), and Rob Portman (R-OH), who all demonstrated not only an understanding of our issues, but a commitment to making the right legislative and regulatory decisions for the multifamily industry's future.
The speakers often chose to disregard their standard Hill stump speeches.  Instead, the majority spoke without notes and with an in-depth knowledge of multifamily issues - from recognizing multifamily's undeniable contribution to the nation's economy, to distinguishing between single-family and multifamily in housing finance reform, to renewing terrorism insurance so that multifamily owners are not adversely impacted. 
Attendees gave Senator Mike Crapo (R-ID) a standing ovation when he said, "multifamily wasn't part of the problem [in housing finance], and we need to be sure not to break multifamily in the process of fixing the system."  Senator Mark Begich (D-AL) also spoke powerfully about the importance of multifamily housing, noting that he himself is a multifamily developer.  He went on to share stories of his challenges as an apartment owner, including trying to manage renovations around the state's challenging weather.  
In addition, new HUD Secretary Julián Castro impressed attendees with his strong grasp of multifamily housing issues and priorities during his speech.  A particularly memorable moment came during his question and answer period.  He told members during his speech that he himself had become a renter in Washington after relocating his family from San Antonio where he previously served as mayor.  Everyone was curious about whose community he was renting in.  And when someone asked, his answer was the Gables.  Then, Sue Ansel, president and CEO of Gables Residential, stood and walked up on stage to introduce herself, shaking his hand as the room erupted in applause.

Members also heard from Senator Kirsten Gillibrand (D-NY) who was interviewed by NMHC member Lili Dunn, Chief Investment Officer of Bell Partners.  Gillibrand discussed her new book, Off the Sidelines: Raise Your Voice, Change the World, and spoke passionately about the need for more diversity both in Congress and in our boardrooms.  She offered a number of policy measures and operating practices that could help unleash a wave of economic productivity and economic impact by helping women thrive professionally. 

In a separate event, the NMHC Emerging Leaders heard from Representative Patrick Murphy (D-FL) who is an apartment owner himself, and a panel that included current and former senior staff members of House Majority Leader McCarthy's office.   Murphy shared his thoughts on fixing the political dysfunction that characterizes Congress.  Wes McClelland, Policy Advisor to McCarthy and Erica Elliott, former Communications Director for McCarthy, offered behind-the-scenes views of the frenetic pace of legislative work during the financial crisis. 
---