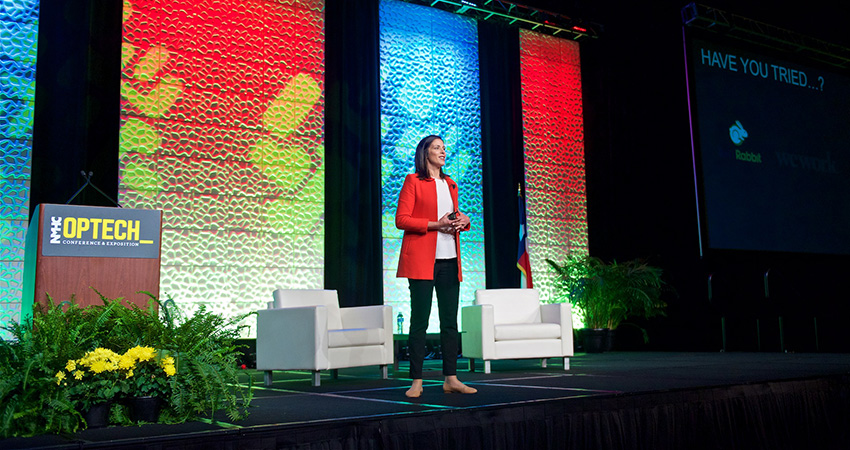 Last week, the 2016 OPTECH Conference & Exposition brought together nearly 1,600 apartment executives from the industry's leading firms. The program was a one-stop shop with more than 50 sessions and 133 participating speakers, including many of the top minds in the areas of technology, operations, marketing, sustainability and telecom. Discussions focused on emerging business and regulatory trends and strategies for better performance.
More than 100 companies set up shop in the exhibit hall, allowing executives to check out the industry's latest technology and service solutions. Nineteen apartment companies and 24 exhibiting companies participated in Commerce Corner, a unique reverse tradeshow experience that raised $14,000 for Shelters to Shutters, NMHC's charity of choice for the 2017 Walk for the Homeless being held in January in conjunction with the NMHC Annual Meeting.
New this year to the conference was the OPTECH Challenge, which allowed attendees to power up their conference experience. Using the NMHC Meetings app, attendees fulfilled fun challenges to collect points to be entered into drawings for key prizes.
Congratulations to Joe Melton from The Morgan Group, who won a $500 AmEx gift card; Jason Milam from Camden Property Trust, who won a $1,000 AmEx gift card; and Kathryn Megrue from GrayCo, who won the grand prize trip to Ireland, compliments of Cox Communications.
This idea of the connected experience was an important point in keynote speaker Rachel Botsman's Monday afternoon opening general session on the collaborative economy. She said that success in the new shared economy hinges on companies' abilities to deliver what she called "so-lo-mo," social media-integrated, location-based, mobile experiences for the consumption of their goods and services.
The reason this is so important is because consumer consumption habits are radically different in the new economy. Rather than pay for goods outright, more people want to pay for the access to the benefit. "We are moving from an asset-heavy lifestyle to an asset light generation," Botsman explained. And the mobile phone is the gateway.
But with technology rewriting the rules of business faster than ever, many companies and industries at large find themselves struggling to adapt and innovate with no drama or trauma, as keynote speaker Polly LaBarre explained during another general session on Wednesday.
"Are you capable of changing as fast as the world is changing? Are you capable of regularly reinventing yourself without walking through the valley of the shadow of death?" she asked. Those that can honestly say yes typically have figured out how to learn fast, lead differently, tap the right talent and embrace experimentation, she said.
In many ways, this shift to the shared economy is especially challenging for the multifamily industry. As a real estate sector, we are by nature asset heavy-and consequently risk adverse. That makes experimenting less palatable; a failure not only has tangible consequences but ones that can reach catastrophic proportions rather quickly.
While radical innovation may be more challenging, the industry is clearly focused on improving its adaptability. Integration, collaboration, efficiency-these were all terms that were used repeatedly when talking about improve property and company performance.
Read the recap to learn more about the ways the industry is working to better position itself to be more flexible, take advantage of emerging opportunities earlier and reduce risk.
---