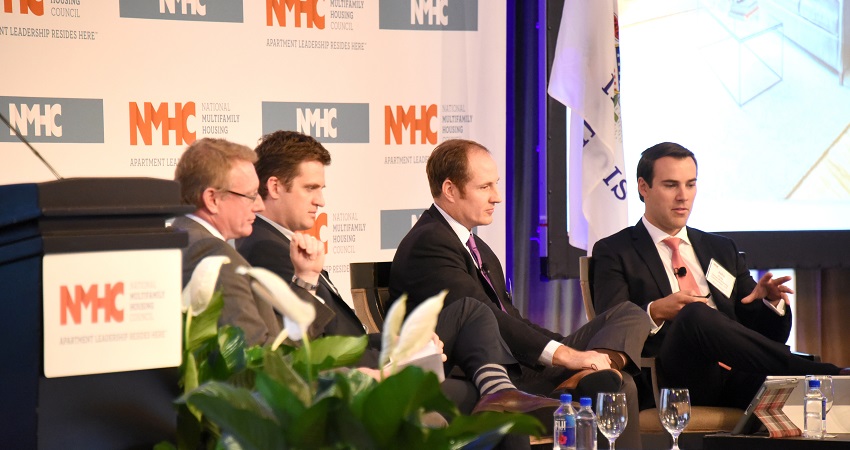 Changing demographics and lifestyle preferences have driven more demand for rental housing. But what today's renter wants and needs out of housing varies dramatically by circumstance, raising the question of whether traditional approaches to rental housing are ripe for disruption.
During the 2016 NMHC Spring Board of Directors, three executives shared the new, innovative directions they are taking rental housing. Whether these alternative models will serve niche markets or go mainstream will remain to be seen. (Check out the presentation here.)
Co-living. "I think the entire housing market is shifting," said Martin Ditto, president of Ditto Residential. "There is this strong desire for community, desire for connection, desire to be around others." To that end, Ditto has been looking to take the student housing model and adapt it for the young adult market, delivering units with multiple bedrooms and en suite bathrooms clustered around a central common space. The design allows three, four or even five residents to have privacy but within the context of a group living experience.
But beyond the social aspects of the design, it's also about economics, said Ditto. "As a single person living in Shaw, [a neighborhood in Washington, D.C.,] you'll pay between $2,000 and $2,500 for an efficiency or one bedroom. In our project, you'll pay between $1,250 and $1,400. So, it's really a value play."
Holistic living. Ryan Frederick, founder and CEO of Smart Living 360, said his business idea was born out of looking at the pervasiveness of technology and healthcare and their increasing intersection as people continue to live longer. His community concept centers on lifestyle with a focus on well-being in almost every sense-social, financial and physical-and as a result, community amenities are as much about the services as the sticks and bricks.
While the suite of services makes for incrementally higher operating costs than traditional multifamily, Frederick said the model results in 20 percent higher rents and better yields. And the leasi.ng model is based on a longer timeline, with residents able to sign up to three year leases
But more important, said Frederick, the focus on well-being and services allows older renters a better option to age in place. Noting that while the massive baby boomer generation are moving into their senior years, just 1.2 percent of the housing stock is deemed accessible, Frederick said, "We are woefully underprepared for what's coming our way."
Purpose-built single-family rentals. While there has been a lot of debate about the emergence of single-family rental companies, which purchased scattered-lot houses out of foreclosure during the recession, few have ventured down the road of ground-up development of single-family rental homes. But that was the model that Lennar decided to test on a 220-home site in Reno, explained John Gray, head of investments, Lennar Multifamily Communities.
Executing on the model draws on the expertise of Lennar's home building operations for the construction and multifamily team on the operations. So far 120 of these rental homes have been built and Gray said the returns have been strong enough where he would characterize it as "a serious success."
Big differences in the model compared with traditional multifamily is that customers typically have a longer lead time of five or six months, which actually gives the company an opportunity to build inventory, if need be, and the turnover is much lighter. Landscaping costs, however, have been more. But what the exit strategy looks like remains to be seen, but Gray said there are a couple options: 1) sell the homes to individual owners one by one or 2) aggregate the houses and sell as a rental portfolio.
---