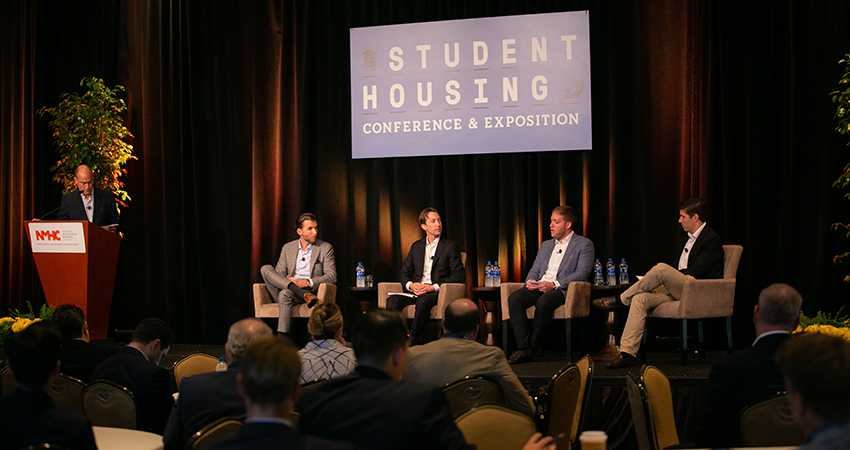 A key theme of the 2018 NMHC Student Housing Conference & Exposition was that the U.S. student housing market continues to capture the attention and interest of global institutional capital.
In recent years, equity providers' growing confidence in the sector has ushered in an influx of institutional capital into the industry. The participation of capital providers, such as Goldman Sachs' Nathan Bruker, Blackstone's Daniel Goldberg, ARA Newmark's Ryan Lang and the Canada Pension Plan Investment Board's Brian Tilton, in conference discussions and panels is evidence of the emphasis providers are placing on the sector. Moreover, the space continues to draw increased interest from foreign capital with greater investments being made from firms around the globe.
Student housing leaders noted that debt remains to be widely available with the GSEs remaining a primary source; however, banks also continue to make debt available to promising projects. Overall, the investment community viewed the student housing sector positively, although several executives noted some markets and universities where oversupply or falling enrollments pose challenges. As the sector further matures, there will be a greater focus and caution on markets where there are too many beds or where a variety of factors may contribute to long-term declining enrollment.
Rising labor, land and development costs have all led to somewhat fewer development and value add opportunities, but the sector continues to grow with industry leaders noting the importance of accurate data and analysis when considering projects.
Overall, institutional investors and industry executives remain bullish on the short- and long-term prospects for the industry, predicting further maturation.
---