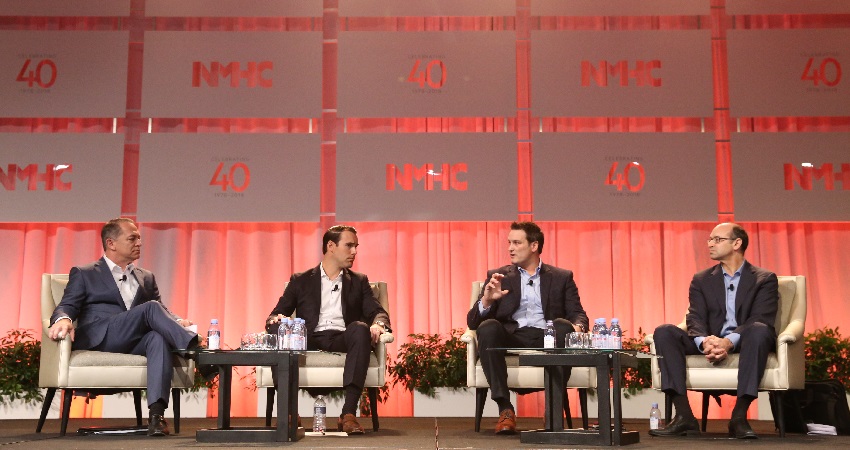 The last few years have truly been a golden age of real estate investing, especially in multifamily. Unprecedented demand for apartment homes led to abundant liquidity, rising asset values, sinking cap rates, a robust deal market and a lot of new development.
But there was a decided swing in 2017 as the cycle matured, and most economists at the 2018 NMHC Apartment Strategies Outlook Conference said they expected the downshifting to continue in 2018. Amid concerns are the likelihood of rising interest rates and an uncertain global political and economic environment.
While multifamily demand is likely to withstand a probable recession-largely thanks to positive demographics but also to a little boost from the recent tax deal-the multifamily capital and finance markets are showing more signs of trepidation, which is affecting deal flow.
Debt, for one, is not only getting more choosy but also more expensive. Softening rent growth and a lot of new deliveries are factoring into the pullback in both construction lending and permanent mortgage financing. Industry players are also watching lending giants Fannie Mae and Freddie Mac very closely, especially as chatter over potential housing finance reform heats up again.
Fannie and Freddie's regulator recently downwardly adjusted the two organizations' lending caps to $35 billion a piece from $36.5 billion, although some finance experts say that's reflective of changes in lending priorities. Recently released production numbers show that the two organizations, on a combined basis, lent roughly $140 billion to the multifamily industry at large in 2017. At that level, Fannie and Freddie are still providing significant amounts of
liquidity to the multifamily market even as they ramp up small balance, green and affordable housing lending.
Equity, on the other hand, appears to be more plentiful in comparison as investor interest, especially from overseas, holds strong. Foreign investors are attracted not only to the industry's strong demand fundamentals but also the sector's secure cash flow and decent returns on cash. That said, multifamily executives said return expectations were more muted these days as they found themselves really chasing yield.
"Today, we're targeting a lower teens return," said John Gray, a managing director and head of investments at LMC, during a panel discussion on yield. "And candidly, to generate those returns, we're working two to three times as hard."
Harder to get deals done was a common refrain among industry executives. Gray, for example, said that on the development side, which is where he is mostly focused, LMC is closing just 5 percent of what his team is truly underwriting. That represents a significant decline from 10 percent last year and 15 percent the year before that. As a result, Gray said that company was increasingly looking at value-add and acquisition opportunities.
Brad Hill, EVP and director of multifamily investing at MAA, largely echoed his comments, saying his company might give a good look to between 175 and 200 deals a year, but they are only closing five or seven.
This slow grind to close deals isn't likely to change much in the year ahead, so executives are looking at their investment strategies more closely. Hill, for example, said his company was focused on maintaining strong portfolio diversity, with a good mix of urban/suburban and Class A/Class B assets. He also said that, given the concessions cropping up in the market, his team is doing more demographic and credit analysis as part of the due diligence process.
"At this point, when you get people living in communities getting a few months free, you have to wonder about the quality of the folks living there," he said. "We're spending a lot of time at a site-specific, granular level. We used to just look at supply within three miles. Now we need to focus on the specific properties to understand the absorption impact."
---