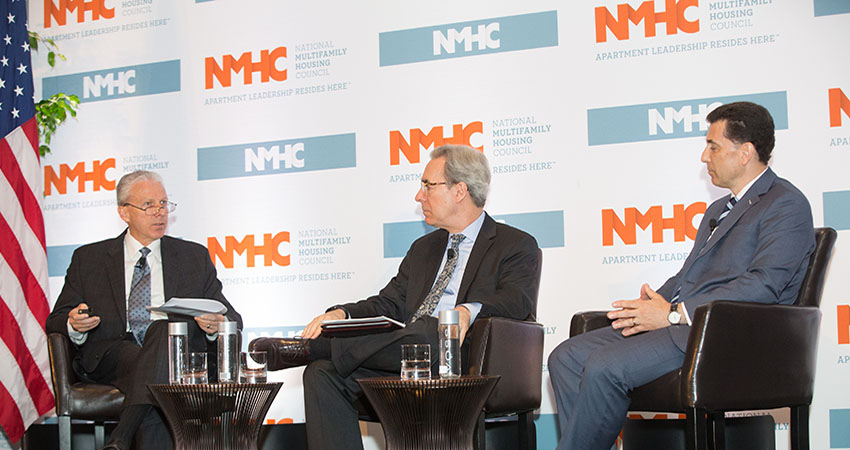 When Hurricane Sandy hit the Mid-Atlantic area in 2012, the powerful storm left more than $70 billion in damage in its wake. Given the 2017 NMHC Spring Board Meeting's location in New York, many attendees were interested in learning about how local developers and owners had responded to Hurricane Sandy and what steps they have taken in the years since to make both existing and new buildings more resilient.
In a discussion featuring Jeff Brodsky, vice chairman of Related Companies; Don Anderson, chief sustainability officer for The Blackstone Group; and Peter Rosenthal, principal and director for development at Savanna, the trio provided the audience with lessons they learned from the storm and how they now approach new projects from a resiliency perspective.
Blackstone's Anderson kicked off the discussion describing his experience working with the Peter Cooper Village Stuyvesant Town development-one of the largest apartment communities in New York history. He explained that, when he first visited the community following Hurricane Sandy, he was taken back by how sophisticated the management team had been in dealing with Sandy and its aftermath. Sandy was devastating given the community's proximity to the East River. But handling the aftermath helped inform the steps they took afterwards to develop and execute new systems. For example, many key systems were moved higher than plane or rooms that could not be moved were retrofitted so as to be made more secure. He also noted that prompt communication with residents during crises and in the following days was critical.
Savanna's Rosenthal offered a similar perspective, noting that damage was extensive to the company's asset on 100 Wall Street. The basement flooded, destroying electrical systems and other networks. It took between four and six weeks to get residents back into the building. The company then took the next year developing plans that included bringing key systems above plane. Savanna even committed to using rentable square footage to make the buildings more resilient.
Regarding new buildings following Sandy, Rosenthal explained that when his team was designing a new building at 540 West 26th St., they drew heavily on lessons from Sandy. For example, they designed the building with a raised first floor, wet proof exterior and baffles to allow for drainage.
The discussion concluded with two key points. First, resiliency decisions need to be made on an asset-by-asset basis. No two projects are the same and different variables are at play. Second, while Sandy affected many market-rate and high-income residents, the industry needs to consider resiliency when it comes to affordable housing. While the flooding had a significant impact on market-rate buildings, it was affordable housing and residents with lower and more moderate incomes that were the most negatively affected given the lack of other housing and transportation options available to them.
---