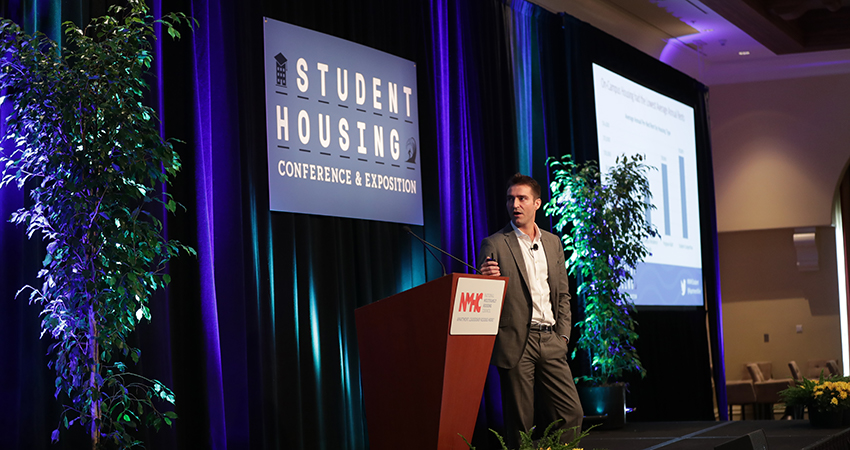 Private, purpose-built student housing properties are known for their luxurious amenities and state-of-the-art finishes. As this reputation has emerged and the cost of earning a college degree continues to rise, some have begun to question the affordability of these amenity-rich housing options. Private student housing providers have long argued that students living off campus in purpose-built student housing are getting much more for their money than students living on campus.
NMHC recently partnered with Axiometrics, a RealPage Company, on a research project that tested this theory. The study examined the cost differences between on-campus and off-campus housing options at 22 universities around the country. NMHC's Chris Bruen, senior director of research, presented the study's results for the first time at the 2018 NMHC Student Housing Conference & Exposition.
The results show that despite frequently charging lower rents, on-campus dorms offered less value than off-campus purpose-built student housing.
On-campus and off-campus housing units rarely have identical features or amenity offerings. For example, on-campus residence halls often house two or more students in one bedroom and have no in-unit bathroom. In contrast, every off-campus floorplan in our dataset came with an in-unit bathroom, and only a handful (3 percent) of purpose-built floorplans featured two beds per bedroom. On-campus residence halls in the sample were also much less likely to contain in-building fitness centers or offer units with full, in-unit kitchens equipped with stoves, ovens and dishwashers.
Controlling for such variables, the research showed that, on average, a student paid 9 percent more each year to live in an on-campus dorm compared to an identical purpose-built apartment (i.e., same number of students per bedroom, proximity to campus, etc.). Student-competitive apartment came with a similar 9 percent premium.
However, students paid on average 26 percent less for an on-campus apartment similar to an off-campus purpose-built unit.
The analysis, aside from estimating inherent premiums or discounts associated with living in specific housing types, also analyzed a number of housing characteristics and features that influenced the pricing of student housing options. Distance from campus, roommates, in-unit bathrooms and Internet all were associated with rent premiums or discounts across different property types.
More takeaways and the full report are available here.
---