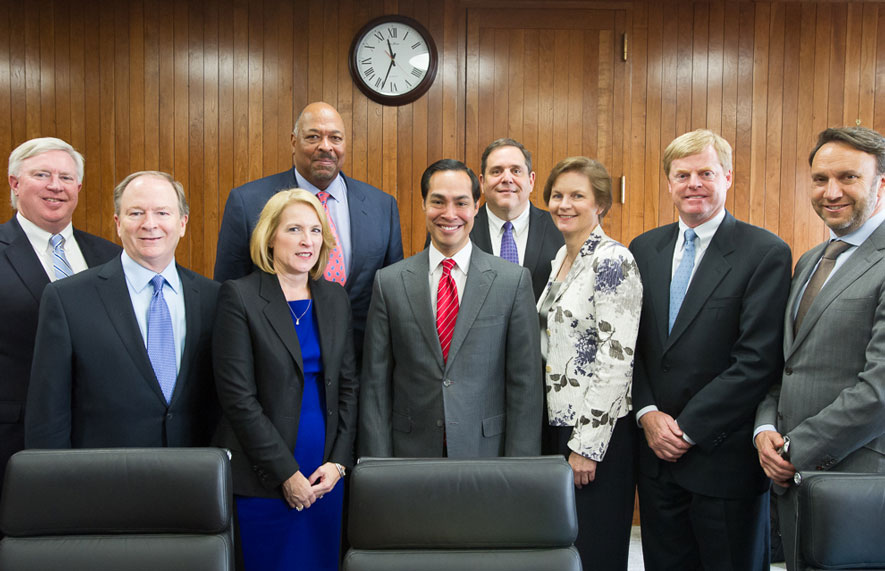 Click here to see all the photos from the NMHC and NAA meeting with HUD Secretary Castro

NMHC and NAA officers and key staff met with HUD Secretary Julian Castro on November 5 to congratulate him on his confirmation and discuss the importance of the rental housing sector as HUD prioritizes its work. 
Our primary message to the Secretary was that a strong housing economy requires both a healthy single-family and rental sector. During the meeting we identified a number of reforms HUD could make to reduce bureaucratic red tape and make it easier for our members to create and operate the rental housing 35 million Americans rely on.   We also emphasized the importance of incentives over mandates, particularly in the area of energy-efficiency.

All of NMHC's officers participated, including Chairman Daryl Carter, Vice Chairman Robert DeWitt, Treasurer Sue Ansel, Secretary David Schwartz, and President Doug Bibby, as well as NAA officers Chairman Brad Williams, Chairman-Elect Tom Beaton, Vice Chairman Marc Ross and Treasurer Cindy Clare.

To help the Secretary understand the growing importance of the apartment industry in the overall housing market, Mark Obrinsky, NMHC's Chief Economist provided an overview of the market.  His key takeaway was that the fundamental dynamic in our industry is rental demand far exceeds supply.  Importantly, that increased demand is not simply a temporary artifact from the foreclosure crisis, but rather a long-term phenomenon based on demographics and changing household composition.

For example, the number of renters rose by five million in the last five years, while the number of homeowners fell by 900-thousand.  But look back ten years and renters are up eight million while the number of homeowners rose by 500-thousand. This suggests that rental demand couldn't just be attributed to the bursting of the house price bubble. 

NMHC/NAA also asked Secretary Castro how we could be helpful to him and he stressed the need for strong support behind HUD's appropriations requests, which is something that our industry has long been a supporter of.  In addition, he noted other HUD priorities, including identifying bipartisan issues that can be accomplished in the next two years, including the Rental Assistance Demonstration and the Better Buildings Challenge.

NMHC Chairman Daryl Carter emphasized that the best way to address the nation's affordable housing shortage was to support the multifamily industry's efforts to build more housing stock by streamlining regulations and improving processing times. He said that although HUD offers excellent financing programs, the process for accessing them takes far too long. 

Brad Williams discussed disincentives the industry is experiencing when it comes to development and redevelopment in the Low-Income Housing Tax Credit (LIHTC) Program.  In addition, he outlined the fact that increasing utility costs are driving up resident utility allowances to cover them.  Williams also noted that the Low-Income Housing Tax Credit caps rents, resulting in decreasing rents, and increased revenue streams, and therefore more investor interest to meet growing rental demands.

Meeting participants also detailed concerns regarding longer processing times, burdensome inspection requirements, and inconsistencies between local housing authorities' requirements. For example, Cindy Clare explained that the Washington, DC, housing authority inspects Section 8 properties just once a month, requiring owners to hold a unit empty for one month, which means lost income for the owner and a longer wait time for the family that is looking to move in.  Lastly, participants discussed the importance of HUD's Multifamily Transformation Initiative and their willingness to work with HUD to facilitate its successful implementation.
 
Ultimately, Secretary Castro and his team responded by saying that about 90 percent of the issues we identified aligned with their priorities, including development and redevelopment incentives and moving legislation on Capitol Hill that will streamline and improve housing programs. They also emphasized that HUD wants to be a strong partner to support more affordable housing production and get more people into housing. And finally, they talked in detail about their Federal Housing Administration LIHTC and the fact that it has doubled in volume over the past two years.
---