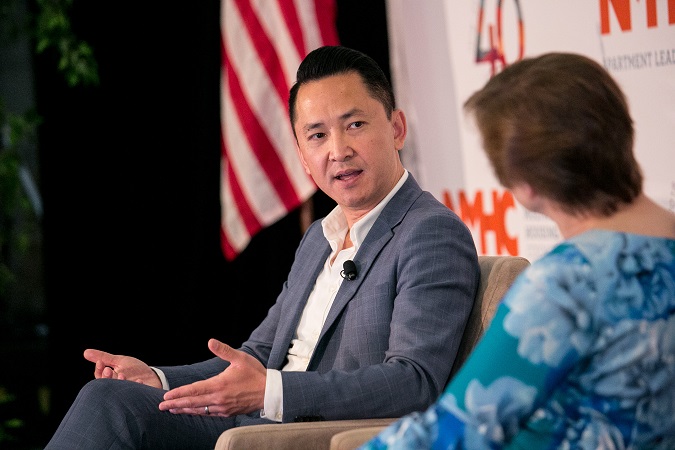 Highlighting NMHC's demonstrated commitment to diversity and inclusion, we presented speakers, forward-facing content and resources focused on this business imperative throughout the Spring Board of Directors Meeting. Highlights included Pulitzer Prize-winning author Viet Thanh Nguyen's thought-provoking comments about identity, immigrants, refugees and war during his interview with NMHC Chair Sue Ansel. Later in the meeting, attendees learned about talent pipeline programs to strengthen diversity in the industry, including the Future Housing Leaders Program and the Real Estate Associates Program (REAP). NMHC also hosted more 15 real estate professionals who are REAP graduates.
Supporting the Talent Pipeline
The apartment industry is facing a war for talent, a challenge highlighted during NMHC's Leadership Forum on Diversity & Inclusion held on May 9 [link to Forum recap]. We heard about two programs that aim to strengthen the talent pipeline with diverse, talented professionals.
Jeff Hayward, Executive Vice President and Head of Fannie Mae's Multifamily Mortgage Business, presented the Future Housing Leaders Program, a partnership between Fannie Mae and the National Urban League. The program helps college students from diverse backgrounds find internships with housing industry employers. Hayward invited member firms to participate in the program by providing paid internships with an eye towards full-time employment.
Ken McIntryre, REAP's Executive Director, explained the industry-backed, market-driven educational and networking program, which serves as a bridge between talented minority professionals and commercial real estate companies looking for top talent. McIntyre encouraged members interested in becoming involved or looking for diverse candidates to contact him.
NMHC Diversity & Inclusion Committee
Under the leadership of chair Julie Smith of Bozzuto and vice chair Jessie Henry of Mill Creek, committee members and NMHC's leadership identified priorities for a future tool toolkit highlighting best practices to help members strengthen their diversity and inclusion efforts during the at-capacity meeting.
Catchup on the Leadership Forum Recap!
If you missed NMHC's Leadership Forum on Diversity & Inclusion, make sure to read the recap. Nearly 100 of the industry's leading senior executives heard from nationally-recognized speakers about the importance of inclusion to leading an evolving workforce, addressing abuse of power in the workplace, and maximizing the potential of all employees—no matter who they are or what they do for an organization—to accelerate revenue growth. Access the full recap here.
Get Involved
The NMHC Diversity & Inclusion Initiative welcomes your involvement. Please contact NMHC's Betsy Feigin Befus at bbefus@nmhc.org for information.
---