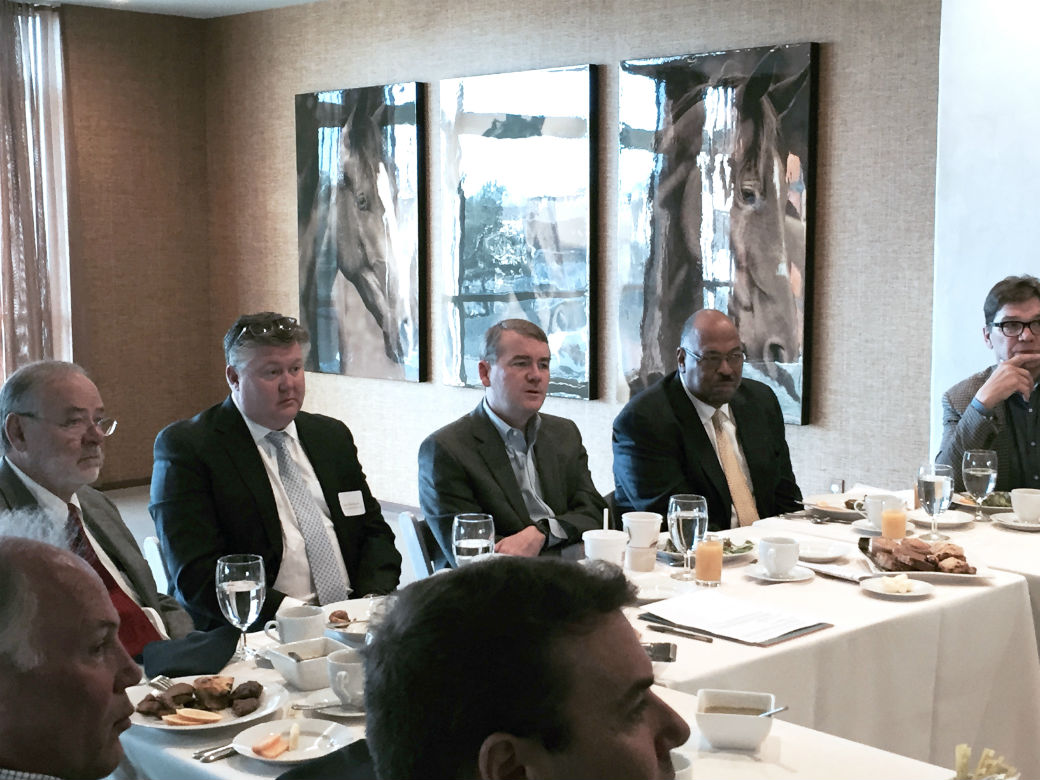 NMHC members met with senior Senator Michael Bennet (D-CO) this month. Bennet is a pragmatic, independent thinker with a business background. He has emerged as an effective leader with a proven record of bringing people together to deliver results for working families.
Specifically, it was another home run for the NMHC PAC personal dollar campaign at this successful fundraising event where Senator Bennet met with our members. The event raised $30,000 for his re-election efforts.

Lauren Brockman and Tim Myers kicked-off the fundraiser, which was held at a newly opened multifamily property in the heart of Denver. An outstanding line up of industry leaders also co-hosted the event, including: Sue Ansel, David Birnbaum, Daryl Carter, Alan George, Clyde Holland, David Neithercut and Jeff Stack. Carter and Holland flew-in to attend in person. And NMHC Government Affairs executives, Cindy Chetti and Eileen Lee came from Washington to support Senator Bennet.
NMHC members used this time to educate the Senator on the key legislative priorities of the multifamily industry including; GSE reform, tax reform, workforce and affordable housing challenges.
See You in Orlando!
NMHC PAC will be diving into the new year with some exciting events to be held during the 2016 NMHC Annual Meeting in sunny Orlando, Florida:

NMHC PAC Appreciation Reception
Tuesday, January 19
5:00-6:00 p.m.

NMHC PAC Recognition Breakfast for Contribution Leaders
Featuring VIP Guest Speaker Mike Allen of Politico
Thursday, January 21
8:00-9:00 a.m.

In order to thank and recognize those who contributed more than $1,000 to NMHC PAC, a related recognition poster board will be prominently featured throughout the NMHC meetings in Orlando.

To be recognized on the NMHC PAC's poster boards, all contributions must be received prior to December 31. It's not too late! Send your support in by the end of the year.

If you have questions about NMHC PAC, please do not hesitate to contact Lisa Costello, Vice President of Political Affairs, at 202-974-2325 or lcostello@nmhc.org.

Thank you and Happy Holidays!
---