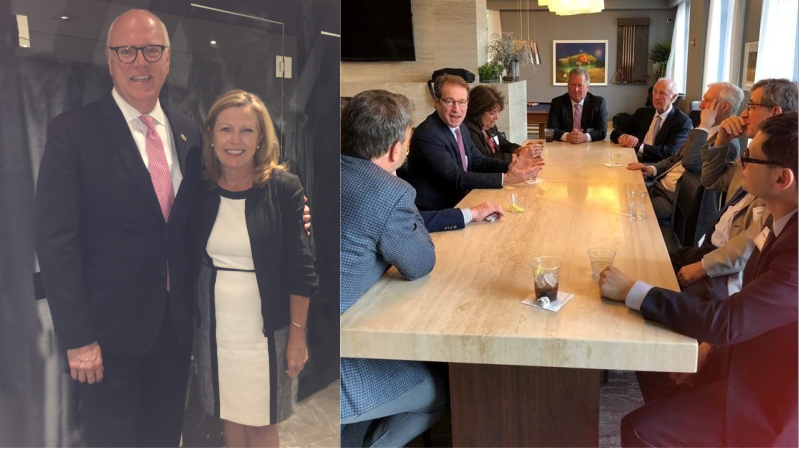 There's a lot to keep up with in Washington as the House and Senate work on immigration and appropriations legislation. At the same time, primary elections are starting to heat up, making electoral predictions even more difficult. However, one thing remains certain: NMHC PAC continues to focus on supporting key candidates that are working on issues that affect the multifamily industry.
Regarding primaries, eight states held elections on June 5, including California, Iowa and Montana – all of which are crucial battlegrounds for control of Congress.
In California – one of the most-watched states this election cycle – Representative Dana Rohrabacher advanced, a positive move for the GOP.
The Iowa primaries saw record turnout. And, according to some political pundits, Iowa's 3rd Congressional District could potentially be one of the most competitive – as Democrats look to oust Representative David Young, the Republican incumbent. He will face Cindy Axne, who won the Iowa Democratic primary.
The Montana GOP Senate primary was especially competitive. State Auditor Matt Rosendale won the nomination, which means he will go up against Democratic incumbent Jon Tester in November. Since President Trump won Montana by a wide margin and has widely criticized Tester, analysts view the state as critical for both parties in November.
NMHC PAC has been focusing its efforts on recent bipartisan personal dollar events for candidates that support issues that impact the multifamily industry. In Illinois, Republicans control seven of 18 Congressional districts. and Republicans working to defend the ones they hold, NMHC PAC is supporting Republican Representative Peter Roskam. Roskam has been a strong ally to the multifamily industry and is facing Sean Casten, who recently won the Democratic primary.
NMHC PAC also supported Congressman Joe Crowley through a personal dollar event, which was hosted this week at a Bozzuto Group property in Washington, D.C. As Chairman of the Democratic Caucus, the fourth-highest ranking position in House Democratic Leadership, and a key member of the Ways & Means Committee, Congressman Crowley is another key ally for the industry. Congressman Crowley's primary race in New York is set for next week and he is being challenged for the first time since 2004. At the event, he relayed his confidence in holding his seat and appreciated the support of the multifamily industry.
NMHC PAC continues to monitor the ongoing elections and help our allies who are running in tight races. With strong member support, NMHC PAC has been able to increase not just the industry's visibility, but also the level of understanding of Congressional leaders when it comes to multifamily.
Know that your support is critical to our mission and is greatly appreciated. To those that have already contributed – thank you! As a reminder: To be recognized at the NMHC Fall Board Meeting, your NMHC PAC contribution must be received by Friday, August 31.
If you have questions or need additional information, please contact Lisa Costello at lcostello@nmhc.org or 202/974-2325.
---