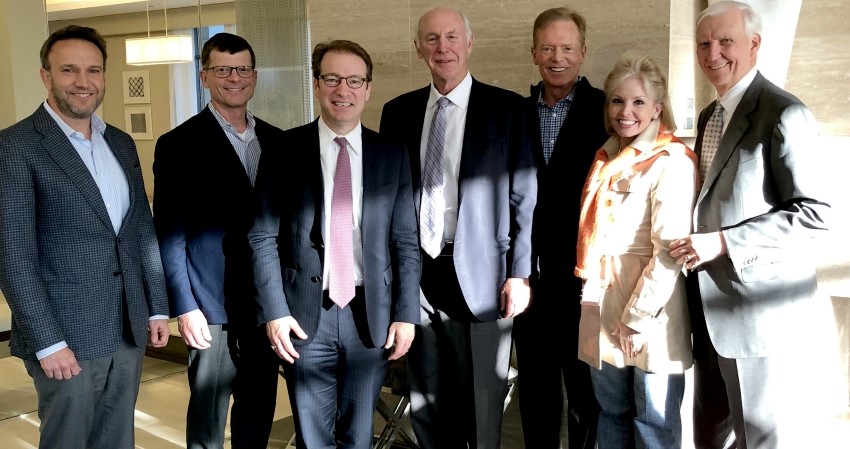 NMHC PAC held its quarterly conference call on April 24 that featured political insider, John Feehery.
During the call, NMHC staff gave legislative and advocacy updates and heard expert insights from Feehery. Feehery is a political commentator for CNN, MSNBC, and a columnist for The Hill. In short, Feehery's message was that despite the growing consensus that this November's election will be a blue wave, it may actually be quite challenging for Democrats to takeover Congress. NMHC will continue to closely monitor Congressional elections over the coming months.
On the call, NMHC PAC Chairman, David Schwartz, noted the PAC Committee met in Orlando during the Annual Meeting and set a fundraising goal of $1.5 million for this election year. Schwartz also highlighted the various Personal Dollar events in the works.
On April 30 Greg Mutz, David Neithercut, Sue Ansel, Tom Moran, Clyde Holland, Ken Valach and David Schwartz hosted a Personal Dollar event for Congressman Peter Roskam (R-IL). The discussion centered around the state of Congress and Roskam's frustration with heightened partisanship, which he feels is preventing any major legislation from being passed. He also discussed his campaign and Illinois politics.
Several other personal dollar events are underway, including one on June 20 for Congressman Joe Crowley (D-NY). Julie Smith with Bozzuto will host this event – learn more here. NMHC's Personal Dollar Program is raising money for several other members who face difficult re-election races. These personal dollar efforts complement NMHC PAC's work. More information about NMHC's Personal Dollar Campaign can be found here.
NMHC PAC urges NMHC members to consider supporting Senators Dean Heller (R-NV) and Heidi Heitkamp (D-ND), and House Majority Leader, Kevin McCarthy (R-CA) prior to their June primaries. Individuals can contribute up to a total of $5,400 for a candidate ($2,700 for the primary and $2,700 for the general election). For your convenience, you can make your contribution by clicking on their names (above), which include a link to their online contribution page. Please let NMHC know if you contribute to any of the aforementioned candidates If you contribute $1,000 or more, it will allow you to attend the future NMHC PAC events that will be held for these members.
NMHC PAC Committee will meet next week during the NMHC Spring Board Meeting in Dallas. The meeting will be held from 3:00 pm to 4:00 pm on May 10th. More information regarding the Spring Board Meeting can be found here.
---